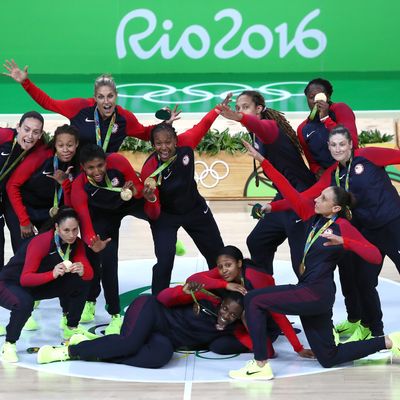 Photo: Sean M. Haffey/Getty Images
While most of us were napping or eating chips on the sofa, Team USA's women's basketball team was having quite the afternoon. The team, led by Maya Moore and Diana Taurasi, took home the gold after winning today's game against Spain 101–72.
This is the sixth time that the U.S. women's basketball team has won gold at the Olympics, but that's not the only record the team broke today. They are the first team ever to score 100 points in three games in a row, and with a score of 121 points in its match against Senegal, they scored the most points in U.S. women's basketball history.
Coach Geno Auriemma had some strong words about the sexism female athletes face on the court and off when he was interviewed after the team beat Serbia 110–84.
We live in that Trumpian era where it's okay to be sexist and degrade people that are good, just because they're the opposite sex. We are what we are. We're never going to apologize for being that good. We're never going to apologize for setting a standard that other people aspire to achieve.

These are Olympians. They're supposed to play at a high level. They're professionals, they're supposed to put on a show, they're supposed to entertain. So, what are we supposed to do? Just go out there and win by a little? We're not bad for women's basketball. What's bad for women's basketball is when nobody's great.
Here are some photos of Brittney Griner hugging Carol Callan, the women's national team director, and Coach Auriemma, because you deserve a treat.