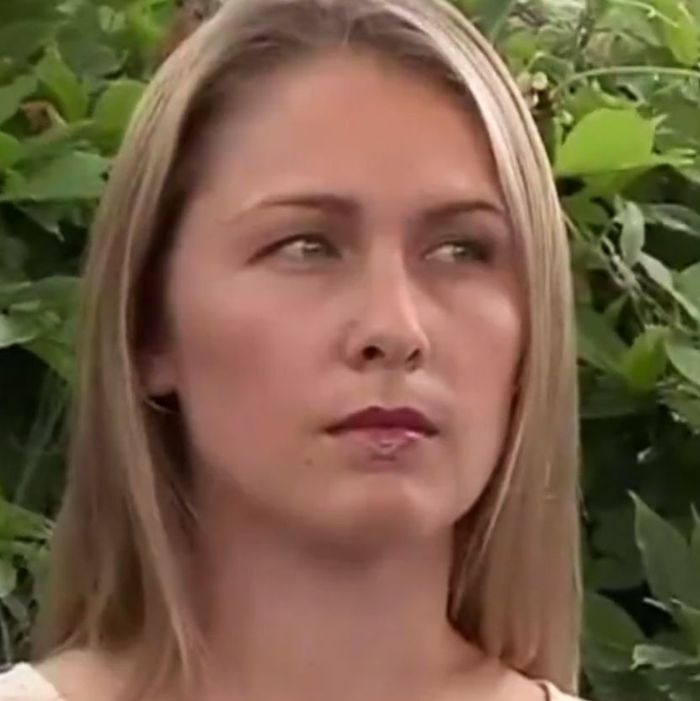 Denise Huskins with her boyfriend Aaron Quinn.
Photo: CBS
Local police offered a new explanation and nonapology for wrongly dismissing a kidnapping as a hoax of Gone Girl proportions: The woman — allegedly abducted and sexually assaulted by a man who is currently awaiting trial — "did not act like a kidnapping victim" when she reappeared.
In a July court filing, Vallejo, California, police detectives clarified their reasons for publicly discrediting Denise Huskins's story, appealing to a judge to dismiss a federal lawsuit filed against the city and police department by Huskins and her boyfriend. Some of the detectives' explanations reportedly contradict FBI findings.
In March 2015, Denise Huskins was allegedly kidnapped for ransom from the house she shared with her boyfriend, Aaron Quinn, who told police that the intruders came in the early morning, drugged them, tied him up, and vanished with Huskins. He was left wearing blackened swim goggles, with headphones playing threats placed over his ears. Police allegedly interrogated Quinn for 18 hours after he reported Huskins missing, accusing him of killing her and inventing the story.
After an intense two-day investigation involving dive teams and search dogs, Huskins reappeared apparently unharmed, over 400 miles south of Vallejo at her parents' home near Los Angeles. At a press conference, police called the story a hoax, a waste of resources, and claimed there was no evidence of an actual kidnapping: "If anything it is Mr. Quinn and Ms. Huskins that owes this community an apology," a lieutenant who has watched Gone Girl too many times said.
Four months later, the FBI found that a Harvard-educated former attorney, Matthew Muller, was likely the kidnapper. His trial is now scheduled for January. The city of Vallejo has since issued an official apology to Huskins and Quinn, according to People. Now, after Huskins and Quinn filed the federal lawsuit last March, recent statements from members of the Vallejo police department reveal why they dismissed the case and argue for protection under the First Amendment.
A retired police captain wrote that when Huskins reappeared wearing sunglasses and carrying luggage, she "did not act like a kidnapping victim" or cooperate with police, meaning authorities couldn't determine whether she had been kidnapped. Another investigator said Huskins "did not wish to speak with Huntington Beach police," choosing to speak with her lawyer instead. But the FBI's sworn statement shows Huskins did speak with Huntington Beach police, according to San Francisco ABC affiliate KGO-TV, and that behind those sunglasses Huskins had "darker impression circles" similar to marks left by swim goggles, which she said Muller had put over the couple's eyes. The police department's court filing also notes that Huskins refused an offer to fly her to Vallejo, where she could have met with authorities and seen her family.
In an interview with People, the couple's lawyer Kevin Clune called the reasoning "outrageous … to think that in this day and age that a woman who has just been kidnapped has to act in a certain way in order to be believed by the police … And if you don't act a certain way in a textbook understanding of what a victim is supposed to act like then they will go on national TV and destroy her reputation and call her a liar, and that happened here."