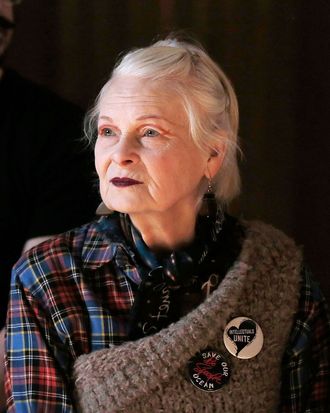 Vivienne Westwood.
Photo: John Phillips/Getty Images
Ever the punk, Dame Vivienne Westwood has left no stone unturned in her attempt to draw attention to her favorite cause: ending fracking. Quick recap: Westwood attempted to deliver a Christmas package containing asbestos to No. 10 Downing Street, when David Cameron was still in residence there, but was halted by guards. She then drove a military tank to his country home in Oxfordshire to carry out a faux "chemical attack" in the hope of raising awareness about the issue. (Unfortunately, Cameron was away that weekend in Leeds, and remained unmoved.)

Now, like Drake and Meek Mill before her, Westwood is taking this war to a mixtape. She is featured on the track "Be There x Intellectuals Unite" with Mic Righteous, whom she met at a climate-change march. "To be honest, when I thought of collaborations, Vivienne wasn't the first rapper that came to mind!" the rapper told i-D. "She mentioned she written a rap/poem and I didn't even need to hear it. I knew it would be perfect for this project." Presumably, he committed it to audio sight unseen. Listen to Westwood's rap chops below, and judge for yourself whether she'll make next year's Freshman List.