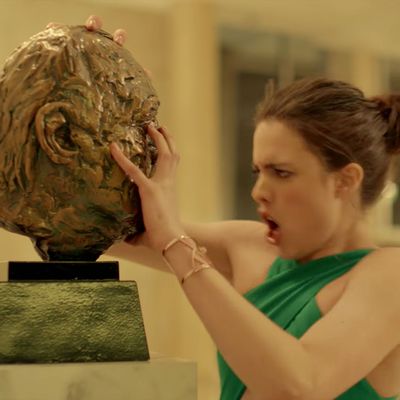 Photo: Courtesy of YouTube/Kenzo
Have you ever seen someone so possessed by the scent of a perfume that laser beams shoot out of their fingertips? Me neither. But Kenzo's new perfume, Kenzo World — the first to launch under the house's newest creative directors, Carol Lim and Humberto Leon — might be just that electrifying.
The brand's new ad, directed by Spike Jonze, shows what may be best described as a perfume rapturing. Actress and dancer Margaret Qualley (star of The Leftovers and Andie MacDowell's daughter) works herself into a full-body perfume frenzy choreographed by Ryan Heffington, the choreographer of Sia's "Chandelier." Click below to watch Qualley jazz-jump, pound her chest, and disarm a man for having a disruptive cell-phone conversation, all through the power of Kenzo World.