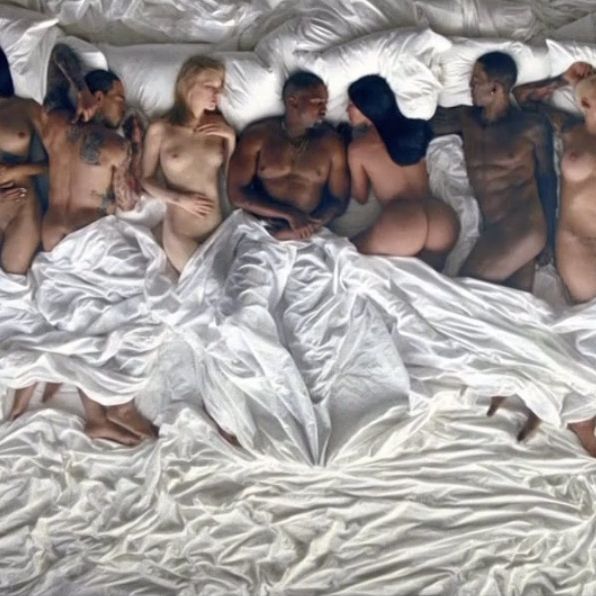 Werner Herzog recently discovered the internet — his new documentary, Lo and Behold, Reveries of the Connected World, explores both the limits and possibilities of life online — which has been a great excuse to have the iconic German documentarian-philosopher weigh in on the digital culture of the moment. Last week, Herzog critiqued Pokémon Go, and today, the Daily Beast got him to share his thoughts on Kanye West's controversial "Famous" video, which he totally digs.
Herzog is fascinated by the video ("I have never seen anything like this," he marvels), which he views as a reflection on the internet's ability to create doppelgängers, while forums like Facebook prompt the creation of a stylized and invented self.
"You can tell that's not the Donald. But it's good to see it because you start to reflect upon the overlaying self and invented self. What's going on on Facebook is all stylized, invented forms. And I see it in my personal contact with the internet that there's a lot of doppelgängers pretending to be me, trying to speak in my accent, my voice, answering things on Facebook, on Twitter."
Herzog feels that a movie should have multiple levels on which viewers can interact with it, and "Famous" successfully sparks the viewer's imagination:
"This video gives a space for creating your separate parallel story, and you keep thinking are these people for real, or are they doppelgängers and what could be the story of them, what are they doing, how have they partied, what brought them together?"
But don't expect Herzog to align himself with Team Kim or Team Taylor, for Herzog does not know this Kim and this Taylor of whom you speak:
"I do not know about quite a few of them at all, but of course Donald Trump and Rihanna I have seen. The entertainer who was accused of sexual misconducted with women, what's his name? Bill Cosby for example, yah."
Still, he definitely thinks that this "Kayne West" guy shows potential:
"Kayne West, if he applies to my Rogue film school with this film, I would invite him. Because I have never seen anything like this and it really has caliber. It shows us that the internet can be well beyond 60-second cat videos, although I like them as well."
Come for the incisive cinematic critique, stay for Werner Herzog saying the word "doppelgängers" over and over again.