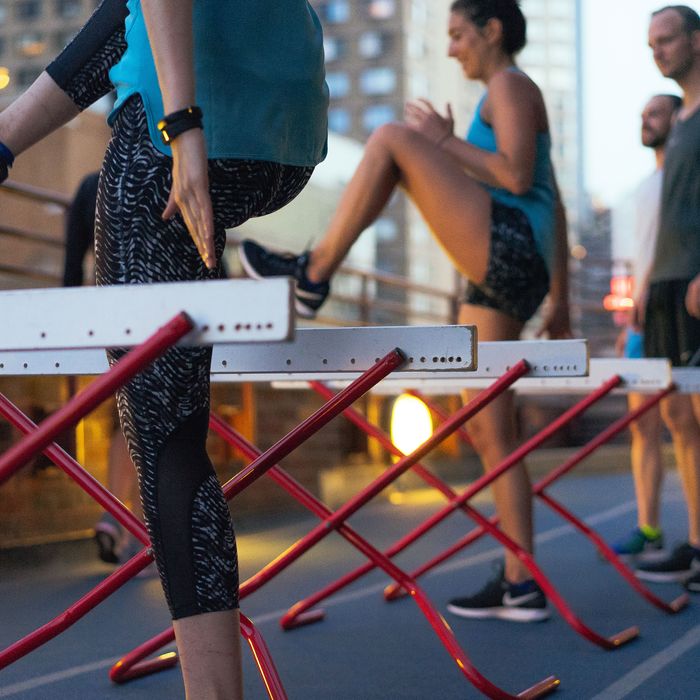 The author, left, during a track skills session in New York City.
Photo: Courtesy of Nike
I glance at my GPS watch and curse: I still have more than half a mile to go in this 5K, and all I want to do is walk. It's not the 3.1-mile distance that's killing me, it's that I've been trying to hit a 7:45-minute-per-mile pace in 85-degree weather and it's just not happening. You're not going to hit your goal time. This is really painful. Just stop. You can stop. As quickly as the thought enters my head, I push it out. It's a voice I've been working to quiet over the past 12 weeks. I pick a target in front of me and chase her down. Then another, and another, until I cross the finish, completely spent.
When Nike invited me to train like an Olympic athlete as part of its Unlimited You program, I knew I'd work my ass off. The track-and-field program included weekly strength sessions with a Nike Master Trainer and interval workouts with the head coach of the Nike NYC Run Club, a former professional runner who specialized in the 5K distance. We would be training during June and July, while the world's best athletes got in tip-top shape in advance of the Games, and our journey would culminate in a final test of our speed during the Olympics — a nicely concrete assessment, as opposed to the more subjective goal of "getting abs."
And the workouts would be similar to the kinds that Olympians do. Professional runners don't just go out for a run: They run to warm up, then do form drills before tackling punishing workouts — like, say, going as hard as they can for three minutes, resting for one minute, and doing that seven more times — then run some more as a cool down. They also hit the gym and do circuit workouts full of squats, single-leg deadlifts, and push-ups, along with insane core work like side plank crunches and rotating planks with dumbbells. Plus, those same form drills, but while being held back with a massive resistance band so they feel like they're running through sand.
I told my trainers that my personal Olympic event would be the 5,000 meters: I wanted to run the fastest 5K time of my adult life. I've run four marathons and more than a dozen half-marathons, but short, fast stuff is hard — it makes you want to puke. I expected to get crushed physically, but it turns out my mental strength would get worked just as much. The plan was to run two 5Ks, two weeks apart, after nearly ten weeks of tough training. I'd go into the first race on tired legs and use it as a dress rehearsal, then cut back on mileage before race number two.
I gave trainer Traci Copeland a confused look when she pulled out an extra-thick resistance band toward the end of our second session. Before I could ask what it was for, she had me pull it overhead and put it at my hips. I'd already worked out for an hour and now she was going to hold me back while I did high knees both forward and to the side. The last ten feet, she pulled even harder.
On another day, the second round of my circuit included hellish side-plank crunches after I'd already held side planks for 30 seconds just a few minutes earlier. I teetered and grunted as I struggled to bring my right knee and right elbow together. "Keep fighting!" Copeland told me. I finished eight on each side and collapsed to the mat, dripping in sweat.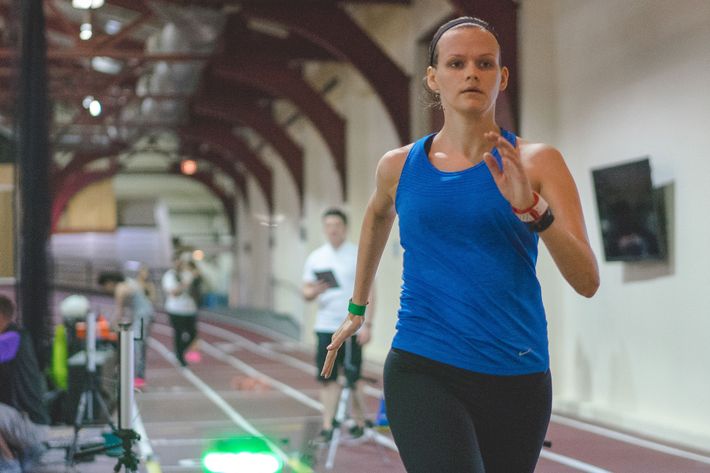 I told Lucas that Copeland had put the hurt on me but we proceeded to do our warm-up jog and set of 12 drills per usual. They're a bunch of skips and leaps designed to open up your stride and get the right muscles firing, but they also leave you breathless before you even start the real work, which that day was 45-second hill repeats on a gravel path.
She asks me to do B-skips — which involve lifting your knee, extending your shin forward, and then quickly driving your foot to the ground — without her demonstrating them first. I start galloping and I suddenly get self-conscious. "I'm bad at this, Julia! I'm not coordinated." "Don't say that!" she quickly counters. "Lots of people can't do the drill you just did." I flap around some more as she gives me form cues and eggs me on. I finish the drills and we jog to the bottom of a gradual hill alongside the Central Park reservoir that I will run up 10 times.

Lucas assured me keeping good form while I was tired would only help me with speed and efficiency, and running hills basically forces you to have good form. The next day I dragged myself through a four-mile group run, followed up by an eight-miler two days later. The week ended with my usual Sunday yoga class though chased with three miles per the training plan Lucas devised for me.
When it was time for the first race, I was definitely running on tired legs. After the first two miles in Brooklyn's Prospect Park, I realized I could possibly break my personal record of 24:22, but I just couldn't pick up the pace in the final mile. I finished in 24:57, the only time I'd cracked 25 minutes since setting my PR in 2012. I texted Lucas after the race with screenshots of my mile splits and typed out "do you think I can PR next time?" before remembering what both she and Joyner-Kersee had told me. I deleted those words and wrote instead "I can totally PR at the next one, right???" She immediately responded saying, yes, she thought I could, especially since she didn't taper my training at all. She ended the text with a resolute "Onward!"
But by the time the second race rolled around, New York was in the tail end of a heat wave. I checked the weather obsessively and was losing hope when the forecast suggested it would be a full ten degrees warmer when the gun when off for this race compared to the first one. But I'd trained in the heat and this was out of my control. I made myself a new race playlist and got amped on the subway ride to Brooklyn after work.
I did my warm-up and crazy-looking drills and lined up in the pack of runners. Earlier in the day, I told myself it didn't feel that hot and it wasn't — when I was walking in the shade with a breeze. That all changed when I started running. The first two miles were each about 20 seconds slower than in my first race but I pressed on, knowing there was a chance I could get a wave of adrenaline-induced strength. It never came.
Cut to me looking at my watch in despair. I pushed out the thought of quitting and focused on finishing the race. Then I remembered what Lucas had told me during our first hard workout together: "You're competitive. You speed up every time you pass someone." I decided that I didn't want to just jog the rest, I wanted to do the best that I could, so I focused on catching people. And that day, my best was 26:11. Not what I wanted, but I could at least hold my head high.
I couldn't help but think of what I'd watched on the track in Rio the day before, when runners Abbey D'Agostino and Nikki Hamblin tripped and fell in the first heat of the 5,000 meters. They helped each other up and finished the race. It didn't work out as they planned, but they kept moving onward. That's a truly Olympic effort.