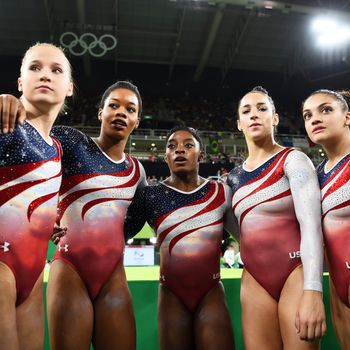 The Final Five.
Photo: Laurence Griffiths/Getty Images
The members of the U.S. women's gymnastics team appear to bend effortlessly and flawlessly in a number of impossible ways, yet they do so in what, to the layman's eye, look like constricting and inflexible leotards. Many people have wondered how it's possible to move so freely in a garment that looks like it's cut from shiny, stiff plastic. The leotards, developed and designed by GK Elite, are in fact anything but inflexible: The custom-fit leos (that's slang) are made out of a signature material called "Mystique." Mystique takes the traditional spandex leotard and layers it with thin, flexible holograms and foil. "We pride ourselves on our four-way stretch," a representative for GK Elite told the Cut over the phone.
That stretch continues to be developed over time: Kelly McKeown, the executive vice-president of design at GK Elite, says the company is constantly working toward making the leotards both jazzier and easier to compete in. "The fabrics just keep getting more and more techy with the stretch and recovery," she told Fashionista. "But we also have all the finishes of the foils and holograms and then embellishments — the sublimation technique, which is the printing process that we have a team of graphic designers here create."
The Mystique fabric — as well as the thousands of Swarovski crystals that each leo is embellished with — is designed specifically not to weigh down or restrict the athletes. But the ever-growing interest in spangle and glitz has been an interesting challenge for the teams of people who contribute to the leotard-development process. As the New York Times reported last week, the glitz factor is all due to wanting "a small girl in a giant arena" to stand out to the judges; the shine draws attention to her movements in a way that a plain, spandex leotard would not. Swarovski has been working on developing lighter crystals to accommodate leotard designs that demand more glitz. At last count, Team USA leotards are embellished with nearly 5,000 crystals each.
And though gymnasts often flip themselves over in ways that seem painful and damaging to the groin, GK Elite explained that "crotch lining in leotards is available upon request," though the official leotards are not made with them. "Some gymnasts elect to wear undergarments," they said, but it's not common. After all, as GK Elite told the Cut, their leotards are meant to "fit like a second skin."