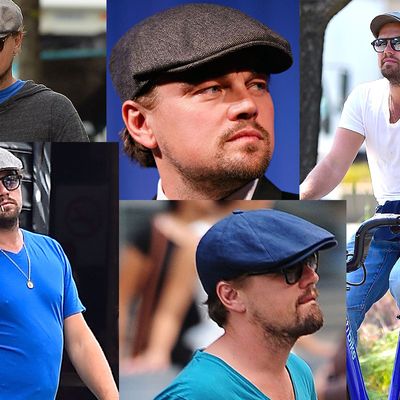 Photo: Josiah Kamau/BuzzFoto/FilmMagic/Cindy Ord/Getty Images/Alo Ceballos/GC Images/Alo Ceballos/GC Images/Raymond Hall/WireImage
Close your eyes, hum a little song, (any song!), and think about your favorite item of clothing in your closet. It could be a sturdy pair of summer jeans, it could be a T-shirt that fits you just loosely and just tightly enough, it could be a pair of underwear you've had since 1999. When you've arrived on that item in your head, ask yourself this: Why didn't you buy several more of the same? That was dumb of you.
As head Fashion Dirtbag Correspondent at the Cut, I have a few basic rules that I live by when it comes to elusive "style": First, I try my hardest to appear as if I've showered. Secondly, I buy everything on sale. And third, if I find something that both fits well and looks moderately good on me, I proceed to wear that thing until it is threadbare, then I throw it out, and buy a brand-new one of that thing. I will repeat this process, in perpetuity, until I am dead.
Any person who works in fashion will tell you that trends continue to shift and change: Within the same year, the royal "we" could go from thinking fringed vests are sexy and chic to wanting to fill the world's dumpsters with fringed vests, douse them with gasoline, and watch them burn. Listen, I've seen Zoolander. I know how fashion works.
But as my mom probably said once, one thing that never goes out of style is comfort. And therefore, neither will my pair of Vans Sk8-Hi's that I've been wearing in a number of different colors since I was a preteen. Once my feet stopped growing, buying a new pair of Vans instantaneously became twice as easy. My size? 8.5. My preferred ordering platform? Zappos.com. My color of choice? Black-and-white Sk8-Hi's, canvas or white in Vans Authentic Core Classics. Occasionally I find myself drawn to a camouflage print or a bright red, and you know what, I go with it. When you know you love something, a little pop of color can't hurt you.
This same process applies to underwear and other "basics." I have been wearing the same cut of Gap underwear for at least eight years. When I searched the word "Gap" and that style of underwear in my email order history, I found more than 30 emails dating back to 2010. I have replenished my underwear supply with the simple click of a button dozens of times over the past few years, so many times that at this point, I could probably do it with my eyes closed. And it's great. I literally never have to think about what I will wear under my summer jeans. More often than not, I don't even get new colors. I just throw the old ones out and replace them with the new ones. Then I can go about my life, doing other extremely good shit.
Haters and losers will naturally say, "Sure, but isn't variety the spice of life? What if there is a better pair of sneakers in the world or a nicer pair of underwear that you haven't had the opportunity to learn about? Shouldn't you at least give yourself the chance to experiment?" The answer to that is no. In the long list of things that, as a woman, I am tasked with caring about, I try my hardest to set aside the nonessentials. I apply this same philosophy to beauty products and hair care. I found a shampoo that I like two years ago, and right before it runs out, I re-up it on Amazon. This seamless process frees up space in my brain to think about all kinds of other things. Lately, I've been thinking about what delicious desserts I can bake with my excess of frozen bananas. That seems infinitely more important.
Then, of course, there is the fear that the clothing item you choose to buy over and over will eventually be considered really uncool or ridiculous. Take Leonardo DiCaprio, for example. He has been wearing the same stupid newsboy cap for the past ten years, and it never looks dirty so you know he keeps buying the same one. While any common dirtbag would say that this look is definitely not a good one for DiCaprio, one must respect his commitment. Leonardo DiCaprio is an Academy Award–winning actor: Do you really think he has the time to consider looking good? Damn.
The only legitimate threat to this foolproof system of living one's best life is that the retailer will eventually stop manufacturing your favorite thing. This is like seeing your beloved childhood dog die. Things change. People move on. Life is a series of goodness followed by badness. Do I fear that someday Vans will stop selling their staple sneakers? Sure. But I cannot be ruled by fear, only simplicity. In the event that one of my beloved staples is discontinued, I will not cease until I find an acceptable alternative, and will dutifully buy that one over and over until I die. It is the circle of life, after all. As Samuel Beckett once wrote, "I can't go on. I'll go on."