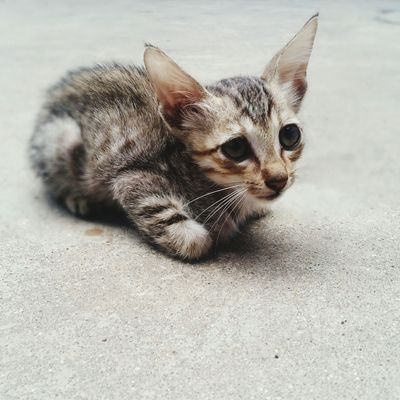 Photo: Khaleel Ahamed/EyeEm/Getty Images
An Oregon woman loved cats so much that she let as many as 100 strays live with her, transforming her home into a cat boardinghouse while dutifully caring for them for years (until last month). "I'm really not a cat person," she told the Mail Tribune. "I just felt sorry for them."
Perhaps you relate: The unidentified woman had fed stray cats in White City, Oregon, for years. When some started following her home, she kept them. Then dozens more came. She didn't realize how many lived with her until one night while feeding them all dinner — she counted over 60. A friend said there were 100 cats at one point, describing how the woman's love for animals took over her life: "They started multiplying and it was a huge mess. … She's spending all her time feeding cats and taking care of litter boxes." She wanted "to do the right thing," he said.
Calls to a local shelter prompted investigations over the past few years, but each time her cats were found well cared for. Though the woman isn't accused of doing anything wrong, the case illuminates commonly murky legislation on how to help stray cats: According to the Mail Tribune, animal services and local shelters define a cat owner as someone who has fed a cat for more than one month (so this woman was an owner), but Jackson County's sterilization mandate for shelter pets doesn't apply to non-adopted animals. Rescued dogs in the county have to be licensed for a fee, but cats aren't licensed at all.
Eventually, though, it became too much for her: Last month, local animal organizations offered to give free sterilizations and help find homes for the animals. So far several cats have been adopted, a handful of them are on an adoption waiting list, and about 40 kittens have been sterilized for free. The woman's friend expected the project will take several months.
"This should've been done a long time ago," he said. "Every county should have a plan for taking care of something like this. There should be a solution." An animal-services officer said Jackson County is considering a trap-neuter-release program, noting that this kind of issue among people who feed or house stray cats has become "a rapid problem."
A problem, all for the love of cats.