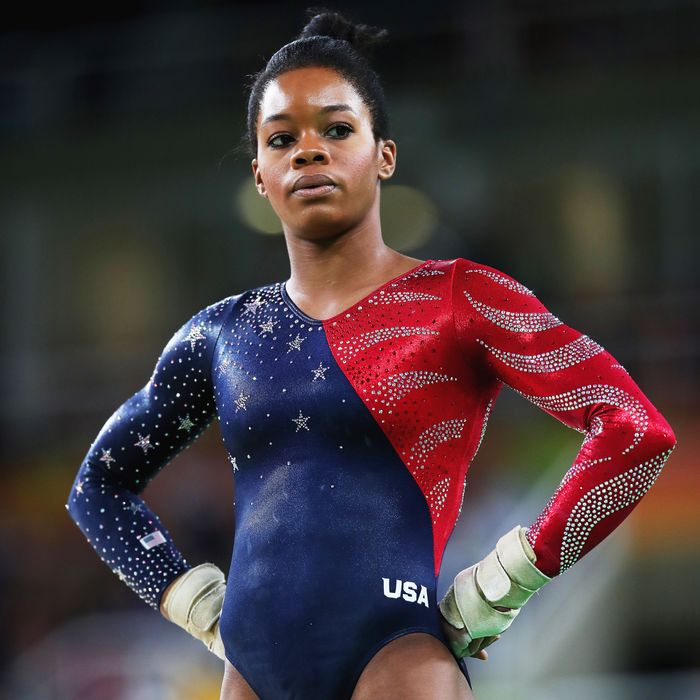 Douglas fell victim to the notorious two-per-country rule.
Photo: Tom Pennington/Getty Images
The U.S. women's gymnastics team blew the competition away with its gold-medal-winning performance on Tuesday, unsurprising to anyone who watched their top-three gymnasts sweep the qualifiers on Sunday. Simone Biles led the pack, qualifying in first place for three different events and leading the individual all-around competition by almost two points. Aly Raisman came in second, which meant she also qualified for a chance to compete in the all-around competition Thursday afternoon. Gabby Douglas, the defending all-around Olympic champion, finished third.
You'd think, then, that because 24 athletes qualify for individual all-arounds, all three of the top-three finishers would move on. But Douglas, who came in less than a point behind Raisman (60.607 to 60.131), won't be defending her gold medal thanks to a rule that's sparked outrage among gymnasts and coaches alike: Only two athletes from each country can compete in the finals.
The international gymnastics federation implemented the two-per-country rule incrementally beginning in 1974 — two years after Japanese gymnasts claimed every all-around medal in Munich — to keep one or two countries from dominating the field. The same rule will shrink the size of Olympic teams from five members to four after this year in an effort to give athletes from smaller countries a better chance.
It's also regularly responsible for barring some of the most talented, dynamic athletes from the all-around competition. "I think the two-per-country rule is the dumbest thing ever," Aly Raisman told NBC after the qualifying round. (Raisman also benefited from the rule in 2012, when Jordyn Wieber earned the third-highest score but was barred from competing in all-arounds.) She went on, "Who cares if there's five Chinese girls in the finals; if they're the best, they should compete."
But Douglas took the news like the champion she is. "This has been an amazing journey," she told reporters for Team USA's website. "There's nothing to be ashamed about. I would have loved to go back and defend my title; however, the support around me has been great. I put it all out there."