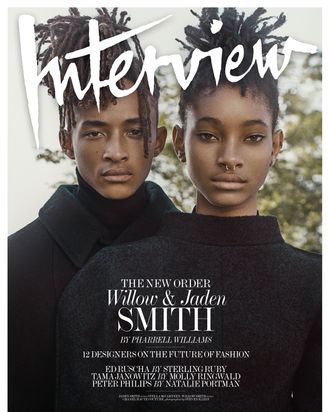 Photo: Steven Klein/Interview
Jaden and Willow Smith both have plenty going for them. Willow recently surprise-released an album; Jaden is starring on Baz Luhrmann's The Get Down. Willow teaches underground quantum-mechanics classes; Jaden is writing a book of philosophy that will cement his status as the heir to Galileo's legacy. Willow is a Chanel ambassador and self-described "high-fashion nomad"; Jaden has his own system of grammar. You know, stuff like that. But in their new Interview magazine cover — their first cover as a duo — we finally have the answer to an age-old question, one that sages have pondered ever since the Smithlets emerged fully grown from Jada's womb wearing matching Louis Vuitton kilts and offering benedictions in perfect Sanskrit: Which Smith kid is the best Smith kid?
It's Willow, obviously.

"Willow's always been better than me at everything," Jaden explained to interviewer Pharrell.

JADEN: Willow started making music first. I was like, "My younger sister is, like, 4, and she's making all these fire songs. What's happening?" Willow was doing all these things, about to have record label deals at like the age of 6, and I was like, "I feel like I'm underachieving." That was around the time that I was doing Karate Kid, and I could do flips, and I thought I was special because I could do flips. But Willow could do the flips, too! Willow naturally had it. Like, I was trying to do no-handed cartwheels. Willow had it. I was trying to get to the studio. Willow was in the studio. You know what I'm saying? Willow just didn't have as big as a passion for acting as me. But if she did, she could do what I did.
Don't shed a tear for Jaden, though. He's going to be okay:
"It happened so that me and Willow were able to go through every level or different section of life that we wanted to. If we wanted to act, we could act. If we wanted to dance, we were dancing. And we could do it on the level that we wanted to do it."

Phew.