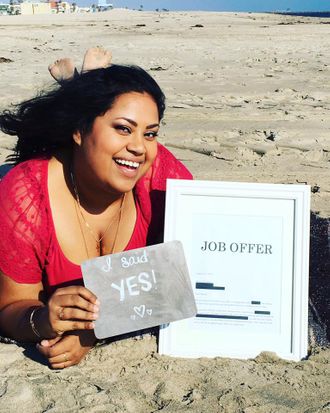 Photo: Courtesy of Facebook/Benita Abraham
Following the rise of the trend of couples taking photos in the sand upon the announcement of their "engagement," a whole slew of ironic copies arrived: a woman with her pizza box, a couple at a murder scene, a bunch of annoying celeb photobombs. You know the drill. While the form had seemed ripe for nixing from the Zeitgeist long ago, enter Benita Abraham and this offer for a job.
Abraham had gone through seven months of unemployment before she found the perfect job she'd been looking for. They did the first interview on June 11 and by August 8, she'd accepted the offer. To commemorate the momentous occasion, Abraham posted a series of photos of her and her job offer rolling around on the beach, in bed, and at home together. Aw. That just warms the heart.
Now let's just hope she likes it.