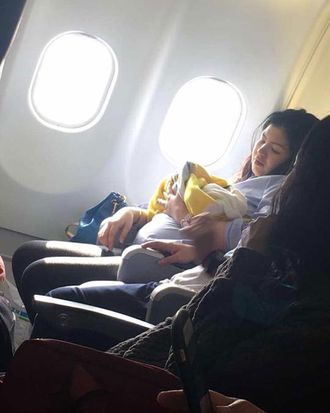 Photo: Missy Berberabe Umandal/Facebook
Save for the copious amounts of tomato juice, flying isn't exactly the most pleasant experience these days — but travelers on a Cebu Pacific Air flight from Dubai to the Philippines got a rare good surprise when a baby was unexpectedly born mid-flight.

Missy Berberabe Umandal, one of those passengers, shared her account of the baby's birth on Facebook. After the woman began to have contractions mid-flight, two months earlier than expected, flight attendants brought her to the front of the plane to give birth. "We only heard one semi-loud screech, and a few seconds later, there were tinier, cute screeches, and it was when we knew the baby was born," Umandal wrote. "Luckily, she only had to push ONCE. Moments later, the woman got up to go back to her seat, baby in arms (mighty strong, I might say)."
Both flight attendants and passengers pitched in to help, handing out infant clothes and washing the baby, who Umandal believes was named Haven. The flight was diverted in India so that the mother and baby could receive medical attention, and though it ended up being 18 hours of travel instead of 9, Umandal says there were no complaints.
All in all, it was a lucky delivery — and even luckier for the baby, who will receive a lifetime of free flights from the airline.