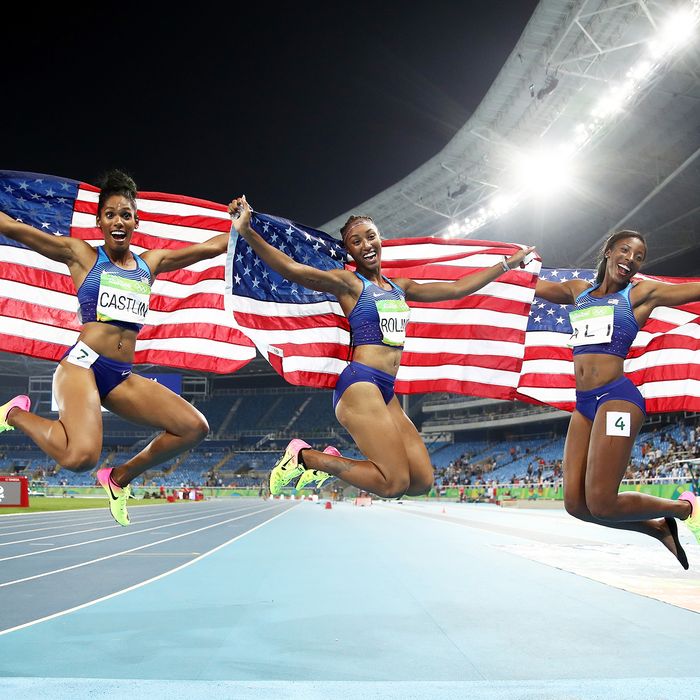 Photo: Cameron Spencer/Getty Images
This is how impressive the U.S. women's team of hurdlers is. On Wednesday, the three women representing Team USA swept the 100m hurdles, winning gold, silver, and bronze at the Rio Olympics. Not only that, but in doing so, they became the first nation to ever achieve the top three spots in that event.
Brianna Rollins burst out onto the track and leaped cleanly all the way to gold with 12.48 seconds. Close behind her were her two other teammates. Nia Ali came in with 12.59 seconds and won silver, while Kristi Castlin inched out Great Britain's Cindy Ofili, 12.61 to 12.63, and claimed bronze.
So strong is the team from the U.S. that they managed the sweep without Keni Harrison, another American who broke the world record in July with a time of 12.20 seconds, but didn't make the U.S. Olympic team. The trio also has the distinction of winning the first gold for the U.S. on the track at the Olympics, though others had won in field events like shot put, long jump, and triple jump.
It was an emotional night for the trio of Olympians. As she crossed the finish line, Rollins threw her hands in the air in celebration. Castlin fell to the floor with emotion after she claimed silver. Ali smiled as she looked up and realized she'd claimed bronze. They hugged. They cried.
And then they each took up an American flag and jumped in the air. They had, after all, just claimed victory and made history — together.