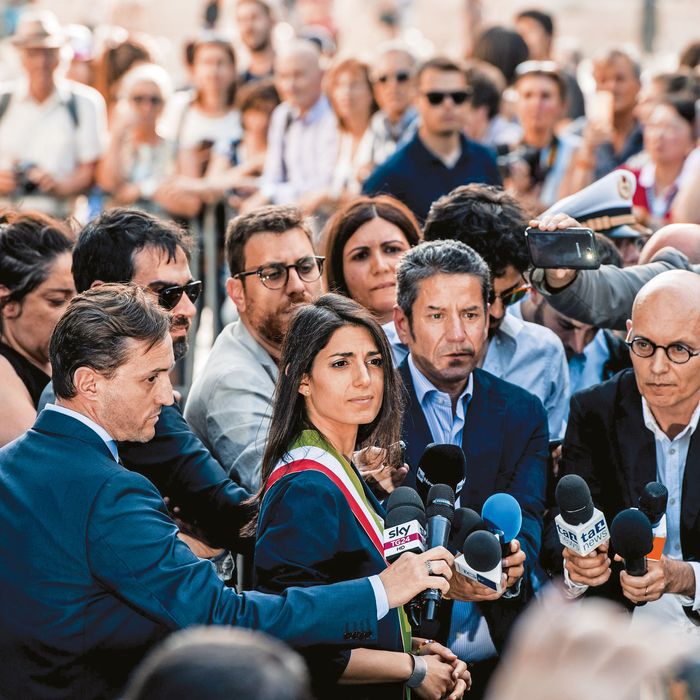 Virginia Raggi, facing the press soon after her win.
Photo: Rex Features via AP Images
After three millennia of being governed by men, Rome elected its first female mayor in June, 38-year-old Virginia Raggi, an intellectual-property lawyer and activist who ran as a candidate for the populist Five Star Movement (M5S). During her four-month campaign, even Italy's most respected media outlets reported on her wardrobe and relationship status and referred to her in informal language like ragazza (girl) and moretta (brunette). Corriere della Sera covered her entrance to a victory party with a video headlined "difficulty walking on the cobblestones in heels." All of which helped make her landslide win particularly sweet. "In a time in which gender equality is still a dream, this is a historic moment," she said in her speech. Raggi's election hasn't turned Rome into a feminist utopia, by any means — domestic violence and workplace harassment are still major problems in Italy — but it also isn't an isolated event. The women of Rome have been making headway in business and politics and are subtly reshaping the city in their image, from billboards to boardrooms.
Workplace Sexism Can Be Overt
A Michelin-starred chef on how to be taken seriously in the kitchen.
"If I hear somebody say, 'Go ask Chef,' one out of two times they go to my [male] assistant. The authority that men extrude is still very much perceivable. One time, I found myself in a new kitchen where the sous chef was talking about having sex with someone I knew. His co-workers were laughing. They were waiting for me to feel embarrassed. Another time, I was picking up a bowl from an upper shelf and found myself squeezed toward the table by a guy saying in front of everyone, 'Sweetie, no worries. Dad will take care of you.' My elbow hit him so hard that it was a miracle I did not hurt myself. I turned around and suggested that maybe he could go help his mama. From that point on, I did not have to defend myself from my colleagues; they understood I was there to stay." —Cristina Bowerman, chef and owner of Romeo and Glass
And Those Cobblestoned Streets Are Enough to Radicalize a Working Mom
A primer on Rome's new mayor.
Raggi has said her career in politics began when her son was born. Frustrated in her attempts to navigate Rome with a stroller, encountering cars parked on sidewalks and abandoned parks, she joined her husband at a meeting of the then-nascent M5S, a populist group founded by comedian Beppe Grillo. The M5S's five-point platform promoting sustainable development and transport, public water, the right to internet access, and environmentalism, has caught on with Italian voters increasingly fed up with the nation's corruption and urban decay. Since its founding just seven years ago, M5S's members have been elected as mayors in 19 cities and towns and picked up 126 of the Italian Parliament's 945 seats. Raggi briefly served on Rome's city council before running for mayor on an anti-corruption, anti-waster, budget-balancing platform, winning with 67 percent of the vote. She's claimed the city loses €1.2 billion to government waste every year, and plans to renegotiate Rome's € 13 billion debt and shake down the Vatican for its allegedly unpaid real-estate taxes. During the campaign, she picked a fight with Italy's Olympic Committee, saying it was "criminal" to consider an Olympic bid in the midst of a budget crisis, and she hasn't been afraid to go after Rome's political Establishment either. "We have to bring legality back," she's said, "something that in Italy, in Rome, isn't there."
What Do You Call a Female Mayor?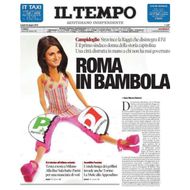 Il Tempo illustrated the news of Raggi's victory with an image of her head on a Barbie. Journalists called her "Doll" and "Ms. Nobody." To her supporters, she's Lady di Ferro Pentastellata (Five-Star Iron Lady), or even, la papessa (the pope). But Raggi prefers to be called, more simply, sindaca (mayor).
Dating in Rome Is Still Pretty Traditional — Despite Tinder's Best Efforts
A 35-year-old curator breaks down the dating scene.
"There's not much casual dating — unless you count cheating! — and overall the dating scene is pretty reserved. A lot of people are in super-long-term relationships here. We Italians don't want to be alone, so we just stay in these very long and often miserable couplings. On the plus side, unlike in America, there's not much pressure to marry. This is mainly an economic thing, though. Italians graduate later, wages are lower, real estate is super-expensive, and youth unemployment is rather high. People routinely stay together for years — a decade or more isn't abnormal — before getting married. I'm on Tinder, but in general Italians using websites to date isn't so compatible with the way people meet here. Tinder is more for hooking up. Once people are in relationships, women are fairly assertive in their own way, calling shots, making plans, demanding respect, but since this is still a society that is fairly tilted toward men, outwardly men are seen as the ones making the big moves." —Rebecca S., curator
And Roman Billboards Can Appear As Sexist As Times Square in the '70s
One street artist is trying to change that, though.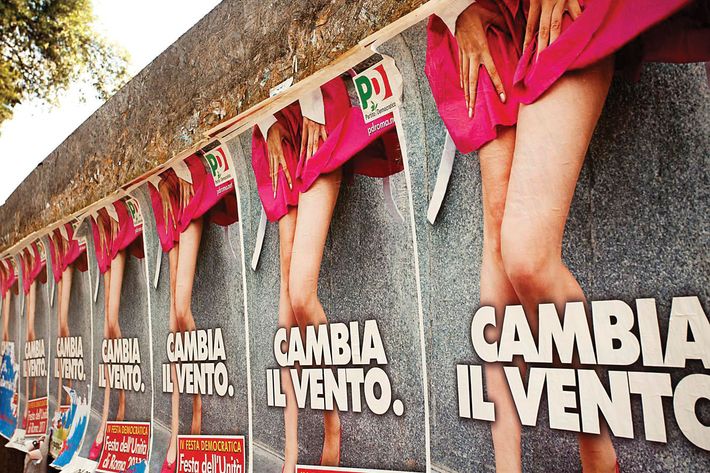 "In Italy, the cultural image of women falls into two categories: mother or sex bomb. In street art, it's usually the latter, with women painted to look sexy or like comic-book characters. When I was growing up in Rome, the streets and billboards were covered with advertisements showing women either partially clothed or practically nude. The one that really sticks with me is a silicone-caulk ad depicting a nearly nude woman. And it hasn't changed. Today, when I take the off-ramp to drive home, I see this billboard with a half-nude woman splashed on it. She's got to be seven stories tall. [In the murals I paint] I choose to show women acting naturally, as I see them on the street. They have individual characters and aren't part of this tendency to strip women of [their] true or natural identity." —Alice Pasquini, artist
But Domestic Life Can Be Progressive, Even By New York Standards
A mother of four on how she and her husband divvy up duties.
"Alfonso [my husband] had been in a failed long-term relationship that had caused him to reflect on gender roles, so when we got together, he was already aware of a need for balance. We knew we couldn't afford a nanny or babysitters, so we decided we needed to establish a more formal approach to organizing work, home, and social time. We have a cleaning lady once a week, but we have a schedule for light cleaning and tidying during the week. Same for child care. We split education, health care, bills, and keeping in touch with family. If one of us needs to change the plans, we are flexible, and if neither of us can be available for something, I have a really great network of mothers in the Pigneto neighborhood where I live. We have a WhatsApp group and can count on each other for helping out. It's very different from how our parents did things. My mom quit working to look after us and the house. Alfonso's mom was a businesswoman and cooked and cleaned. How did she do that?" —Martina Dalla Riva, cultural travel specialist
Where Is It Better To Be a Woman?
Italian maternity leave is molto buono.
Rome
Pay gap: Italian women make 93 cents for every dollar a man makes.
Workforce participation: 45 percent of Italian women ages 15 to 64 work.
Maternity leave: Italian women are entitled to 80 percent of their contractual wage during maternity leave, which is 22 weeks.
Higher education: 58 percent of university students are women, as are 52 percent of candidates for dottorati di ricerca.
Political representation: 31 percent of the Italian Parliament is female.
CEOs: 7 percent of listed companies in Italy have a female CEO.
Abortion: Abortion in Italy is legal up to 90 days after conception, but an estimated 70 percent of gynecologists won't perform the procedure.
Tampon tax: All Italian products are taxed at 22 percent — even menstrual products.
New York
Pay gap: New York women make 87 cents for every dollar a man makes. (The U.S. pay gap is 79 cents to the dollar.)
Workforce participation: 66 percent of American women work.
Maternity leave: U.S. women do not have paid maternity leave; they are guaranteed 12 weeks of unpaid leave.
Higher education: 57 percent of university students are female, and 51 percent of doctoral candidates are.
Political representation: 19 percent of Congress is female.
CEOs: 4 percent of S&P 500 companies in the U.S. have a female CEO.
Abortion: U.S. abortion laws vary by state. New York State has no major restrictions, and the procedure is even covered by Medicaid.
Tampon tax: The New York State Legislature just passed a bill ending the state's 4 percent tax on menstrual products.
Women Learn How to Keep the Mama's Boys in Check
"As a publicist for food companies, I have to become, in a way, part of the storefront. It's difficult. I am a very smiley person and my smile is misinterpreted as flirtation or an invite. Once, I was presenting an olive oil to a very well-known critic, stating that it was from the Pontine Hills. He replied, looking at my cleavage, 'Oh, I see your hills.' It felt like a violation, mainly because I didn't have a quick quip in response. In all the time I have been working, the men haven't changed at all. What is changing is us. Women are understanding their value more. And we understand men more. So if anything is improving in our work environment, it's thanks to women. I think this is very much related to our increased independence. We leave home to study, we stay away to work in cities far from our families, we live on our own. This is a huge contrast to the mammoni (mama's boys), who live at home or exploit traditional gender roles to keep their parents in eternal servitude. I have 15 cousins on my mother's side, and six out of the seven men live with their parents. They relish the comforts of having someone look after them. Are they simple beings? Who knows?" —Francesca Nappo, publicist
And Even If the Men Haven't Changed Much, the Women Certainly Have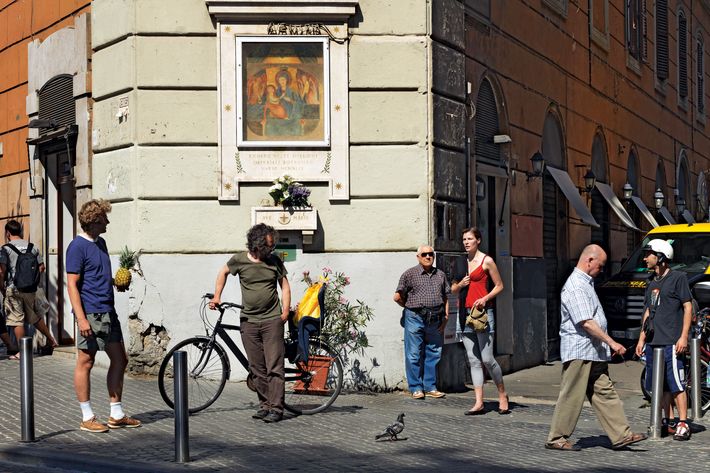 They have their own clubhouse.
In the late 1980s, the Movimento Femminista Romana took over a 17th-century convent, which has since been recognized as the official home of Casa Internazionale delle Donne. There, women hold lectures, performances, exhibitions, and the meetings of more than a dozen political and social clubs. In recent years, the CID has introduced co-working and professional-development programs, and its regular Slow Food farmers' markets draw a coed crowd.
… And a woman-led babysitting start-up.
"We provide a digital form of the word-of-mouth structure that used to drive babysitting. My co-founder Monica saw potential in creating a network of mothers and babysitters who maybe lived close to one another but didn't actually know each other. Maybe they went to the same gym or hairdresser but were missing that direct link. Monica had started by offering this sort of taxi service so mothers who worked or had other things going on could free up their time. Many mothers struggle with traffic and waste a whole lot of time just getting their kids to school, to sports, and so on. Public transport in Rome is very unreliable, so you have to drive. The babysitting and taxi service became incredibly popular, and we are now all over Italy." —Giulia Gazzelloni, chief operating officer of Le Cicogne
For some, the change is palpable.
"Ten or 15 years ago, when I was working in an office, I often felt like I wasn't supposed to participate in meetings and that my voice wasn't valued. Just last week, I was in a meeting with a director and a lawyer and I spoke my mind with knowledge and confidence. My opinions were valued. I feel like an equal and valued part of the production." —Alison Ercolani, television producer
Rome's cultural mayors are increasingly female, too
Three women everyone in the city pays attention to.
Fashion
Silvia Venturini Fendi, designer
The luxury-brand scion has recently stepped up for her hometown in a greater way, bankrolling major restoration projects including a multimillion-euro refurbishment of the Trevi Fountain, where Fendi hosted a whimsical runway show in July.
Film
Asia Argento, actress
The daughter of acclaimed horror filmmaker Dario Argento made her television debut at age 10. She's since appeared in movies by Sofia Coppola and Gus Van Sant, becoming one of the few Roman actresses to achieve international acclaim.
Art
Domitilla Dardi, curator
Design curator at the Zaha Hadid–designed MAXXI (Rome's Museum for 21st-century art), Dardi has become a leading voice in Rome's contemporary art world.
One sign of (somewhat clumsy) progress …
The government-implemented quote rosa means one-third of board members at publicly traded and state-owned companies must be female. Some women feel the law stigmatized their accomplishments, but it's also had a visible impact on the number of women in high places.
… And one sign of (totally disturbing) problems.
In 2014, more than 30 percent of Italy's homicides were women killed by a male partner or acquaintance. The government recently launched a campaign aimed at educating men about violence against women.
*This article appears in the August 8, 2016 issue of New York Magazine.