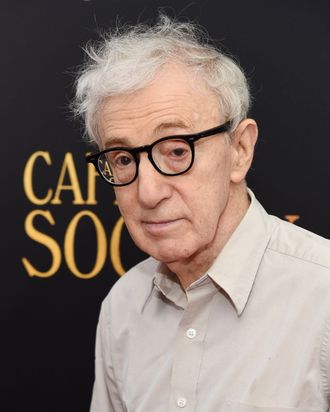 Photo: Jamie McCarthy/Getty Images
Woody Allen's new series for Amazon, Crisis in Six Scenes, will premiere at the end of the September, and with it comes an entirely new wave of press for the director. What's Woody Allen's stance now on the allegations of sexual abuse lodged against him? In an interview at The Guardian, he explains:
"I have no interest in all of that. I find that all tabloid stupidity. That situation had been thoroughly, thoroughly investigated up and down the line by New York social services in a 14-month investigation. It had been investigated by Yale and conclusions were clear and I have no interest in that whole situation. I get harassed all the time on it. But it doesn't affect me and I just have no interest in it."
He sounds weary, sad, flat. He's not used the word "harassed" in relation to the case before; today he uses it twice, the second time directing me to an article rebutting Ronan ("probably the best thing written on this since the whole harassment started … mature and not vitriolic and decent"). Which suggests that he may read some press, and that he is affected by it.
Woody Allen previously had spoken about the Ronan Farrow editorial, saying that he has "moved so far past that." All right. Nothing to see here.