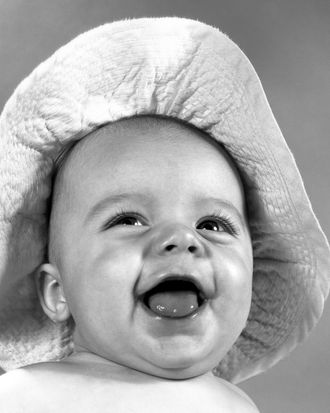 Photo: Constance Bannister Corp/Getty Images
There are many different ways to be a working mom. In Having It All, a new column, women with kids and careers tell us how they organize their lives. This week: the fashion marketing VP whose son has a rare brain malformation.
Having a career is part of my identity. My mom always worked, as did my grandmother, so being a working mom was something I just assumed would happen one day. I had a career long before I had kids.
My husband and I met in business school in Spain. We moved to France and then New York, where I worked in advertising before going client-side to a cosmetics company to lead the social-media team. A year later, our son was born, and while it was hard to go back to work, I was ready for it. It was wonderful to have that part of my life back.
I lived the entire experience at work, where I wasn't just supported, but actually promoted. Twice. First, the same week we got the terrible news, and again, to vice-president less than a year after taking a second maternity leave with our daughter. It's incredible that a company can be so supportive of someone in my situation. Obviously, I worked like crazy, but I also was never given a hard time if I needed to take my son to doctors' appointments — and there are so many — or work with a new therapist for him.
He's 4 now, and our daughter is 2 and fortunately totally neurotypical. She's going to be an amazing partner and protector for her brother, though we do worry about the pressure that will put on her as she gets older. My husband and I try to focus on giving our kids the best, most normal lives possible.
We moved from New York to California last year, so I could take a position as vice-president of marketing at a fashion start-up. It was hard to leave. We had a great setup for our son, and I knew I was very valued as an employee. But in New York, I had to coordinate five therapists who came to our home, which in itself felt like a full-time job. New York is also not the most disabled-friendly city, and as our son got older and into a wheelchair instead of a stroller, we knew it would only get harder.
In California, he's in an integrated public school with "regular" and special-needs kids in the mornings, and then a private integrated preschool in the same building for the rest of the day. After spending his first three and a half years cared for by a truly wonderful nanny, being in school has been amazing for him, and he absolutely loves it. I worry about him all the time, like any mom, but I know he's in able hands at an incredible school.
I started a blog about our son when he was a year old, and, at first, I was worried — what if a future employer reads this? But then I thought, if someone reads this and doesn't want to hire me, they can go to hell, frankly. So, I was very open with my current company during the interview process. I told the CEO, "This is my reality, but I can still do my best work and kick butt. If you support me, I can do anything."
I didn't come in demanding a flexible schedule. They understood that I may need to take my son to the doctor or meet with his school or his therapists from time to time. It's an e-commerce company, so we can get a lot done without being physically in the office, and it was started by a mother-daughter team, so they get it.
I'm sure most parents would say they don't have downtime. But our son can't do anything for himself. If both our kids were normal, they could play with each other or even entertain themselves. Our daughter can play with Legos or coloring books on her own for long periods. Our son needs to be entertained all the time, or he gets frustrated. It's very hands-on. He can't turn the pages of a book or draw pictures, so it's us helping him move his hand to play with blocks or puzzle pieces. He can't dress himself, go to the bathroom by himself, or feed himself, and that's hard. He's totally there mentally: He sees, hears, feels, laughs, and cries, but he just can't get his body to cooperate.
We don't put anything past him. But realistically, he's going to rely on other people his whole life, and by other people, I mean my husband and me. Working provides health insurance, but it also allows us to set aside money for him, because chances are, he won't have a job or family of his own. It's up to us to provide for him for as long as he lives, which can be daunting.
We're a two-career couple, but my husband has picked up a lot of the parenting stuff since we've moved. He's a fantastic partner. He works from home and has his own business, but he has pumped the brakes to support me in this role, and I couldn't do it without him. It's still an insane balancing act. This isn't something he and I ever expected, and the unexpectedness makes everything more complicated. The thing most people say to me is "I don't know how you do it." But I don't know how I couldn't.