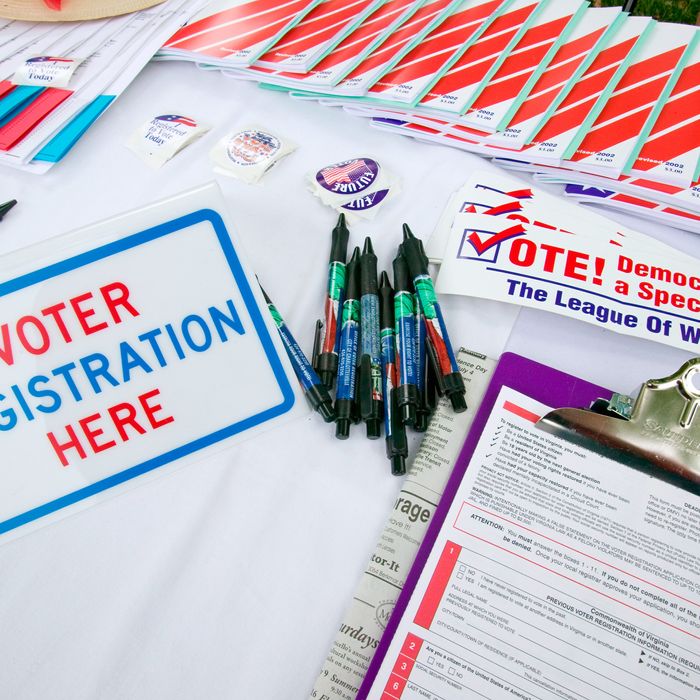 Voter registration forms.
Photo: Joe Sohm/Getty Images
Planned Parenthood will begin registering voters at its clinics, on college campuses, and online in an effort to help historically disenfranchised people participate in this fall's presidential election.
For the "My Vote, My Voice"campaign, volunteers in 45 states will set up tables outside clinics, on campuses, and in other community areas to register people to vote and tell them about voter ID laws in their state.
Planned Parenthood serves 2.5 million people, many of whom are young, low-income people of color and more likely to be affected by voter suppression laws. The launch of the campaign coincides with the 51st anniversary of the Voting Rights Act, the 1965 law meant to ensure that state and local laws would not prevent black people from exercising their right to vote. (Recent voting "reforms," like voter ID laws, are threatening to gut the legislation.)
The organization says the campaign is nonpartisan and that they will register anyone regardless of their ideologies. As a Planned Parenthood spokesperson told the Huffington Post, "No matter what your political beliefs are, if you don't or can't vote, then you can't elect officials who will keep your best interests in mind." But the Planned Parenthood Action Fund* endorsed Hillary Clinton in January and young and minority voters tend to vote Democratic. Your move, Republicans.
* This post was updated to reflect that it was the Planned Parenthood Action Fund that endorsed Hillary Clinton, not Planned Parenthood the health-care provider.