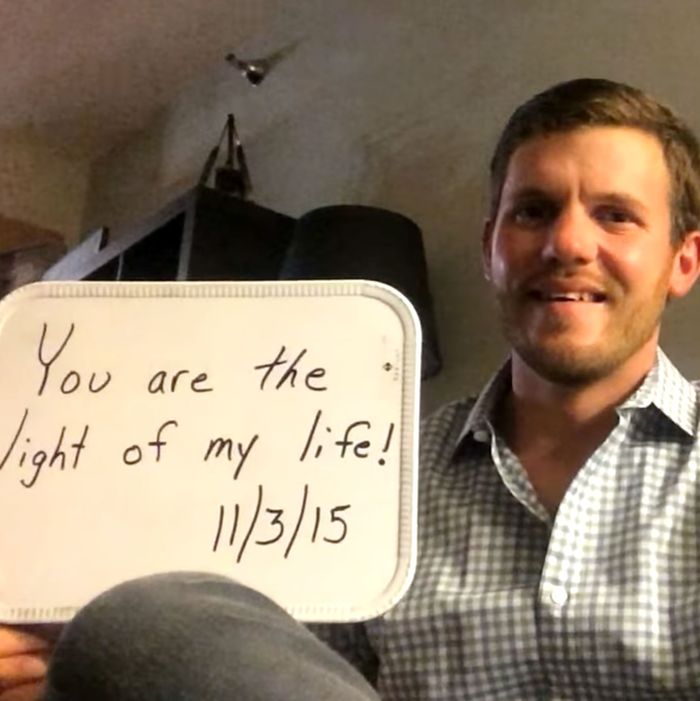 The viral proposal video is abhorrent as a genre. These "heartwarming" YouTube films almost always feature an overconfident heterosexual male making it all about himself. Look at me, I proposed with a flash mob! Good grief.
Tabloids and other viral-content outlets post these kinds of videos often, which has created a hellish cycle. Men know that they can get attention for proposing to their girlfriends on film, so they keep doing it. It used to be, however, that only the truly inventive videos made it to the big leagues: the homepage of People.com. That all changed today, when the site published this story about one such proposal video:
"Chicago Man Spends an Entire Year Planning Romantic Proposal for His Girlfriend."
The bar has gotten so low that it no longer exists.
Here is the video, in which the Chicago Man — Josh Schmitz — writes a little love note to his unwitting girlfriend each day for a year. A whole year! This man pondered a major life decision for a year. "The most beautiful portrayal of commitment to a relationship!" reads the YouTube description. "Total tear jerker!"
His girlfriend accepted his proposal.
It seems that Schmitz was interested in more than just getting engaged, however. His video was posted on YouTube by "River Strategies," a company that describes itself as "the communication firm with major business acumen."
This suggests that our Chicago Man thought about proposing to his girlfriend for a year, and then he hired a marketing firm to make sure people knew that.
To NBC Chicago, Schmitz described his heroic feat.
"The first month making [the video] was like, 'Okay, this is pretty fun,'" he said. "And then it turned into 'Wow, I've got 11 more months. That's a long time,' but I stuck with it."
Get over yourself.