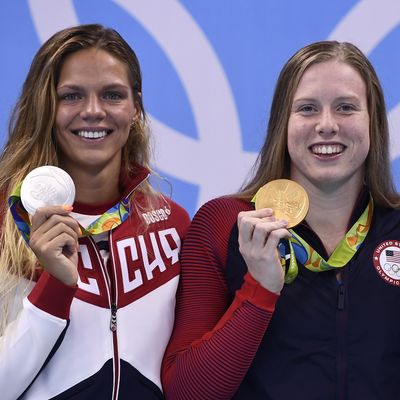 Whether it's behind-the-scenes beef on the set of Fast 8 or Joanne the Scammer's Instagram heists, people love a messy drama, and Olympic athletes are no different.
Russia's Yulia Efimova and Team USA's Lilly King have had arguably the best Olympics rivalry going, what with King giving Efimova a good finger-wagging over past doping charges before going on to beat her in the 100-meter breaststroke. Now that the swimming portion of the Games is over, Efimova broke her silence about her young rival's 'tude.
"It was war … It was like a nightmare. This completion [of the program] is a relief because I love racing, but this was more like a war. It was awful. She is young, but she should understand more," she told USA Today, adding, "She never talked with me. She said many things in the press conference, but nothing at all to me." Efimova continued, "[King] is young. She doesn't know sometimes how life is going on. I hope that she changes, changes her mind and everything."
Efimova, who was booed by the crowd several times during the Games and has generally had a miserable go of it, is based in Southern California, where she trains. However, given the frosty reception she's had from Team USA and its fans, she's reportedly considering packing it up and moving elsewhere.