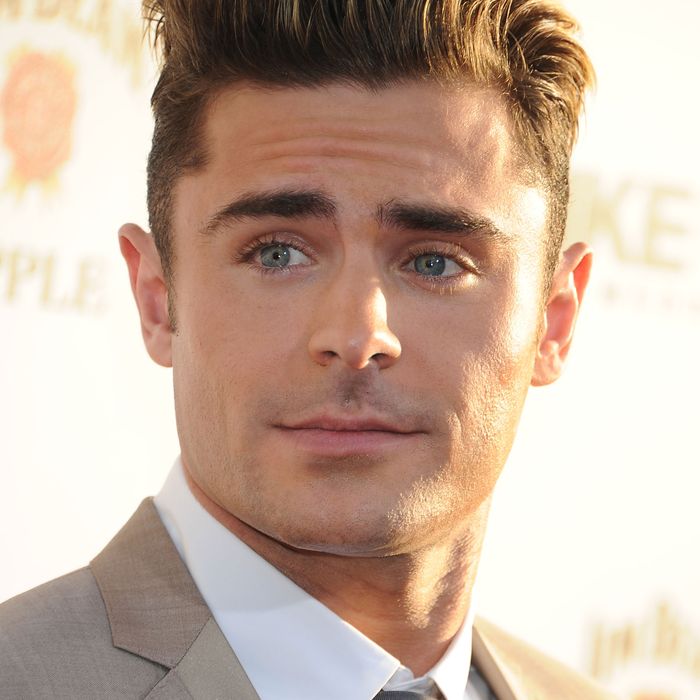 Photo: Frank Trapper/Corbis via Getty Images
Alright, so Zac Efron may not be competing in this year's Olympics, but the man has earned himself at least one distinction at the games: He's the No. 1 Simone Biles fan. And to prove his superfan-dom, Efron took a flight out to Rio where he surprised Biles, kissed her on the cheek, and took quite a few selfies.
Now, for those of us who haven't been keeping up with the Simone Biles and Zac Efron saga, just know it's been brewing for some time. Biles admitted on Ellen months ago to having an immense teenage crush on Efron. Ellen DeGeneres, being Ellen, gifted Biles a leotard with Efron's face stamped all over it.
Efron found out about it and tweeted his support to Biles, who was very, very happy about the whole thing. She then went on The Today Show with her teammates and invited Efron to Rio. While Efron wasn't able to make it to see the Final Five compete, he showed his support by tweeting a picture of himself making a heart sign with his hands while standing in front of a photo of the team. Biles, for her part, also confessed to NBC that she owns a life-sized cardboard cutout of Efron, which she kisses from time to time. So, crushes on both sides, to say the least.
Fast forward and Biles is now the first gymnast to win four Olympic gold medals in a single year (five if we're being fair and counting her other medal). Biles's final win on Tuesday already made for a special day, but it took on a new level when Hoda Kotb from The Today Show arranged for a surprise visit from Efron. Biles, of course, was as happy as can be. She shared plenty of pictures of her with Efron, including a GIF on Instagram of her kissing him on the cheek. Which, as all teens know, basically means the two are married. "just call me mrs.efron already, [sic]" she tweeted.
Now, one might assume that Biles was the superfan here. She was ecstatic — that's true. But let's keep it real. Efron knows Biles is one of a kind, and the man didn't shy away from giving Biles a kiss on the cheek. He even tweeted out that his "Olympic dream came true." So, who's the true fan here?