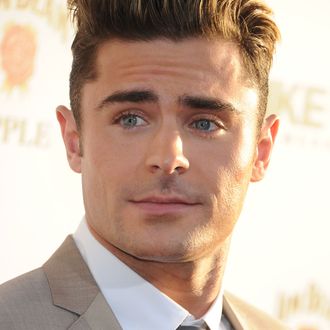 Photo: Frank Trapper/Corbis via Getty Images
Let us take a moment to send loving thoughts to our dear Zac Efron, who on Thursday, shared some tragic news. Man's best friend — and his — passed away.
Efron shared a photo of him and one of his dogs, an Australian Shepherd called simply, "Puppy." In the caption, he wrote: "Through thick and thin you've always been my best friend. I'll see you at the finish line, RIP Puppy Efron."
Judging from the big ol' kiss in the photo, it's safe to say that Puppy Efron and Efron the actor had the kind of love of that you know is real. He introduced Puppy to his fans back in 2012, and Puppy remained with Efron even as he got another pooch. Here he is riding in the backseat of a car.

R.I.P., Puppy Efron.