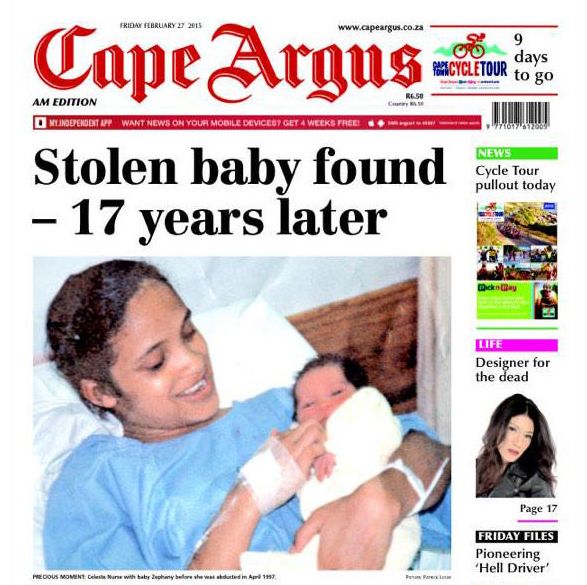 Baby Zephany Nurse, pictured 19 years ago just before she was kidnapped, with her biological mother Celeste Nurse.
Photo: GasantAbarder/Twitter
Everyone at school said another girl looked just like her. Zephany Nurse was 17. The girl with her same features was four years younger. Nobody knew they were sisters, or that one of them had been kidnapped. They became friends.
The girls' families lived a few miles apart in Cape Town. Over burgers at McDonald's last year, the friend's father asked Zephany Nurse when she was born. He would later remember this moment in court: "Her birthday was the date my daughter was abducted." She said she didn't look like her parents. When he asked why she thought they all looked so much alike, sitting there together, she laughed. She said she felt confused.
On April 30, 1997, Zephany Nurse was three days old when a woman kidnapped her from her sleeping mother's hospital room. Witnesses at the Cape Town hospital saw an unknown woman wearing a nurse's uniform around the time she disappeared. Her parents, Celeste and Morne Nurse, would celebrate their missing daughter's birthday every year for the next 17 years, hoping for her return. They had three more children.
The woman now accused of kidnapping Zephany Nurse took the infant home to her partner that day, in 1997, and lied to him: She said she'd given birth to the baby girl. They raised her as their own daughter under a different name and a falsely registered birth date, until Morne Nurse realized he was at McDonald's with his missing child.
He called the police, a DNA test proved Zephany Nurse was his biological daughter, and her accused abductor — a woman she'd always known as her mother — was arrested and charged with kidnapping. When the family reunited in February of last year, her biological mother, Celeste Nurse, couldn't stop crying. "I said, Finally, I found you. For 17 years I've been looking for you," Celeste Nurse told CBS. "I found you finally. You're mine again."
On Monday, 19 years after Zephany Nurse vanished, her alleged kidnapper was sentenced to ten years in prison. She was found guilty of kidnapping, fraud, and violating sections of South Africa's Children's Act in a case that captivated the country for over a year. For privacy reasons, both the accused woman and Zephany Nurse are not publicly identified by name. In court, the woman denied she committed the crime and told a different story: After a secret miscarriage, she arranged to meet a woman named Sylvia on April 30, 1997, at a train station, where they would discuss adoption.
A stranger apparently arrived with a baby girl wrapped in a blanket instead. She was told the infant's biological parents didn't want her. In court, the woman couldn't remember Sylvia's last name and said she no longer had Sylvia's phone number, but admitted she let her family believe Zephany Nurse was hers — she hadn't told anyone about the miscarriage, so it appeared to be true.
The judge wasn't swayed. "Your story, if anything, is a fairytale and the court rejects it with the contempt it deserves," he said. He went further at the sentencing hearing on Monday: "At the very least, one would expect you to apologize, but you chose not to." She had "all the time in the world" to return the baby, he said, but hadn't. She would have seen media coverage of the Nurse family's birthday celebrations for Zephany Nurse over the years. Her choice to plead not guilty was counted against her.
After the sentencing, Zephany Nurse's biological family expressed hope in building relationships with her, as well as disappointment, as they had hoped for a 15-year sentence. "She belongs to us," one aunt said, according to the Associated Press. "She has our DNA. Her DNA will never change."
But Zephany Nurse, now 19, may not want to return: Previously, local media outlets reported she still considers her accused kidnapper her mother and doesn't want a relationship with her biological parents. Now she reportedly lives with the convicted woman's husband, the man she'd always known as her father, and is not Zephany Nurse: She uses the name the couple gave her.
Her biological father, Morne Nurse, seemed to think this will change: "I think once this lady is locked up, I think the breakthrough will come eventually," he said. "I think there's been a lot of indoctrination from that family's side and it's no good lying to the world. My relationship was fine with my daughter but the minute she [the accused kidnapper] got bail, things collapsed."