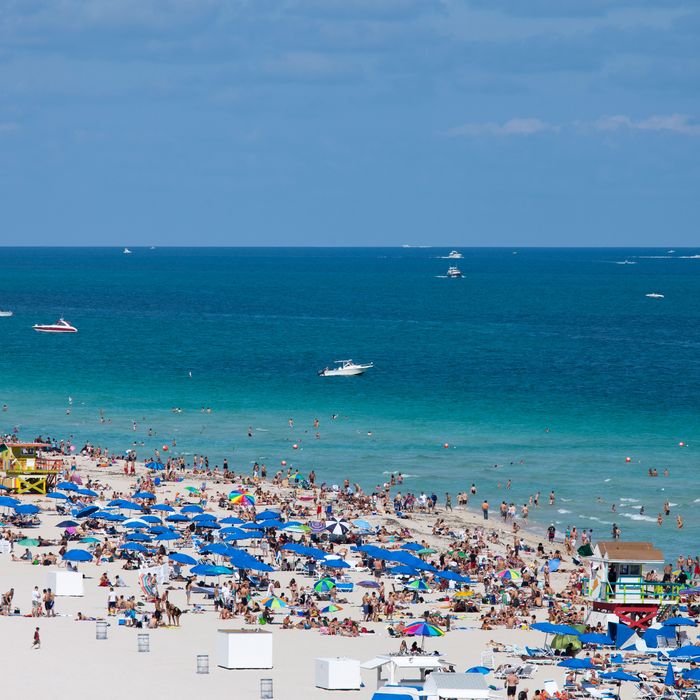 Miami Beach.
Photo: Angelo Cavalli / robertharding/Getty Images
Mosquitoes in Miami Beach are now transmitting the Zika virus, and federal health officials have issued a travel advisory for pregnant women not to visit a 20-block zone in the heart of the city.
Fourteen locally transmitted Zika cases were found late last month in the Miami neighborhood of Wynwood, a small area north of downtown. The Centers for Disease Control and Prevention advised that pregnant women not visit the one-square-mile area because of the risk that a Zika infection could lead to birth defects, and outlined steps that pregnant women who live there should take to reduce their risk of contracting the virus, including avoiding mosquito bites and having only protected sex.
Today, Florida health officials confirmed that five Zika cases in Miami Beach were transmitted by local mosquitoes, meaning people hadn't traveled to an area where Zika is spreading or had unprotected sex with someone who had. The CDC immediately issued and expanded the travel advisory, noting that pregnant women should avoid the transmission zone, which the Washington Post says "covers about 1.5 square miles between 8th and 28th streets, and between the beach and the intracoastal waterway — a stretch that encompasses the densely packed, vibrant South Beach tourist district."
There was earlier speculation that federal and state officials were considering a travel advisory for the city of Miami and possibly all of Miami-Dade County. An anonymous health official told the New York Times that a possible expanded travel advisory would not signify that Zika is spreading rapidly, just that there's another area of concern.
This news is very annoying for women who are pregnant (or want to be) and have planned vacations to Miami, but much more disruptive for the women and couples who actually live there. The Times talked to a man who runs a bakery in Wynwood and lives in Miami Beach with his wife, who is seven and a half months pregnant; he said: "I'm still searching for that reasonable reaction to something that is still quite mysterious in its effects. My wife is trying to kind of balance doing everything she can as a responsible mother, while not allowing herself to be crippled in fear all day."
*This post has been updated throughout to reflect that Florida has confirmed that five Zika cases in Miami Beach were transmitted locally and that a travel advisory was issued.