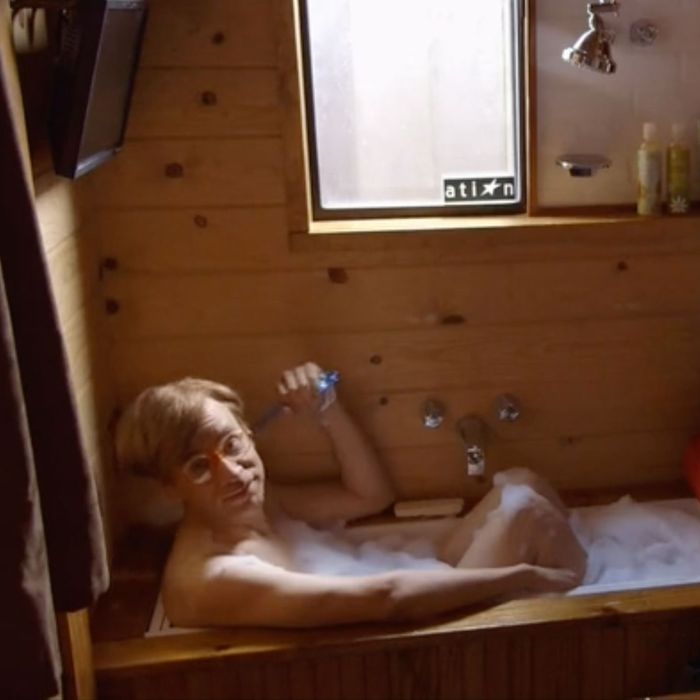 Of all the shocking things my husband and I told our relatives about our plan to get married last year, the most surprising one was this: We were not going to live together.
"What?" my mom asked. "You have to live together. You'll be married to each other."
"I don't have to do anything I don't want to do," I said. "Besides, this way we can summer in Queens."
We didn't want to do anything traditional, and we loved having two separate spaces. How cool that we would be pioneers, a counterpoint to all the studies that show living together before marriage means a higher risk of divorce. Just imagine how low the rate must be if you're married — and you never co-habitate at all!
So it came as a surprise to both of us when, after two weeks, we woke up with a realization: This is idiotic. We're just throwing money away on the other apartment we never even use.
In anticipation of his move to my tiny Manhattan studio, I frantically searched for solutions: cheaply expanding closet space, non-murderous Murphy beds, unconventional room dividers, and "best ceiling storage for hoarders." After becoming overwhelmed by options, we decided we'd play the arrangement by ear — never a good idea when it comes to sharing a space only slightly bigger than Freddy Knight's lush jail cell on The Night Of.
Unsurprisingly, it wasn't too long before we got on each other's nerves — or more accurately, our stuff did.
"How many ties do you own anyway?" I asked him, looking through a mountain.
"I don't know. Like 15 to 20."
"Wrong. Fifty-three. You don't use all of these. How many of these do you actually wear?"
"Pretty much just this one," he said, pointing to a maroon tie with a silver stripe.
I must've made a face. He went on the offensive.
"Well you have at least that many sex toys," he said. "How many of those do you actually use?"
"All of them," I said. (Truthfully, I just use the one, too.)
Eventually, I tried to Kondo away any possessions that didn't give us joy, but the problem was that plenty of things that don't give me joy still gave Pat joy. Apparently, my husband told me, you do need to keep every cell-phone charger you've ever had since 2005 (some in duplicate) — just in case. That's when The Life-Changing Magic of Not Giving a F*ck came into play for both of us. We had to learn not to care about each other's feelings regarding our "stuff" if we were going to maintain our sanity and mark our territory.
The second season of Stephen Falk's FX series You're the Worst brilliantly explores the Politics of Stuff in relationships. When Gretchen complains about moving in with her boyfriend, she gripes: "Jimmy doesn't even want to make space for me in his house."
Her friend Lindsay wisely replies: "That's why you need stuff, Gretch. To stake your claim. Get your shit up in those crevices. Besides, stuff is the best. You can never get lonely with stuff. And there's so many examples of stuff. Ice-cube trays shaped like high heels. Towels. Smaller towels for your butt. Chairs. Chairs are also for your butt."
So Pat and I began playing a game of chicken with each other's stuff. I would aggressively leave the eight bags of rice cakes I never got around to eating directly in front of the multiple cans of tuna that he did enjoy on the regular. He would leave his shaving cream in front of the 12 different curling irons I couldn't decide between. It was like our stuff was speaking to each other. "Are you really going to tell me this is striking joy in your heart — when you haven't used it in a year? Really?"
Eventually, though, we came to agree upon some basic principles of co-habitation:
1. There is dude space and chick space. The bathroom is 82 percent chick space.
2. No purchase would be made without throwing something else out first. Individual Q-tips don't count as purge items.
3. No big purchase would be made without consulting each other. I wanted to get an inflatable bouncy house. My husband talked me out of it.
4. We would optimize. Soundproof floor-to-ceiling curtain dividers created a "room" in which he is not to be disturbed except in cases of emergency. "Hey, look at this tweet" does not count as an emergency.
5. We would have plenty of backup space options. We both have a few different workspaces, plus a bevy of Starbucks and diners. When one person asks the other to leave, we happily do so.
6. We would get outside. As tempting as it is to stay inside all damn day and keep chugging on whatever project we've begun, we make ourselves leave the apartment first thing in the morning to feel less suffocated later on.
7. We would develop gangbusters storage solutions. The PP boxes at Muji should become your best friend if you're in a tight space. Also, despite what Kondo told us, we still make a point of squirreling away seasonal items when not in use.
8. When a fight began that seemed to be magnified by the tight space, we would take a walk. The magical phrase that's had the ability to stop a fight lately comes courtesy of a contestant on Dating Naked who said, "Pause!" mid-fight. It makes us laugh every time, and it forces us to reconsider the situation.
9. Anything that hasn't been used in a year gets thrown out. Bye-bye, rice cakes, I hardly knew ye.
10. If one of us is asleep, we do everything to not wake the other unless the place is on fire. "Hey look at this tweet" does not count as a fire.
The rules work pretty well — except in cases of high fatigue. If we've both been working all night, misery can be palpable despite the curtain barrier. As a workaround, I developed something I like to call the Slumber Party Solution. All you have to do is conjure up that warm feeling by doing something carefree.
"Do you want to take a break and have a dance party?" I propose when it seems we're both about to take an axe to the walls (or each other).
"Yeah," says my husband, and within seconds, he's pulled up Missy Elliott's "Get Ur Freak On" and has his feet up on the desk, watching me.
Changing perspective is everything. And for cases of extreme emergency, I also made up this handy little song:
"You say jail house, I say tree house / You say stir crazy, I say stir cozy / You say confinement, I say con-fun-ment.
"Let's not call the whole thing off."