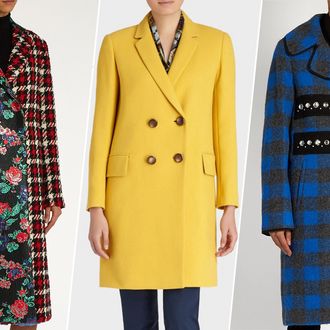 Right now, the market is full of drama-queen coats — top layers that will make you stand out even if the rest of your outfit consists of a plain T-shirt, jeans, and simple ankle boots. (Actually, that's often the best way to style them, since you might as well accept that they will match nothing in your closet.) Below, we've gathered 19 of our favorites from luxury brands and high-street labels alike.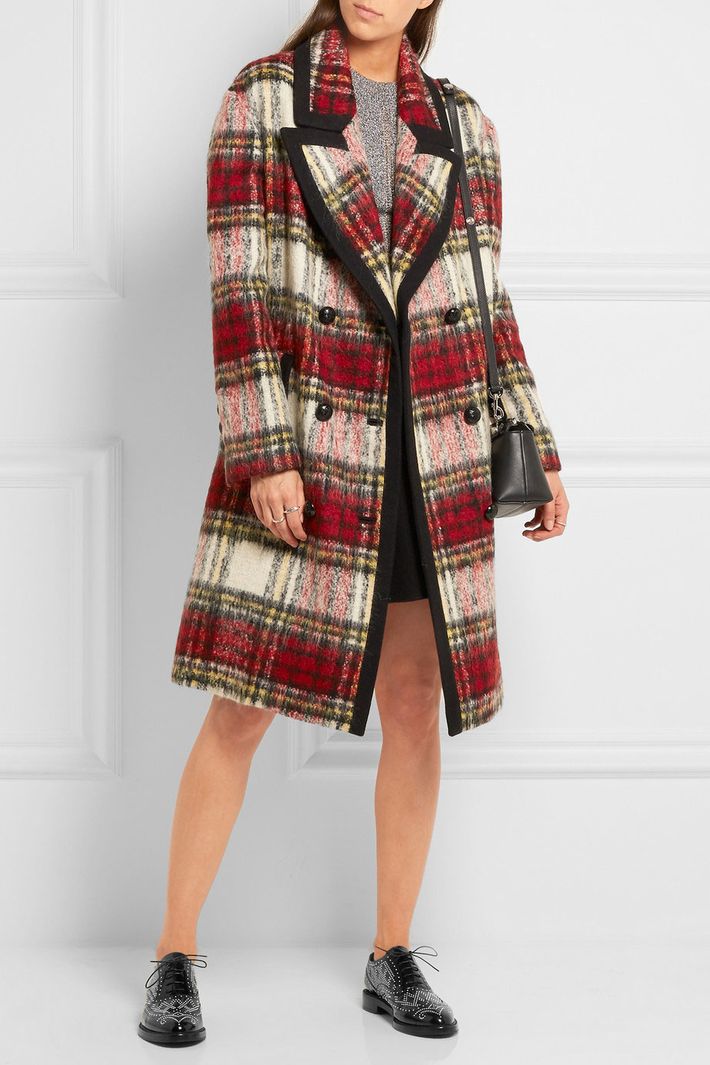 Straight from the runway, this comes in a loose silhouette so you can fit endless layers underneath. It's expensive, but rationalize it this way: Tartan never goes out of style.
Burberry Coat, $3,695 at Net-a-Porter. Sizes XS–XL available.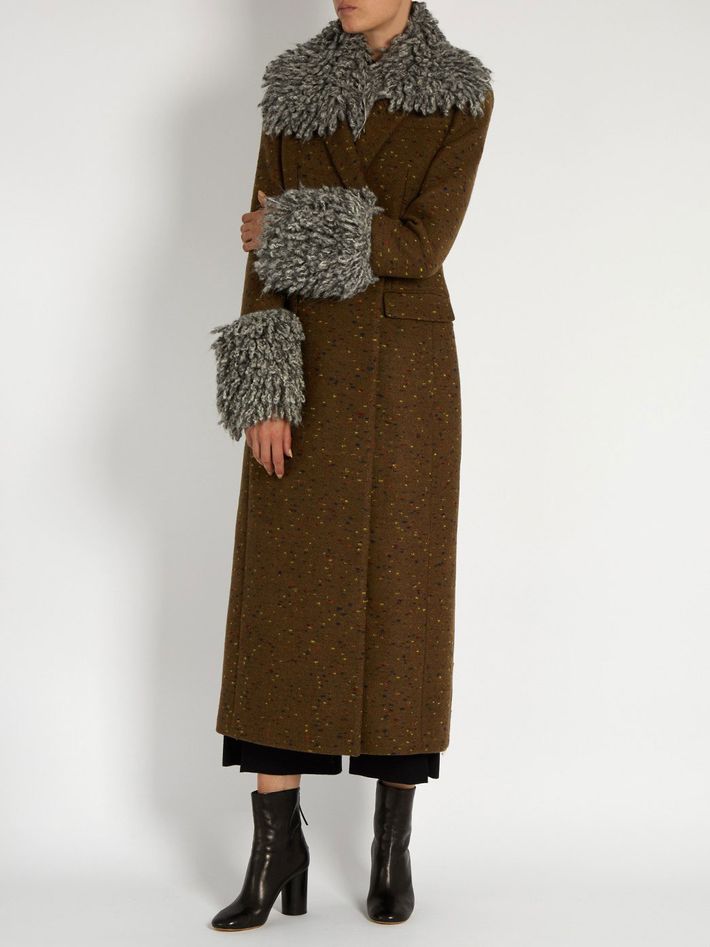 If you're a fan of neutrals but still want it to make a statement, this Christopher Kane coat offers a happy medium. The olive-green color isn't too aggressive, and the detachable wool collar and cuffs make it cooler than any other wool coat out there.
Christopher Kane Coat, $2,656 at Matches Fashion. Sizes XS–XL available.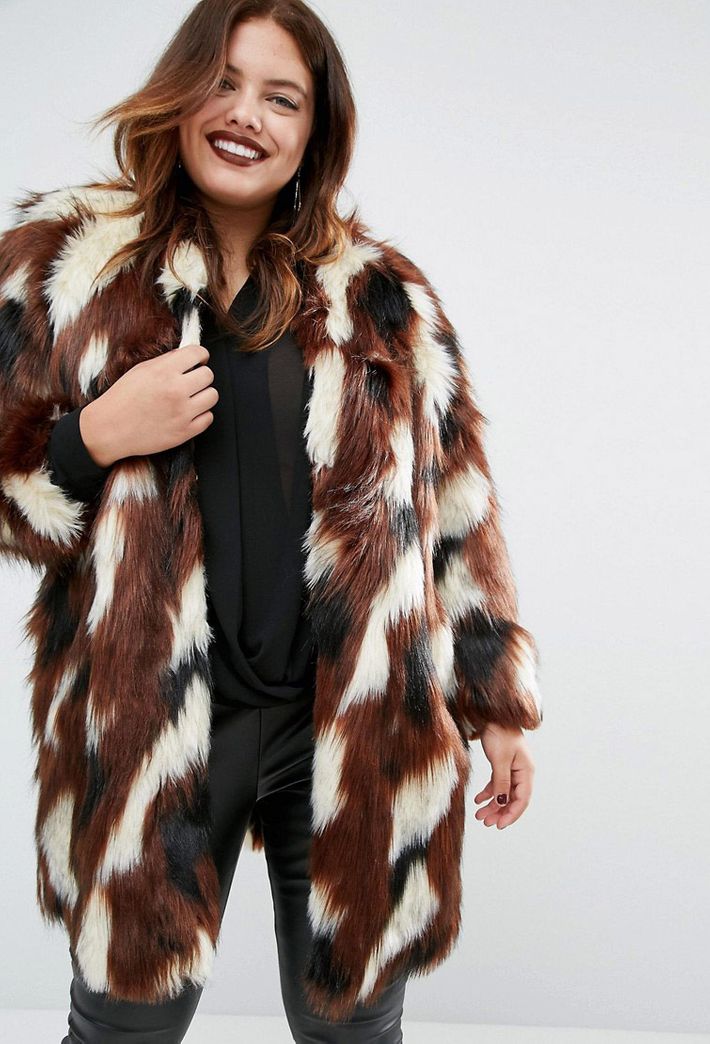 This coat is begging to appear in selfies. It's faux fur but lined, and it comes in one of the season's best trends: patchwork. Wear it with all black for contrast.
ASOS Coat, $354 at ASOS. Sizes 2X–3X available.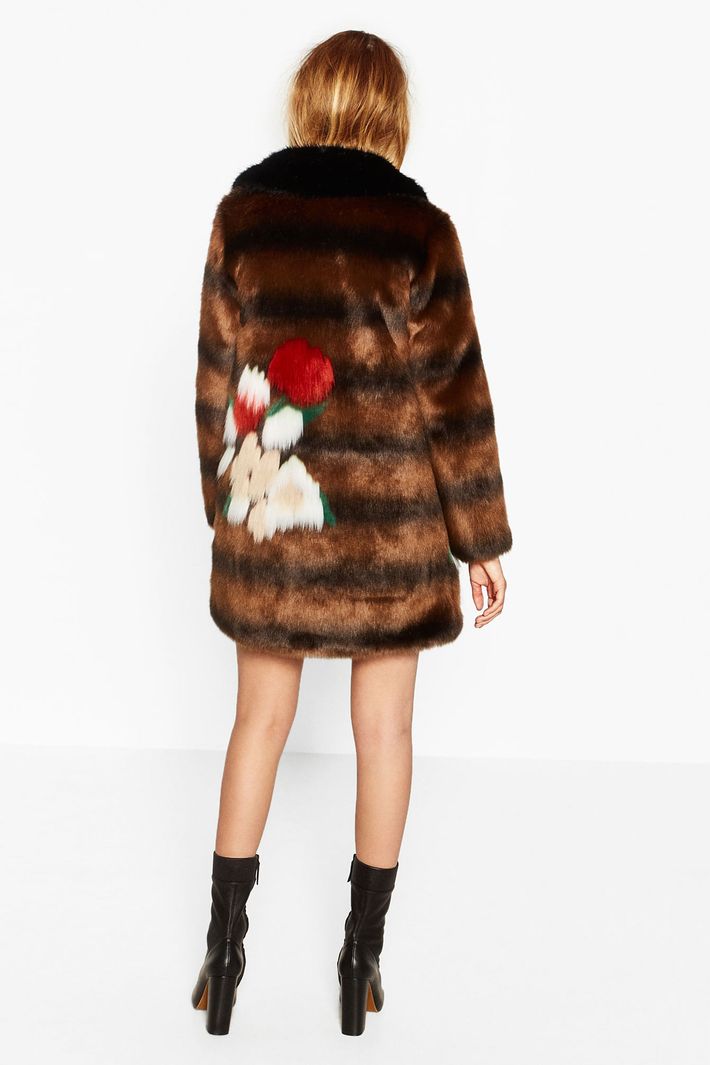 The Zucci look for under $200. Don't worry about getting sick of the Gucci levels of excess here; the printed back is offset by a plain front.
Zara Coat, $169 at Zara. Sizes XS–L available.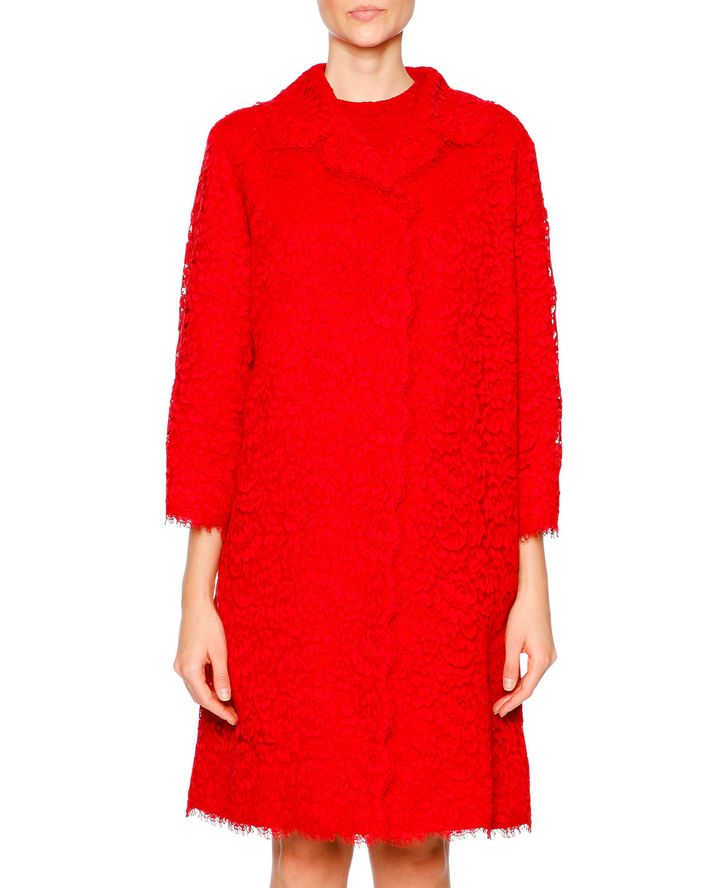 A bright-red coat this romantic could only come from Dolce & Gabbana. It's dressy, but it'll still keep you warm.
Dolce & Gabbana Coat, $2,021 at Neiman Marcus. Sizes XS–L available.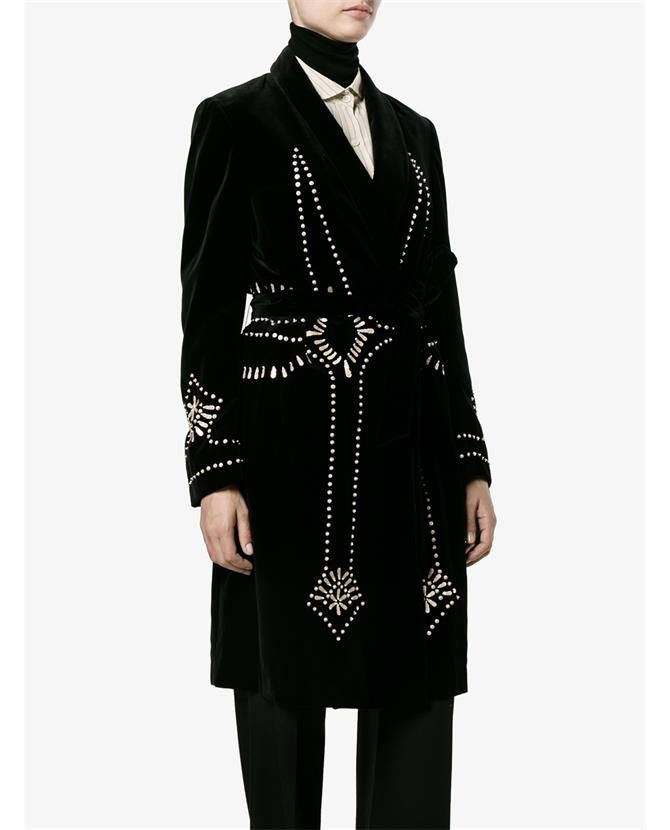 Velvet and embellished robes are everywhere right now. This coat is a great way to add the look to your wardrobe without buying something too niche.
Dries van Noten Coat, $1,775 at Barneys.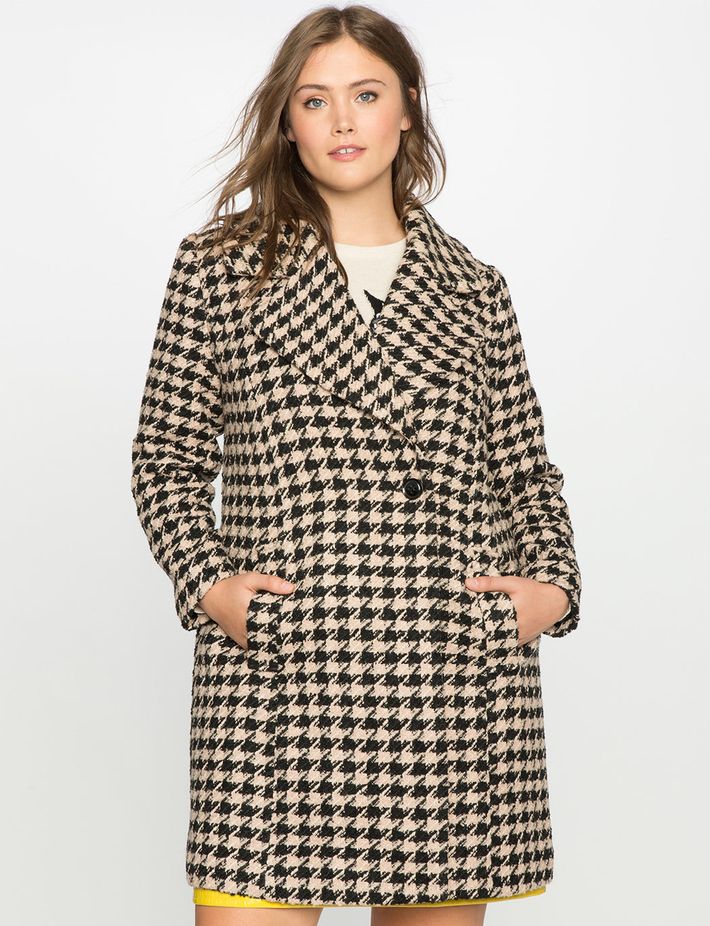 The shape is traditional but the houndstooth pattern and texture keep things fresh. Play up the '60s-mod vibe by pairing it with a hint of color.
Eloquii Houndstooth Coat, $159 at Eloquii. Sizes 1X–4X available.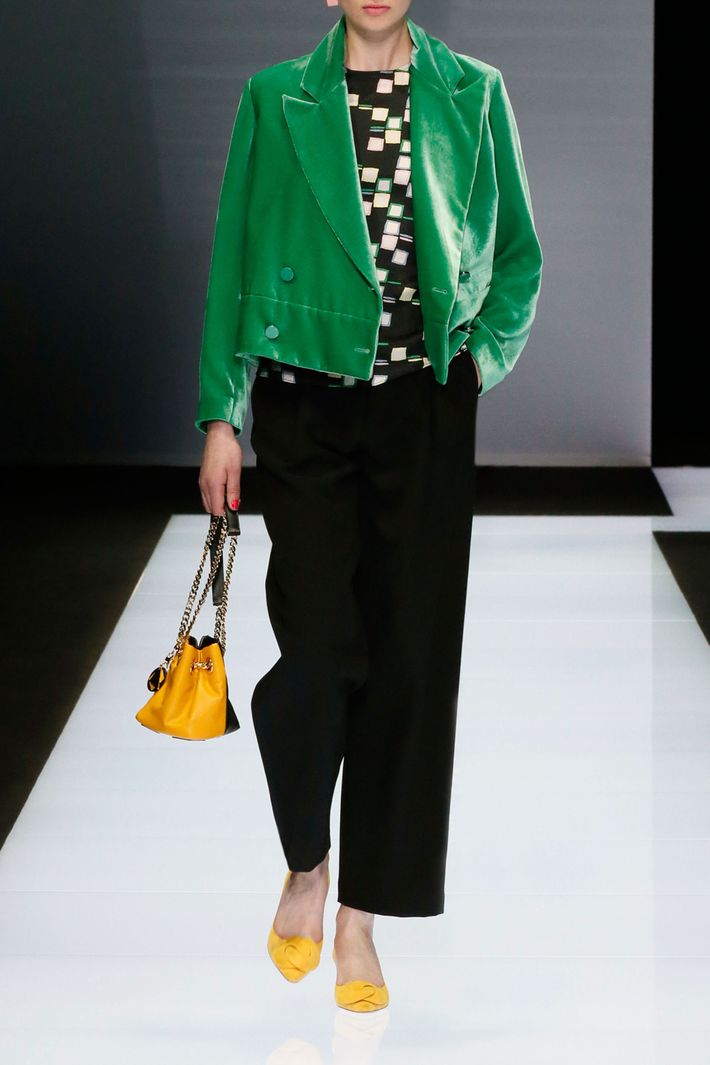 This short, double-breasted peacoat-style jacket in bold green can work for evening as well as day because of its velvet texture. Don't try to match this color — it's meant to stand on its own.
Emporio Armani Coat, $1,395 at Armani. Sizes S–M available.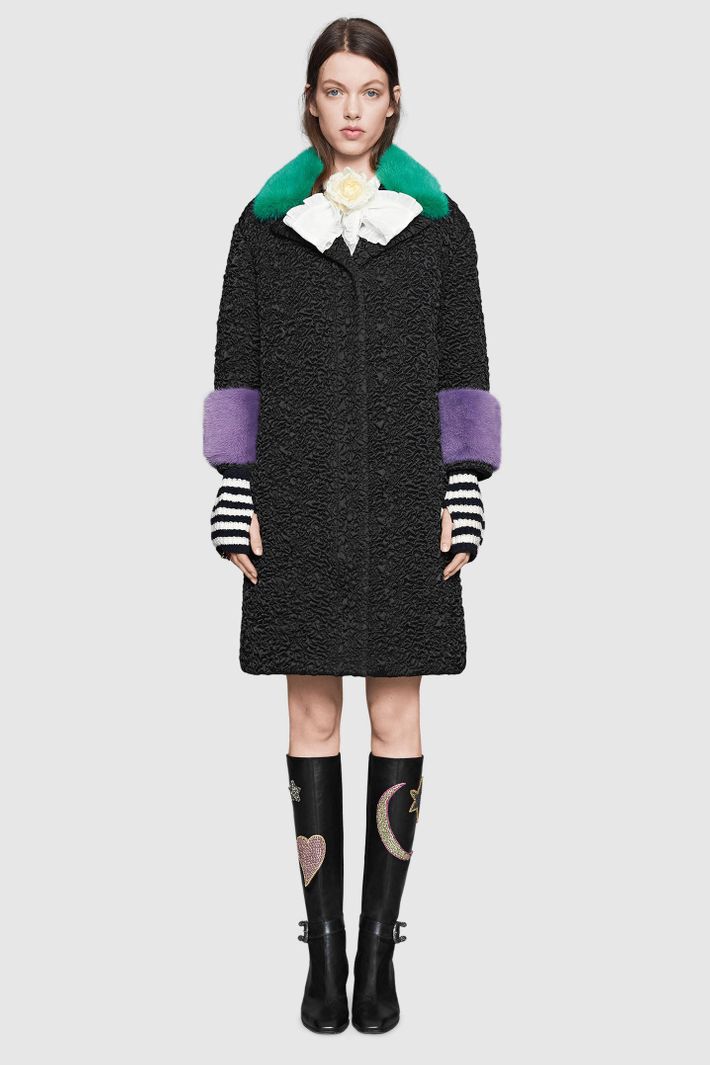 Peak Gucci in a really good way: a black quilted coat that has the appearance of fur, trimmed with actual mink trims. If you wear this all the time, people will notice, but who cares? It's that good.
Gucci Coat, $5,800 at Gucci. Sizes S–M available.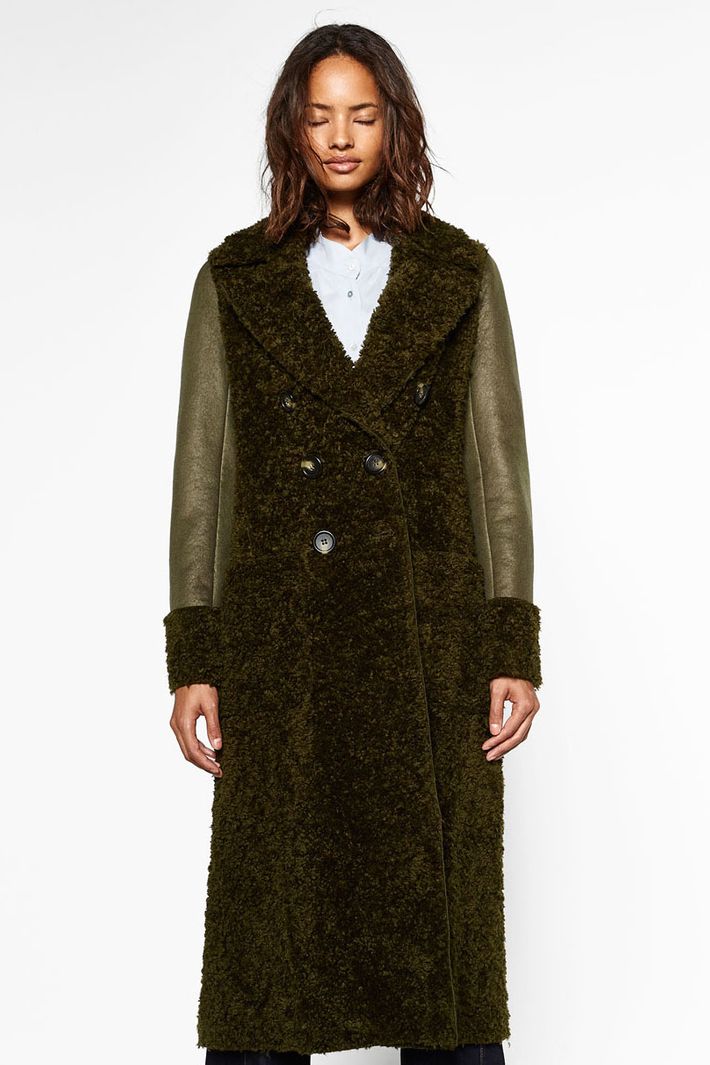 This is expensive for Zara, but worth it. Made of contrasting shearling and faux leather, it's hefty and warm.
Zara Coat, $249 at Zara. Sizes S–L available.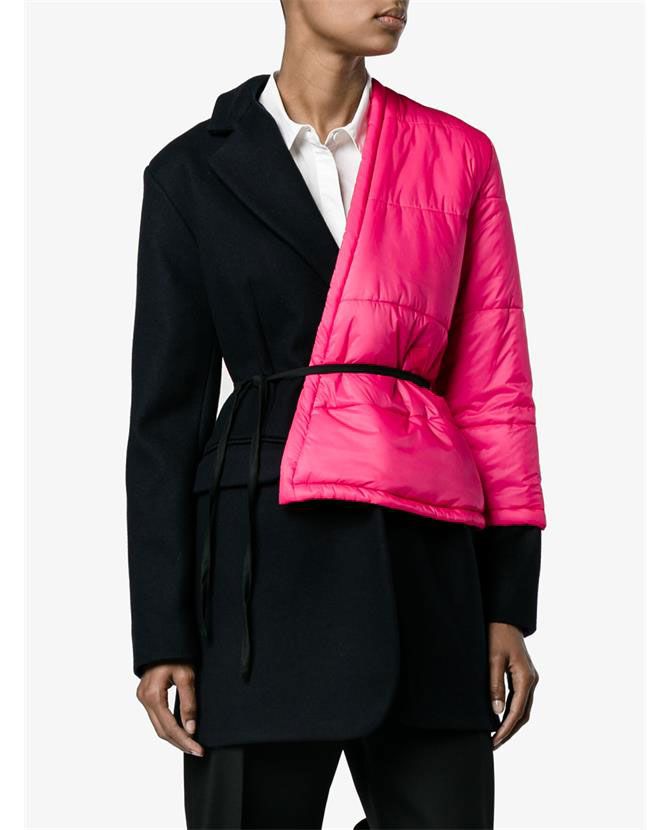 From Jacquemus, lover of all things offbeat, comes one of the most fun pieces on the list. The asymmetric quilted over-layer is obviously the star here, but note that the black wool feels super soft to the touch.
Jacquemus Coat, $900 at SSENSE.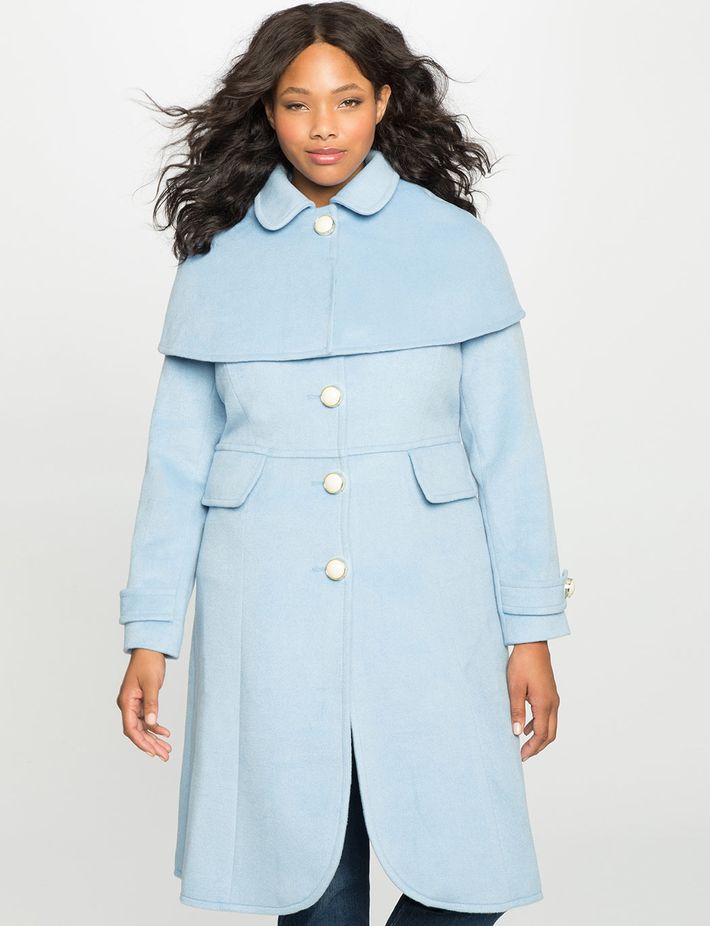 Another riff on what's been happening at Gucci lately: this cape coat with chic oversized buttons, which comes in a sweet pastel blue. It'll make you look put-together regardless of what's underneath.
Eloquii Coat, $199 at Eloquii. Sizes 1X–4X available.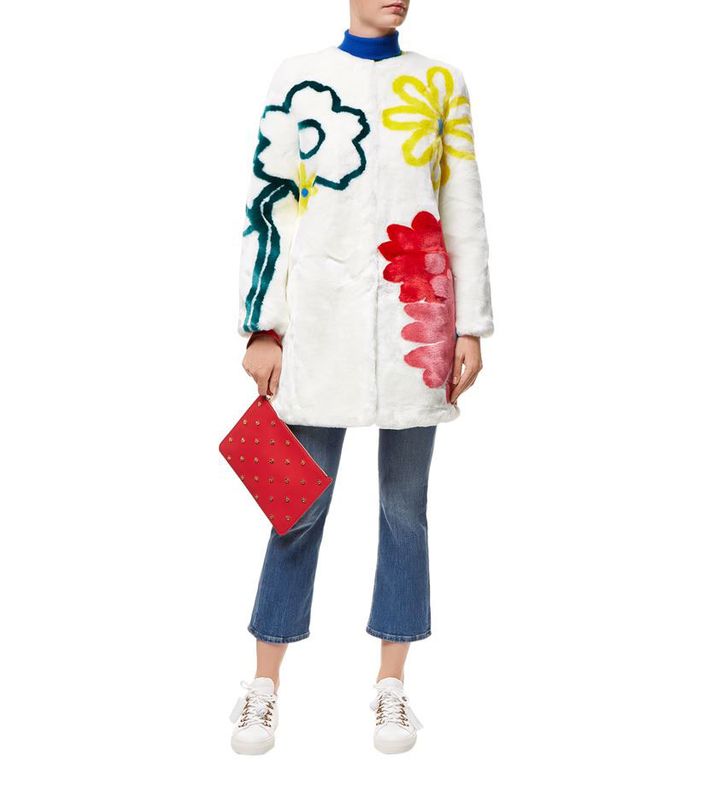 Pure street-style-photographer bait. It's rare to find something so warm with so much personality.
Mira Mikati Coat, $685 at Avenue 32. Sizes S–L available.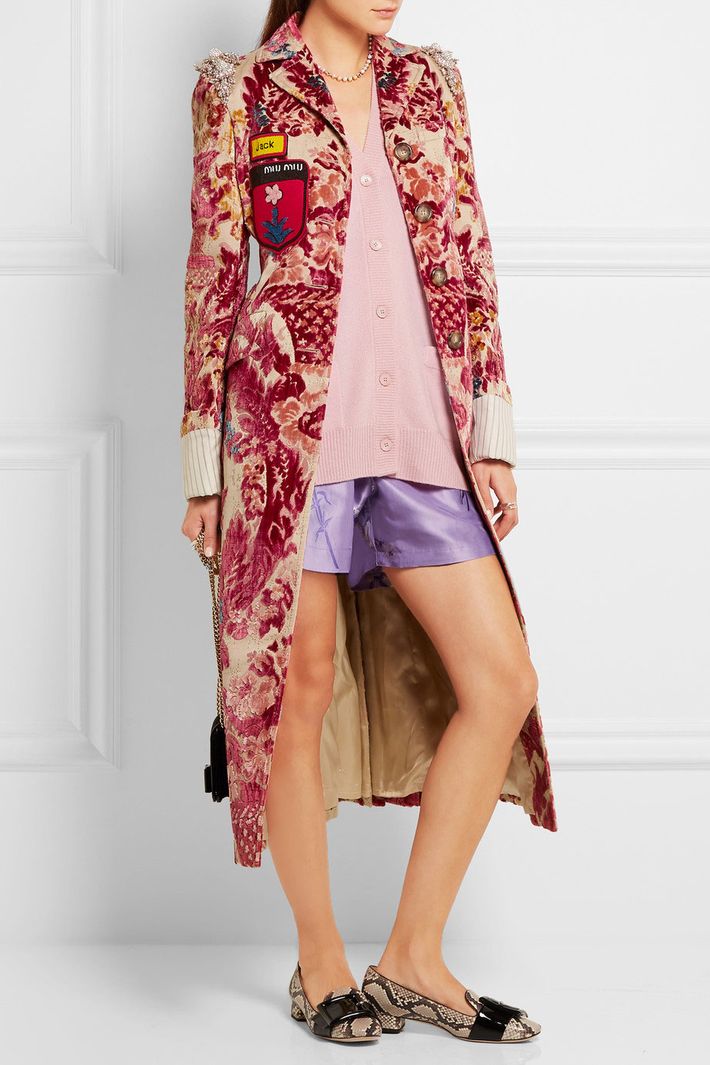 This ornate coat from Miu Miu may be the most memorable one from the season's runways — which might be why, despite the scary price tag, it's selling out fast.
Miu Miu Coat, $10,495 at Net-a-Porter. Sizes S–M available.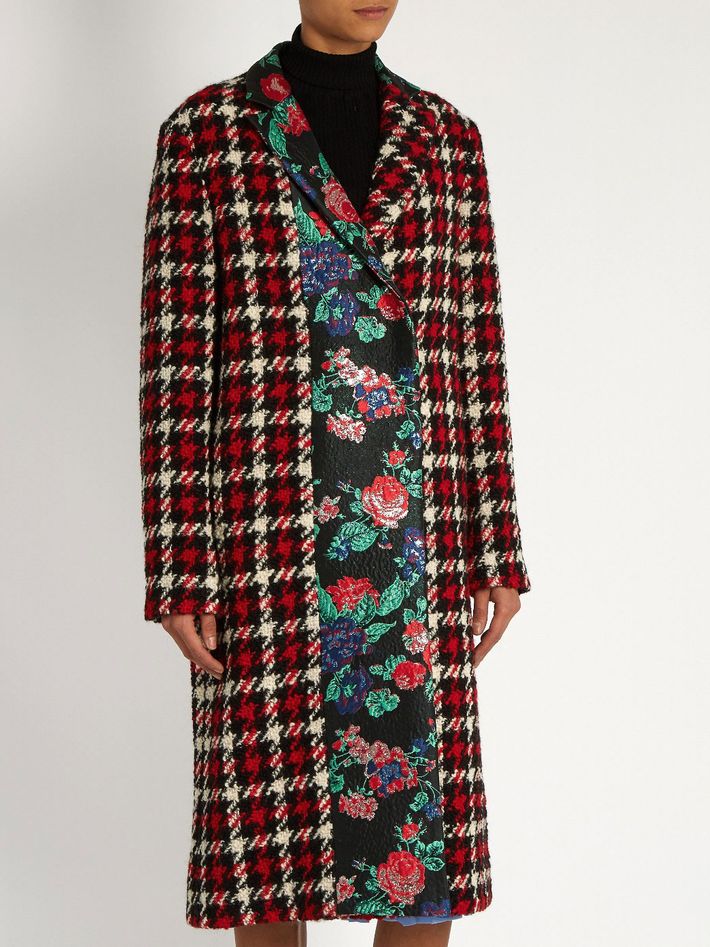 This colorful rose-brocade and houndstooth mix is a perfect example of MSGM's eclectic aesthetic. Wear it with all black or muted colors that won't compete with the pattern.
MSGM Coat, $899 at Matches Fashion. Sizes S–L available.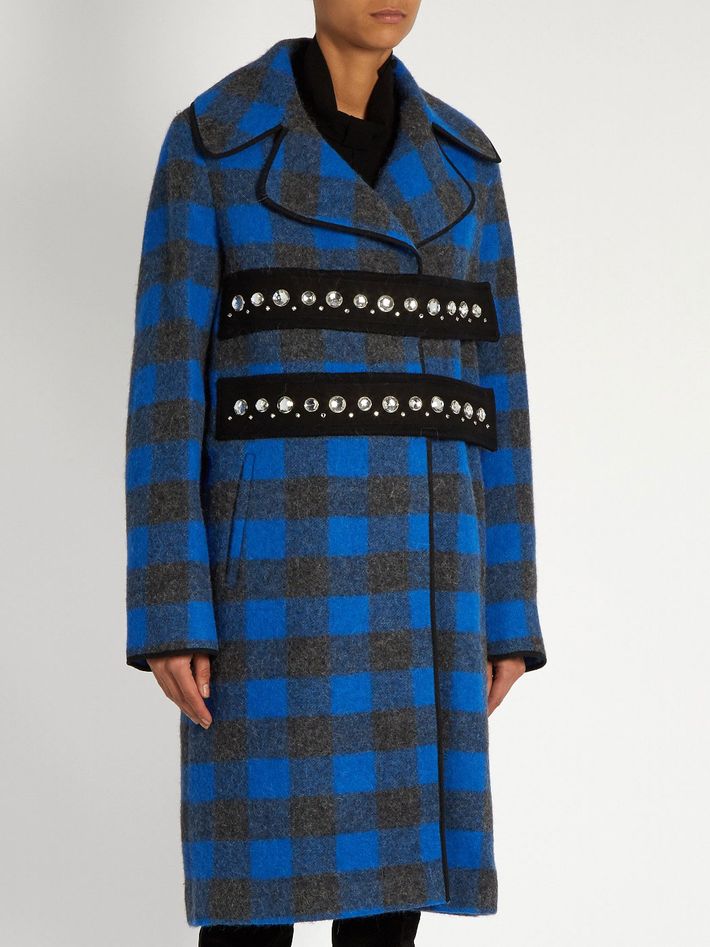 A glamorous version of the grunge-y checked-wool trend. The embellished horizontal straps mean this can transition easily from being worn with jeans during the day to heels and a black dress at night.
No. 21 Coat, $1,584 at Matches Fashion. Sizes S–L available.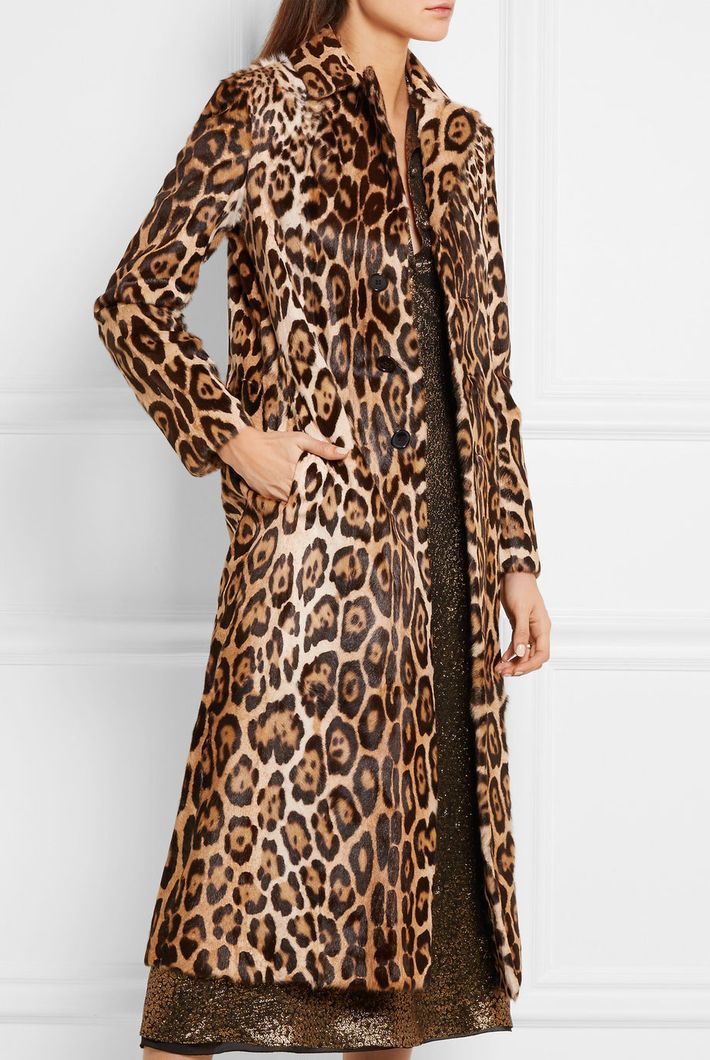 You can't go wrong with a classic and beautifully made leopard coat like this one from Saint Laurent. It's handcrafted in Italy from goat hair and fully lined with satin — which explains the hefty price.
Saint Laurent Coat, $18,000 at Net-a-Porter. Sizes S–L available.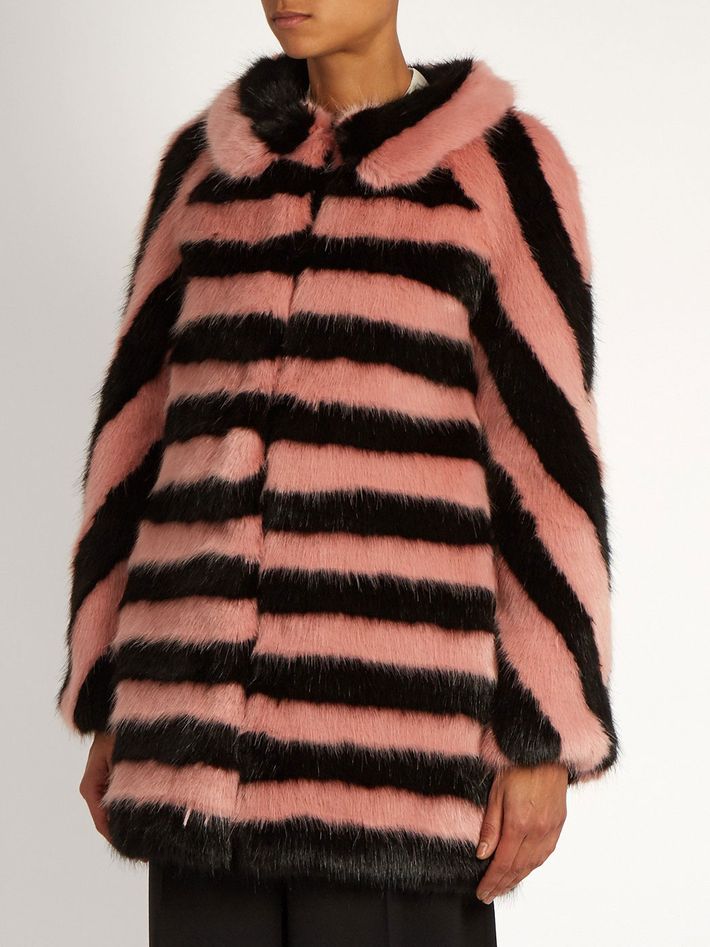 As if the pink and black stripes weren't enough, this one also has a Peter Pan collar and a satin lining. Bring it out for many winters to come.
Shrimps Coat, $780 at Matches Fashion. Sizes S–XL available.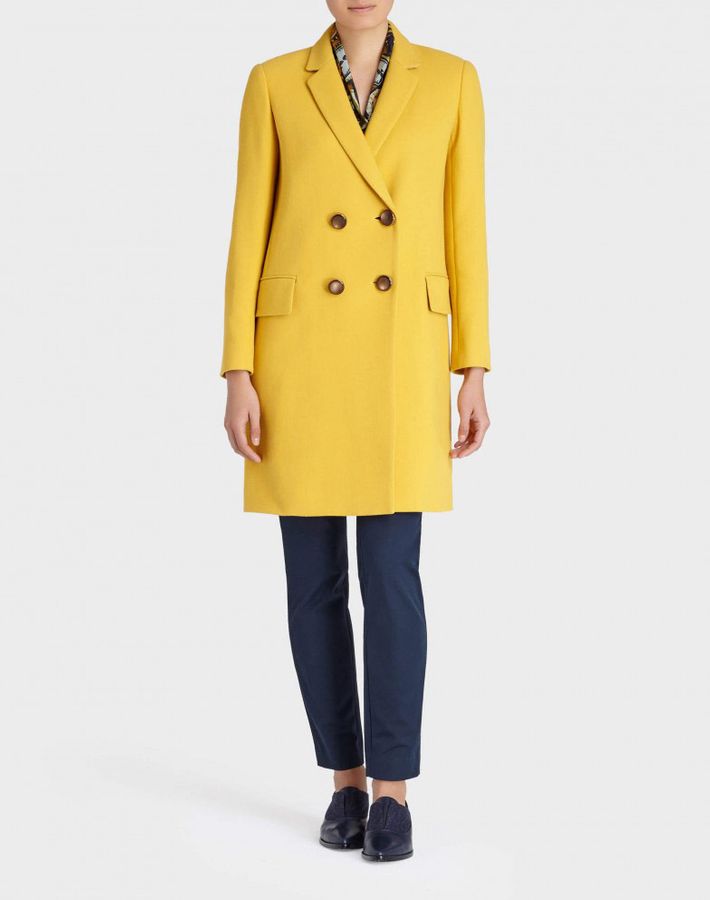 The classic silhouette here makes the bright color look elevated. It's slightly boxy and menswear-inspired, so it offers a clean look that doesn't need fancy accessories to feel complete.
Lafayette 148 Coat, $1,148 at Neiman Marcus. Sizes S–3X available.
If you buy something through our links, New York may earn an affiliate commission.