There are many ways to define a good runway show: one is as an unfolding drama set at the right pace. The other day John Galliano opened the Maison Margiela show with a plain belted coat in spearmint, followed by an equally austere black shift with the tiny detail of a Cocteau-esque hand holding a flower traced in white at a shoulder. I was slyly drawn in by the quiet, seemingly an allusion to Margiela's history, before being blown away by a thunder of energetic, witty looks for our digital era.
After all, if you thought Galliano was going to return the brand to its minimalist roots when he took over two years ago, then you don't know punk Galliano. In a succession of sartorial jokes, he kept pricking your sense of the familiar. Here was a brightly paneled scuba suit rolled down to become a tube skirt; muddy plaid shirts pleated like a Roman shade; and a coral knit bodysuit and matching jacket, the model toting a backpack with straps of braided camping ties and a yoga mat tucked on top, as if she were headed to Burning Man. It was all done extremely well, with jewelry that mimicked headsets and moon boots flashing a classical print, and it added up to a steady argument for a contemporary way of dressing that made you forget those first two looks, uplifting as they were.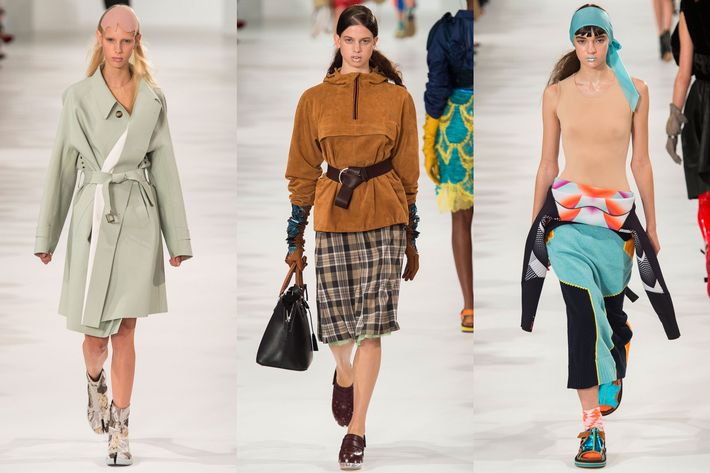 But maybe the best type of runway show is an invitation to enter a designer's head for a while. This was especially true of Balmain and Rick Owens, although these two have almost opposite fixations. The very fact that Olivier Rousteing loaded his Balmain show, set amid dense palms on a glossy black floor, with vaguely 80 looks suggested an obsessive frame of mind, Mozart in the jungle. Or maybe, better still, Colonel Kurtz. In any case, the number of looks added to the show's peculiar enchantment.
Although Rousteing is known for skimpy, overembellished clothes that please the Kardashians (who were front and center), this time the styles seemed to emanate from Amazon icons. The first dresses featured a V-neck split into panels, like a breastplate, and filmy shapes that were part toga, part safari jacket, and often girdled by a metallic belt. There was an extraordinary python coat in a dark honey shade that dragged the floor, and knit jumpsuits and more regal robes in earthy shades of orange, green, and yellow, with a bolt of royal blue.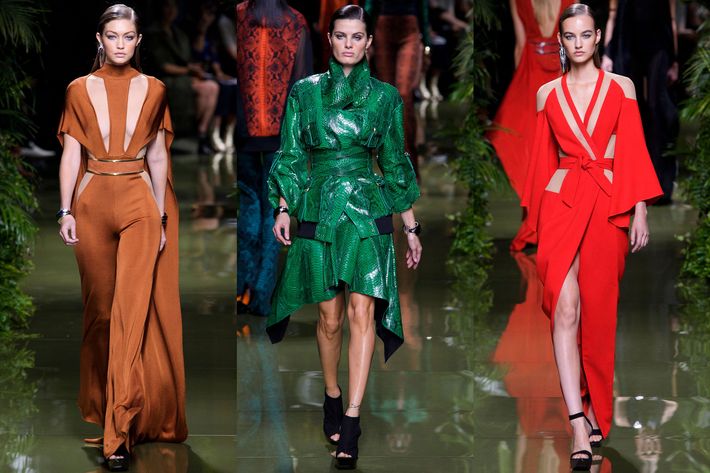 The paradox in covering up his models for a change was that Rousteing was showing more of himself as a designer. He was asking us, I thought, to see him in full, and that was touching. In the end, the muscular young man came out in a belted black duchess satin suit with tapered trousers, and walked the full length of his stage, to within a few feet of the photographers.
Owens has been putting his obsessions on the runway for years, and lately they feature environmental catastrophe. (Last season's collection was called "Mastodon.") But despite what Owens said in his show notes, these clothes are anything but bleak. They reveal how far Owens has come with draping, both in terms of form and technique. In colors like plum, burnt yellow, cocoa, and oyster, the airy fabrics looked at times sculpted, and at others blown on, forming a whorl or fold. One gorgeous yellow dress appeared, from a certain angle, to be a silk coat that somehow landed on the front of the model, the sleeves akimbo, as if carried by a wind gust. And yet Owens wasn't sampling Japanese cutting techniques. The ideas are his own.
Owens may think grimly about the future of mankind, or profess to, but if anything his work conveys hope. And, to me, that's because the shapes of many of his new clothes come very close to expressing a modern ideal of Paris couture. In their creamy billows, they draw on the glamorous past; yet, without padding and layers, they are built for today. As for his show-closing capes made from twisted lengths of feathers, they're a complete head case — and would be the envy of a real couturier.