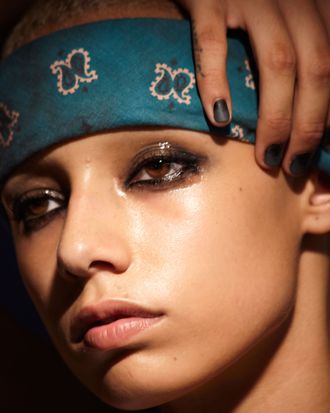 If you're one of those people who will only stop wearing black eyeliner once companies make a darker color, the makeup at spring 2017 is for you. When makeup artists weren't going for pink eye, they were reaching for steady, trustworthy black.

The liner shade was seen at shows like Coach, Prabal Gurung, Altuzarra, Chromat, and Narciso Rodriguez, and everyone interpreted it differently. Below are five ways to wear back, from the "I didn't get fucked up last night" black eye to an eye inspired by '70s-era photos of Gloria Steinem.
1. The Wellness-Minded Eye. Kale, quinoa, two different types of juice, and non-fried falafel balls were all part of the Rag & Bone catering backstage, and the eyeliner look was equally healthy. Makeup artist Tom Pecheux and his team ringed the models' eyes in a smudgy black eyeliner (M.A.C Eye Kohl in Smolder) that was meant to look modern but not overly tough. "The girls should look like a gang of kids who are cool but not aggressive or hard. No alcohol or drugs — that's why they're serving organic food backstage. It's the new drug!" he said, laughing, backstage.
To get smudgy eyeliner that doesn't come from being "fucked up," Pecheux used a pencil to smear mascara into the lashline and all over the lid to anchor the black liner so that it wouldn't turn raccoonlike by showtime. "It's a technical issue," he explained. "The black mascara stays very intense around the eyes and won't move. It's better to use waterproof so it will stay in place."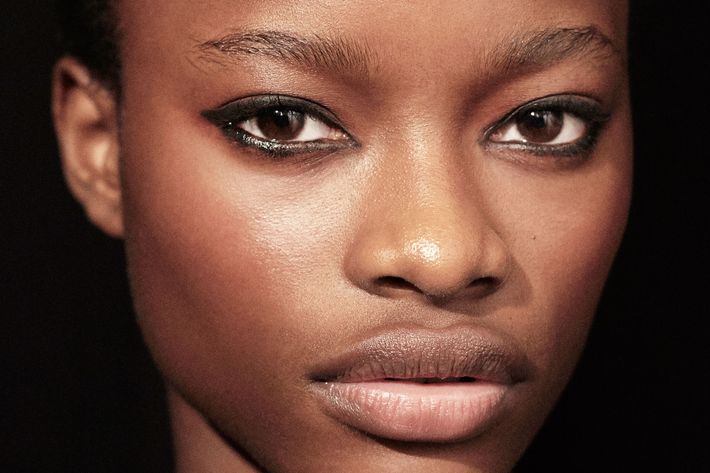 2. The Gloria Steinem Eye. She didn't do it all the time, but remember those photos from the '70s of Gloria Steinem wearing eyeliner? At Prabal Gurung, makeup artist Diane Kendal was inspired by the strength of that look, citing Steinem and the artist Tracey Emin as her muses. She used a black kohl pencil to trace the eye, added a little kick at the ends, and then filled in the space above and underneath. It wasn't technically a cat eye — the ends didn't point up — but the slight uptick at the corner served to make the liner a little more formidable. To keep it from smudging, she used a clean brush to gently tap clear powder along the lash line.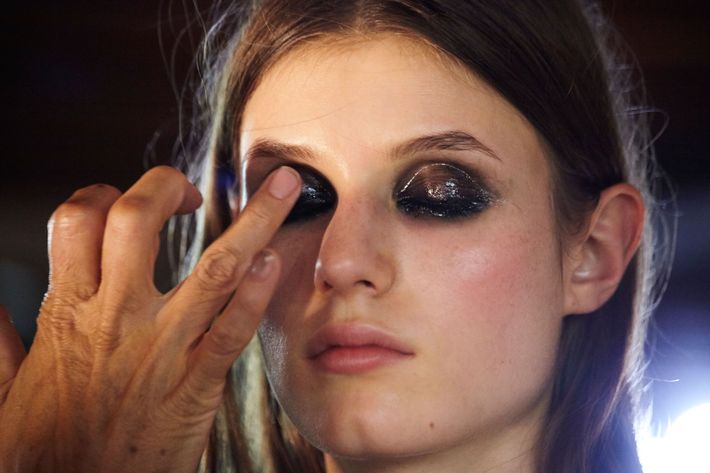 3. The Sweaty Eye. Backstage in a garage at Baja East, it was roughly 95 degrees. Everyone was sweating like Britney Spears's "Slave 4 U" video and the very, very smudgy black eye went with the lack of central air-conditioning. Diane Kendal and her team started by drawing a thick line of black kohl along the upper and lower lashes (M.A.C Kajal Crayon in Flourish Me Deep, from Kendal's upcoming collaboration with M.A.C), then patted M.A.C Mixing Medium Shine all over the eyelid to provide shine and hold all the sexy greasiness in place. To re-create the look at home, keep your initial kohl liner fairly thick so that you have enough pigment to smear around your eye. Smudge outward from the lash line so that the color gets diffused.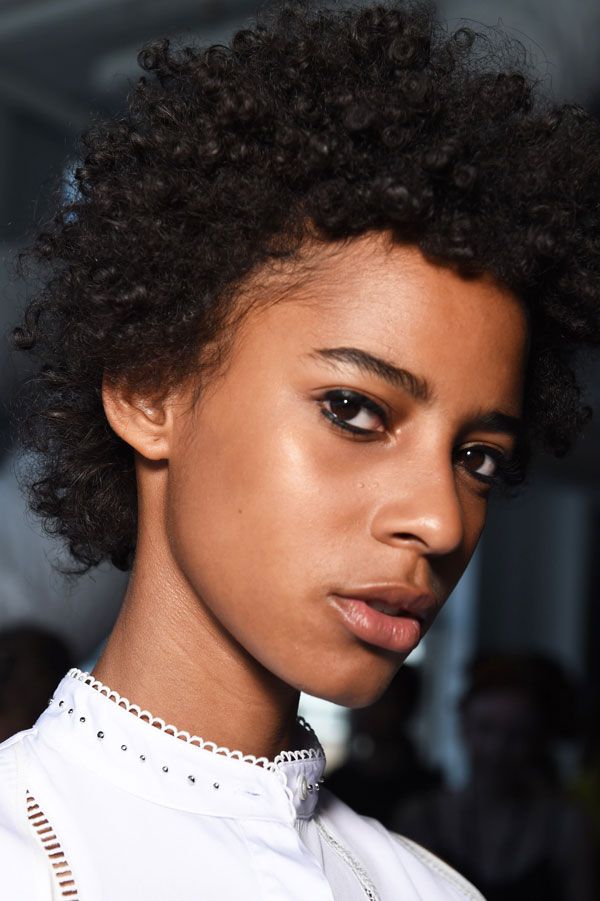 4. The Negative-Space Eye. Eyeliner is usually all about the wings, but at 3.1 Phillip Lim, makeup artist Francelle Daly reversed the concept, using a Q-tip to take away the liner's outer corners both above and below the eye. The negative-space look was cemented using the same trick Adele's makeup artist uses to get her perfect eyeliner — a combination of liner textures. Daly used a liquid liner (NARS Carpates Eyeliner Stylo) with a pencil (Minorque Kohliner) to give the line more grip.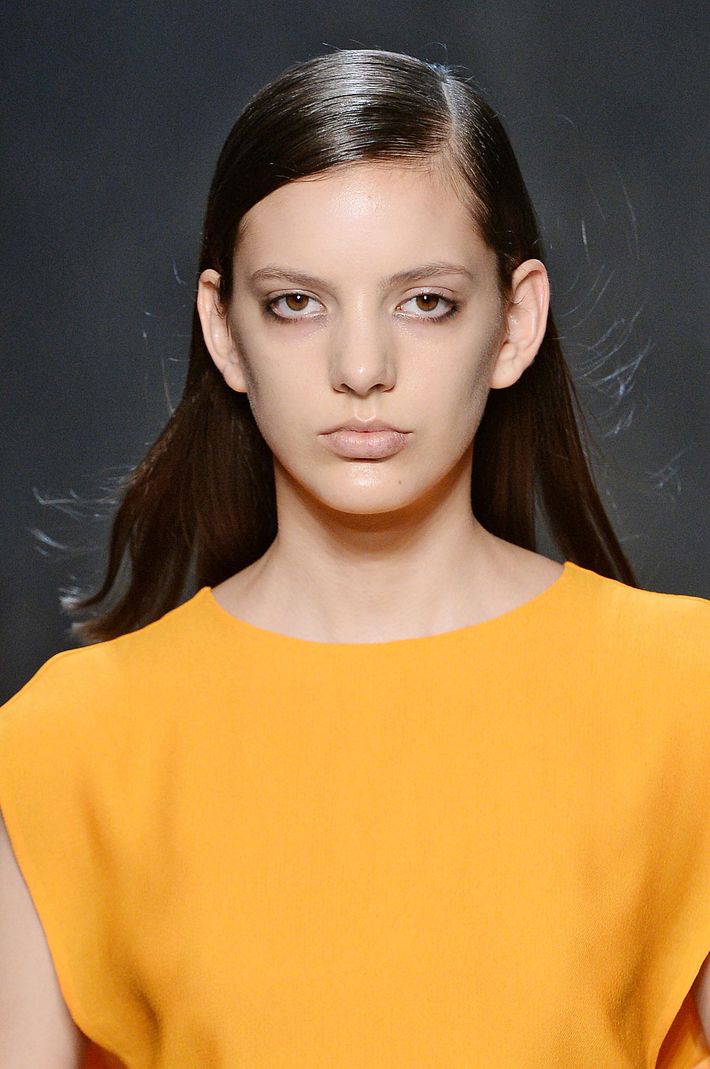 5. The Morse Code Eye. Unlike the strong and smudgy liners we saw elsewhere, the eye at Narciso Rodriguez took an arty approach. If you can't draw a straight line, this look works to your advantage. Inspired by illustrator Tony Viramontes's stop-and-start stroke work, makeup artist Dick Page used black pencil (Shiseido Smoothing Eyeliner Pencil in Black) and brown cream shadow (Shiseido Shimmering Cream Eyeshadow in Leather) to neatly draw small dashes and smudges on the lower lash line. From far away, the dashes and smudges looked connected in a somewhat Monet-like effect. The mix of black and brown colors together kept the look from getting too hard.