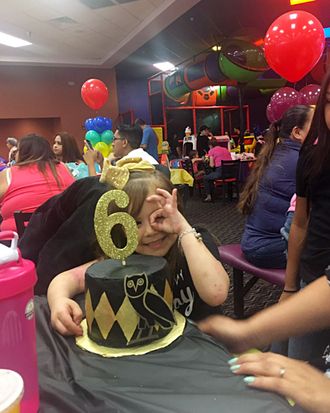 Photo: Courtesy of Twitter/abbykillzz
Think back to your sixth birthday party. Perhaps it was My Little Pony–themed. Perhaps you had a piñata. Perhaps you cried because your guests scooped up all the good candy that fell out of the piñata before you did. That's neither here nor there because your sixth birthday party was probably not as good as this girl's Drake-themed sixth birthday party.

Six-year-old Leah is a massive Drake fan, which inspired her mom, Alexis Gomez, to throw her an extravaganza focused on one Mr. Aubrey Drake Graham. Gomez's best friend, Abby Marquez, posted photos of the affair to Twitter, where they've since gone viral.

The party featured balloons emblazoned with Drake's face, an OVO cake, tiny fake $100 bills, and decorations in which Drake is illustrated blowing into a noisemaker. Checks out as the most Drake-centric birthday party since Drake's last birthday party.