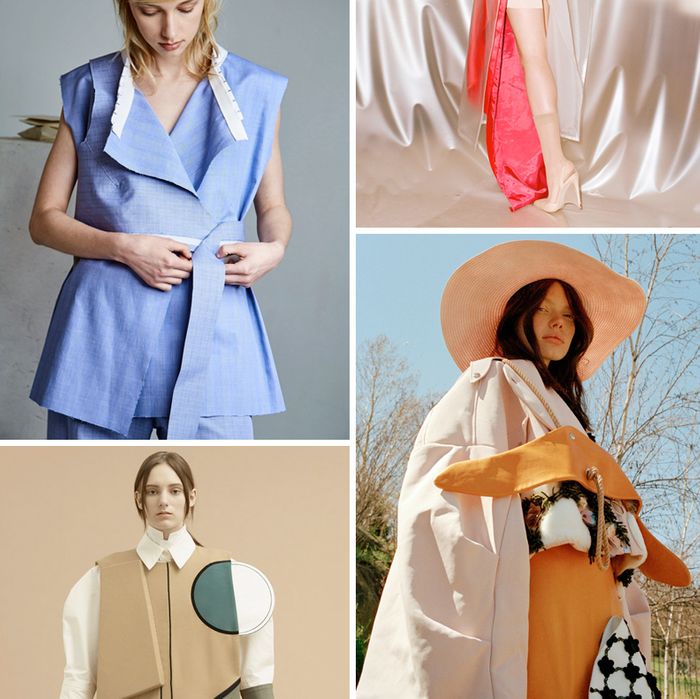 Designs by this year's Parsons graduates.
Photo: Courtesy of the designers
You hear a lot of talk about the "future of fashion," and it always seems to boil down to the latest wearable device or see-now-buy-now gimmick. But what about the real future of fashion — the pool of New York talent that spills out of the city's fashion schools every year? For our September Fashion Issue, the Cut spoke to eight recent graduates for a look into their unique visions of the industry.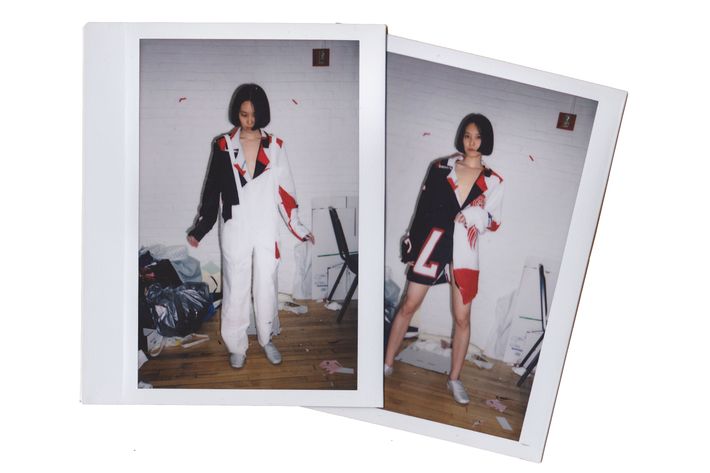 Margaret Burton
When it came time to create her Pratt thesis, Margaret Burton somewhat counterintuitively decided she didn't want to create anything new. Instead, she crafted her entire collection from used clothing donated by friends and family members. "I feel like there are enough clothes being made already," she says. So she diced five pairs of Levi's into pockets, belt loops, yokes, et cetera, and made them into one giant pair of jeans created from the assorted parts. She screen-printed messages onto existing message tees and seam-ripped other clothes to be re-sewn in new configurations.
The idea came from a trip she'd taken to India, where she visited factories that produce fast fashion and was staggered by the sheer amount of clothing that goes unused. The experience spurred her to find a no-waste approach to her own designs.

At Pratt's annual jury day, her work drew the attention of Mike Eckhaus and Zoe Latta, whose label Eckhaus Latta transforms dead-stock clothing in a similar way. "It was huge for me to get really great feedback from them about what I was doing." As for the jury members who compared her deconstructed vibe to that of Vetements, she disavows any connection. "It's actually funny because when I'm designing, I don't look at photographs of other people's work. It messes with my head too much," she says. "So everyone kept saying Vetements, Vetements, and I had actually never even looked at Vetements."
Post-graduation, Burton is headed to L.A. "It kind of seems like there's a little more of a relaxed and playful atmosphere that's happening [there] right now. More experimental," she says, citing Jerry Lorenzo's Fear of God and Virgil Abloh's Off-White as brands there that she admires. "Who knows — it may fail — but I can always go back to New York."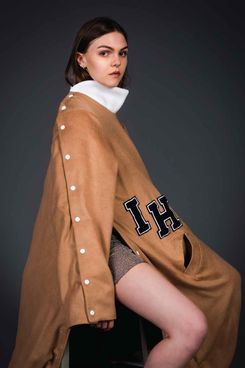 Isabel Hall
"Insane" is how Isabel Hall describes the reaction to Rihanna wearing her glittery jumpsuit in the "This Is What You Came For" video this summer. "It took off so quickly. I woke up to hundreds of new Instagram followers, and press was way more than I ever would've expected," including a piece in Brazilian ELLE. "I never thought that that would be the destiny of a piece from my thesis collection," she says now.
Hall connected with Rihanna's stylist, Mel Ottenberg, after he saw her '90's skater-inspired designs on the runway at Pratt's senior-thesis show. (Hall has been interning with his partner, designer Adam Selman, since January.) Next up for her: working on a small capsule collection with her friend and Pratt classmate Lauren Moseley. "We're taking things that we maybe wanted to do that didn't happen during thesis, other ideas that came to us while we were already working on our collections, and you're like, 'Oh that's not relevant but I'm going to file that away.'" Who knows, they might just find their way onto Rihanna next.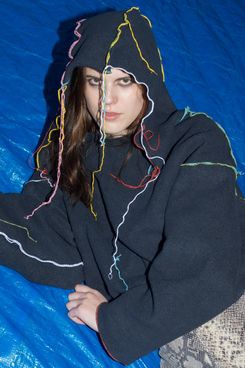 Nicholas Andreadis
"I can be really scatter-brained, all over the place," says Nicholas Andreadis. So when he first learned quilting techniques, "it was amazing because I could just do one motion for hours and hours and hours on end." He was so drawn to the practice, in fact, that he made it the basis of his Pratt thesis collection. Inspired by pathbreaking DIY designers like Miguel Adrover, he grafted old-fashioned craft techniques onto modern shapes, like a hoodie trailing colorful threads. "It was the best hybrid to do really hand-involved pieces on contemporary silhouettes," he says, adding that it was important to him to make sure "every single stitch is visible and every single seam is highlighted. Like, 'A human made this.'"
Next up for the designer: Heading to L.A. with classmate Margaret Burton (profiled above). "I think similar minds are flocking to L.A.," he says, "because it's not as industry-driven."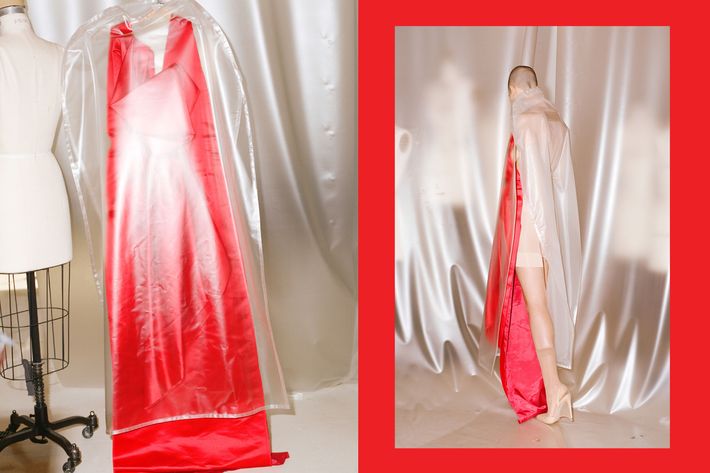 Seoyoon Song
Disenchantment was what spurred Song's thesis collection at Parsons. Midway through her schooling, "I started to feel negative about the industry." She thought about dropping out and going into the film or art worlds instead. After taking a year off to study filmmaking, she regained her interest in fashion. One epiphany that spurred that: She was walking down the street and noticed that almost every passerby was wearing something with a Nike swoosh. "I realized fashion could be one of the best materials to use as an artist," she says, "so I decided to go back to fashion.
"
She started work on a collection celebrating the garment workers who keep New York's fashion industry humming. The result, titled Cut Make Trim, includes embroidered labels on the exterior of the clothes listing their origin points — the seamstress who made them, the factory that produced them. One gown is shown covered with a plastic cape that resembles a garment bag. "We only see the luxury side of fashion in the magazines. We're always dependent on the workers and the process, which is always hidden and avoided. I thought if they're interacting with each other with harmony the outcome will always become more beautiful." Her star is already rising fast — Song will be showing in the VFiles group show at New York Fashion Week, whose alums include Gypsy Sport and Andrea Jiapei Li.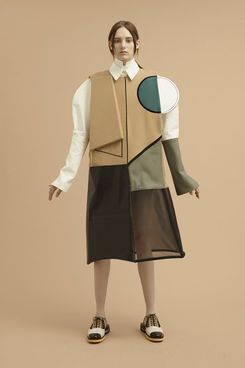 Song Ryoo
Inspired by her mother, an interior stylist, Ryoo developed an aesthetic sense early — she even got her start cutting up her mother's jeans. (Luckily, Mom didn't mind the safety-scissor deconstruction.) When she came to New York to study at Parsons, the Seoul native tried to replicate the apartment she grew up in "to get rid of my homesickness." She opted for Scandinavian modern pieces like globe floor lamps and curvilinear furniture. That design obsession found its way into her Parsons thesis collection, too. The concept of fashion as furniture might sound hokey, but Ryoo found unusual approaches to the theme. A jacket and skirt feature transparent panels that resemble Venetian blinds; many of the pieces are divided into geometric quadrants with circles or parallelograms superimposed on them.
The pieces caught the attention of Kering, which picked her as a finalist for its emerging designer competition, Empowering Imagination, and of an A-list pop star who you may just be seeing in her designs very soon. Ryoo is now freshly graduated and living in a new apartment, which she's redecorated. "So I think I'll get new inspiration" from that, she says.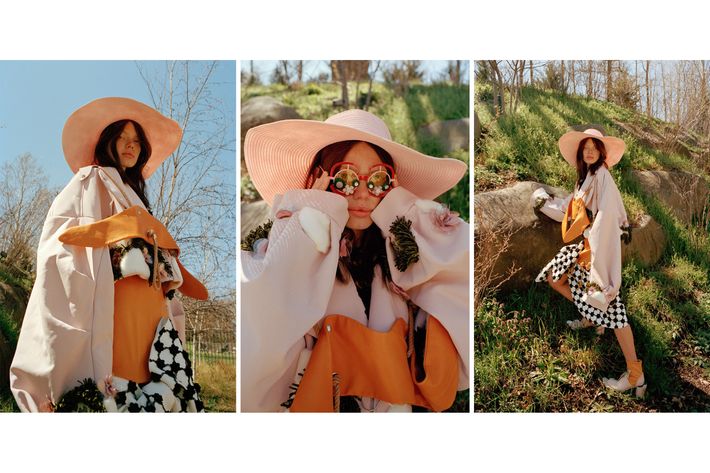 Annie Li
The Victorian children's classic The Secret Garden has been the basis of several film adaptations and a Broadway musical. Now, it's inspired a fashion collection as well. Annie Li didn't go for the straightforward, Laura Ashley–botanicals interpretation of the novel, however. For her Parsons thesis, titled "Daydreamer," she focused on "the growth and maturity of the main character, as she went from a closed-off being to someone who was able to share her emotions with others."
She evoked the romanticism of the story with 3-D flower embellishments and huge sleeves in the shape of bows — taking the unabashedly feminine, turn-of-the-century signifiers to a much more abstract place. Li is already at work on costumes for a Chinese pop star whose name she's keeping under wraps for right now. Within the next five years, she hopes to launch her own label in New York.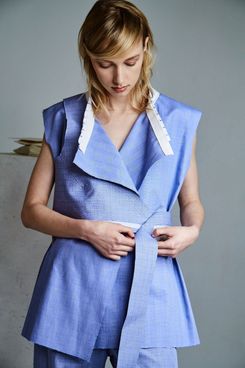 Jennifer Lee
If you wanted to throw one of Jennifer Lee's designs in a mailbox and send it to a friend, you could easily do that — no envelope required. The Colorado native's thesis at Parsons included pieces that were designed to be sent through the postal system, having researched ways to make them self-sealing and easily foldable.
That tied in with Lee's inspiration — the stamp collection her mother has maintained over the years. Postage motifs found their way into the details — like scalloped edges that mimic the edges of stamps, or men's shirting cotton that looks similar to the blue security patterns inside envelopes. "I like garments that have their own secrets," she says.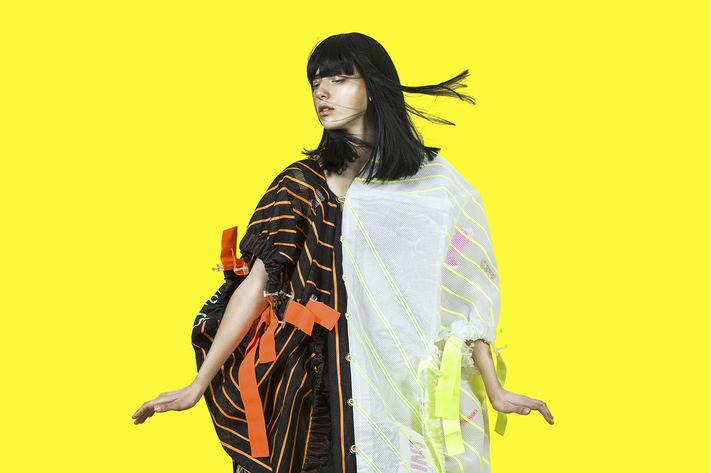 Tiffany Huang
Idly flipping through a book on packaging design, Tiffany Huang ended up with the inspiration for her graduation collection at Parsons. "They had templates of these boxes," she recalls, "and then they took them apart and lay them flat and I thought, It's really interesting how when you lay them out it's just one piece, and then you fold it and it becomes such an interesting space. So I thought, What if I imagine the city as a box? And then in the box I put in all these random things I find?"
For the resulting collection, titled "Looking Down, Walking Through," she says she wanted to capture New York from an aerial perspective. One dress is embroidered with a grid and a series of parallel lines that resemble the city's thoroughfares. (Post-graduation, she has been working on embroidery projects for the brand Chikimiki.) Huang even collected trash and found objects that she incorporated into each piece — like a mateless glove found on the street, "Wet Paint" signs, plastic bags, and fake flowers (which are tucked into an outer pocket on a pair of trousers.
"I feel like some people just walk past and think, Oh my God, this city is so dirty," she says. "But it makes me feel a little bit less miserable living in such a dirty city, in a way. I guess that's the humor that New Yorkers have to have in order to survive."