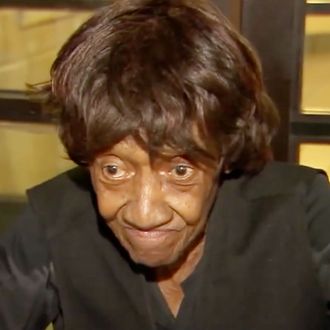 Photo: Courtesy of Facebook/AyanaHarryNews/pix11
On September 11, 86-year-old Bernice Starnes was sitting in her wheelchair outside her Bronx apartment building when a woman snatched her purse and later threw it in the trash. Within two days, Adrienne Terry — who was seen on-camera blatantly stealing from Starnes — was arrested and charged with grand and petty larceny. With the perpetrator caught, Starnes used a television interview with Pix11 to share her feelings about Terry. And she had some strong ones.

"She wanted to hurt me and the bitch don't even know me," she told reporter Ayana Harry. "I hope some of the women in prison beat her ass every day, long as she's in there."

"Some people might say that's harsh," Harry said. "Well, so what, what she did to me was even worse," Starnes immediately countered.

"I'm supposed to feel sorry for that bitch? I DON'T."

Bernice does have a point.