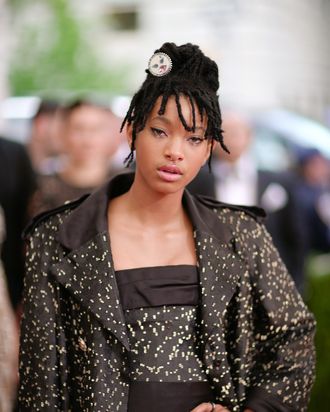 Photo: Julian Mackler/BFA.com
Upon finishing an interview with cool teen Willow Smith, you're almost certainly going to find yourself exponentially more chill, pondering the meaning of life, and wondering "what the hell just happened?"
In a new, trippy as-told-to with Carine Roitfeld's CR Fashion Book, Smith talks beauty, art, collaboration, meditation, quantum physics (and also poses in Cher Horowitz's iconic yellow plaid outfit). In doing so, she provides us with a series of inspirational quotes to add to your vision board, or embroider on pillows, or just read while weeping at your desk — whatever works! 
"Beauty doesn't exist. Beauty is something that humans made up."

"Everything in life, even the negative things, are one and the same and make up this thing we call existence."

"Life can feel like a divine collaboration."

"This world is filled with a lot of positive things to wonder about, occurrences that make you feel happy to be alive."

"All sciences, not just quantum physics, include a doorway into the magic and mystery of existence."

"Imagination can save you from the harsh realities of the world, and that can help some of the time. But it's more productive to create or seek out experiences that help you accept the duality of life."

"Mindless creation can be a form of meditation, but there is an intense power in flowing your energy in a certain direction with intent."

"I try my hardest to create situations that make me want to celebrate existence as a whole, instead of suppression, or blinding yourself to negativity."

"'Fantasy' and 'reality' are the same. To break the barrier and walk between the worlds of the reality that we know and the world of thought and imagination, the only thing you will ever need the capacity to see beyond the limitations you have placed on yourself. To move with courage beyond the blind spot. There is no "how." You just do it and never go backward."

Willow, teach me your ways.