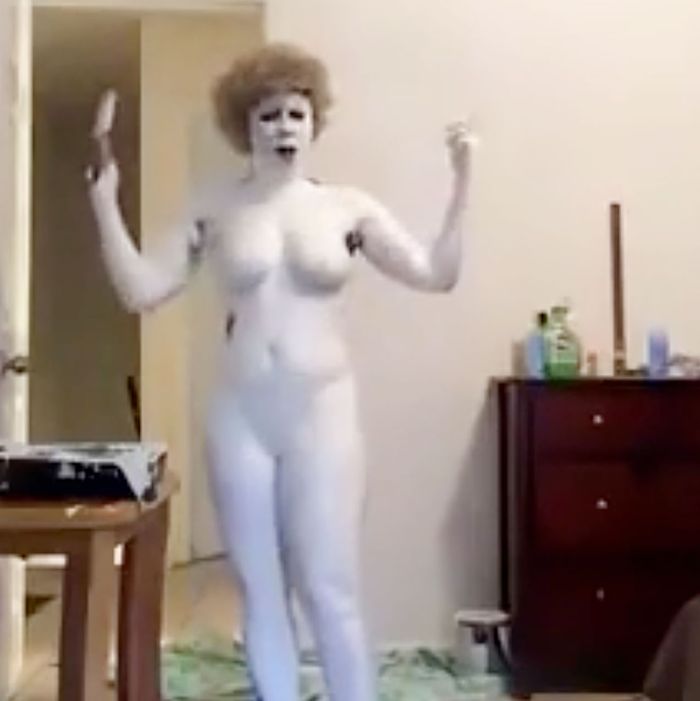 Tashala Dangel Geyer.
Photo: Courtesy of YouTube/ramazone2
A live video was streamed on Facebook on Wednesday night of a black woman painting her entire body ghost white in protest of police brutality against black people.
In the powerful 40-minute video, Tashala Dangel Geyer of Daytona Beach, Florida, explained that she purchased the paint at Home Depot to protect herself from getting shot by the police, Fusion reports. She is seen painting her naked body, and is heard telling black viewers that if they want to survive, they merely need to "go white."
"Black lives matter, Chinese lives matter, but most important, white lives matter. But you know what? Bitch when I get pulled over by the police, bitch I ain't got to do 'hands up; don't shoot,'" Geyer said in the video, per Fusion. "They ain't gon' fuck with me, you know why? Cause I'm white."
The video was allegedly removed by Facebook and YouTube within hours of its posting. Facebook eventually restored the video to her page, though clips had already made their way around Instagram and other sites.
"This is the best shit I ever could have thought of. This is saving my life," Geyer said in the video.