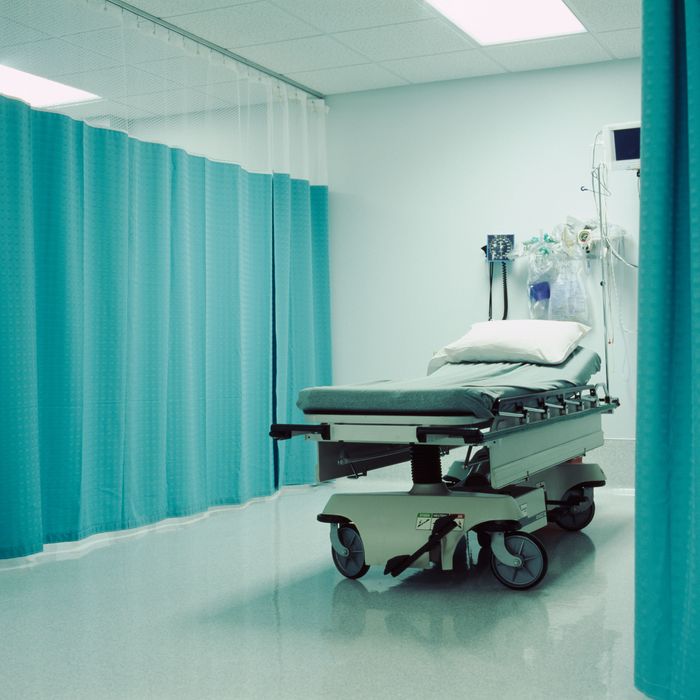 Doctors at Mercy Health Partners told a woman having a miscarriage that there was nothing they could do for her.
Photo: Dana Neely/Getty Images
Tamesha Means checked into Mercy Health Partners in Muskegon, Michigan, in 2010 — she was having a miscarriage, and Mercy Health (which is run by Trinity Health, a network of Catholic hospitals) was the only hospital in her county. She was 18 weeks pregnant and her water had broken, but doctors at Mercy told her there was nothing they could do, according to Rewire.
She came back the next day in pain and bleeding, but doctors again told her that "the only thing they could do was to wait and see how the miscarriage progressed." When she returned a third time with a serious infection, she was given aspirin and was about to be sent home again when she began to deliver.
Then, finally, the hospital admitted her. She delivered a baby, who died within a few hours.
Means reportedly filed a lawsuit against the hospital and the United Conference of Catholic Bishops (USCCB) in 2013; her suit claimed the Catholic directives the hospital followed drove the hospital to negligence. And on Thursday, Michigan's Sixth Circuit Court of Appeals ruled that Means's case would not go forward.
As part of its defense, the hospital argued it did nothing wrong in following these directives — which condemn any treatment that would lead to terminating a pregnancy — rather than following, say, professional standards of care. And it fell back on a legal doctrine called "ecclesiastical abstention," which basically means the court shouldn't be allowed to settle any case that amounts to a theological debate. In other words, Mercy Health argued that ruling on whether or not religious-based directives lead to medical malpractice should be out of the court's jurisdiction.
In keeping with Mercy's defense, the court wrote that it "would not attempt to interpret the Directives," nor whether they "dictated Mercy Health's inaction and restriction of information." Instead, it dismissed Means's case on the grounds that, in the state of Michigan, suffering a miscarriage isn't enough to state a claim for negligence. Meanwhile, one in six women is treated in a hospital where Catholic directives are in place.