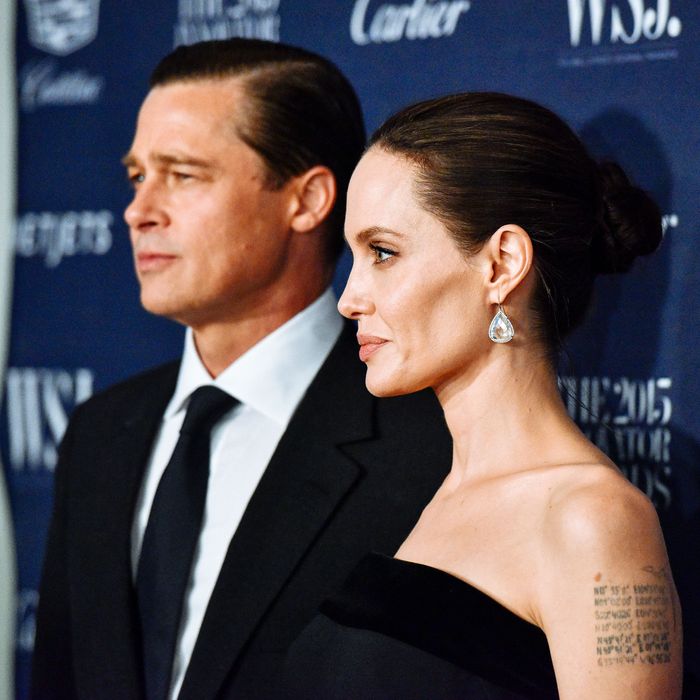 Brangelina, always in our hearts.
Photo: Grant Lamos IV/FilmMagic/Getty
Brangelina, the last of our great celebrity portmanteaus, is no more. Earlier today, TMZ reported that Hollywood's most beloved couple are getting divorced, launching a planet-wide state of emergency and sending the rumor mill into overdrive. As we pour out a glass of award-winning Jolie-Pitt & Perrin Côtes de Provence Rosé Miraval Reserve for the once-great couple, here's a look back at the history of their relationship, from their whirlwind romance on the set of Mr. & Mrs. Smith, the Jennifer Aniston love triangle and the tabloid frenzy, their many adoptions and joint humanitarian endeavors, their long-awaited nuptials, and ultimately, their tragic split.
Summer 2004: The pair meet on the set of Mr. & Mrs. Smith. Rumors of a relationship abound, despite the fact that Brad is married to Jennifer Aniston.
January 2005: Brad and Jen announce that they are splitting after "much thoughtful consideration" and that their breakup was not caused by "any of the speculation reported by the tabloid media."

April 2005: The paparazzi catch Angelina and Brad vacationing together in Kenya with Angelina's son Maddox, all but confirming their relationship. "The world was shocked, and I was shocked," Aniston later tells Vanity Fair of the photos. Meanwhile, the Brangelina-and-Jen tabloid industry goes into overdrive, and never stops.

June 2005: The couple attend the Mr. & Mrs. Smith premiere but do not pose for photos together.

W runs a feature titled "Domestic Bliss," conceptualized by Brad, featuring Brad and Angelina as a '60s married couple. Everyone agrees that it is not very nice to Jen.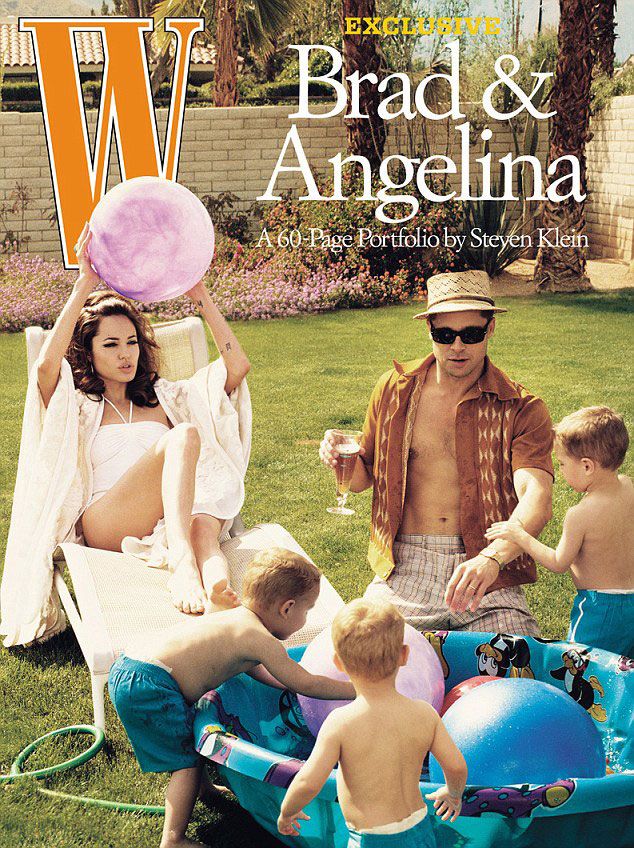 July 2005: Angelina adopts daughter Zahara from Ethiopia.

September 2005: Jen opens up about Brad and Angelina's relationship for the first time in a big Vanity Fair spread, saying she believes Brad when he says he did not cheat on her with Jolie, even if the speed of their coupling suggests differently. "I just don't know what happened," Aniston admits. "There's a lot I don't understand, a lot I don't know, and probably never will know, really."

According to Aniston's friends, once Brad began working with Angelina, he checked out of his marriage. "I don't think he started an affair physically, but I think he was attracted to [Angelina]," says Courteney Cox.

October 2005: Brad and Jen's divorce is finalized.

January 2006: Angelina reveals that she is pregnant with Brad's baby. Brad also legally adopts Maddox and Zahara.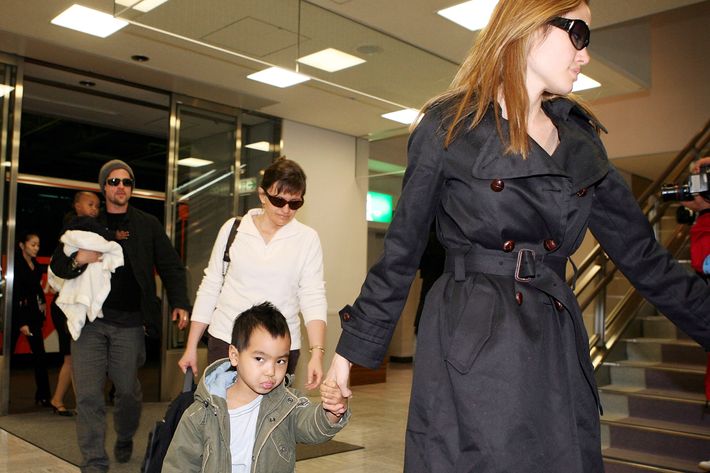 May 2006: Angelina gives birth to their daughter Shiloh. She sells photos of the new baby to People and OK for a whopping $7 million total, which is then donated to charity.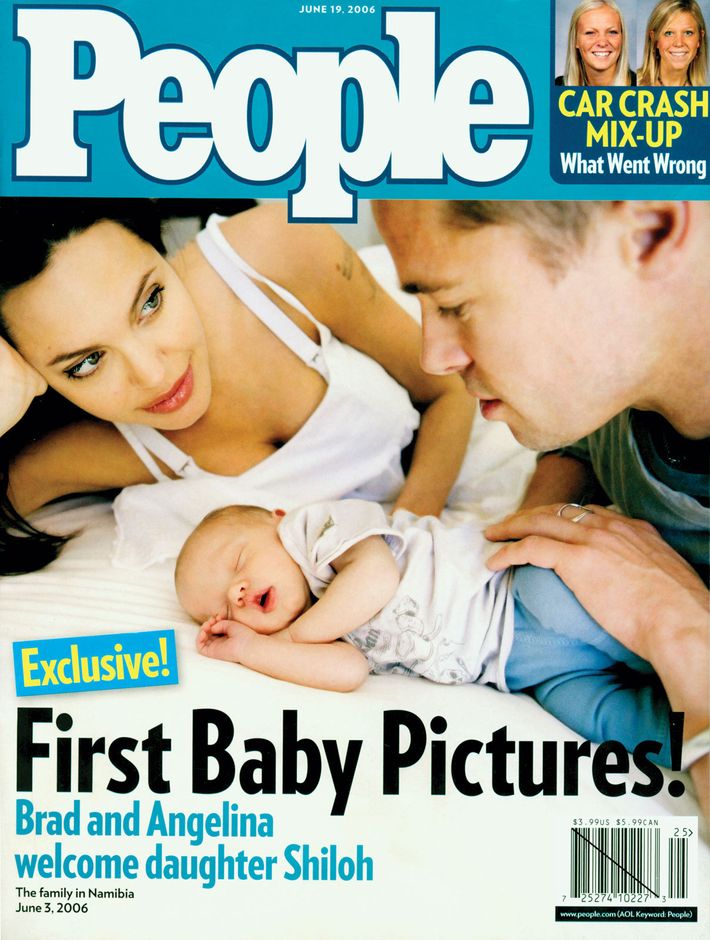 September 2006: The couple launch the Jolie-Pitt Foundation to contribute to various humanitarian causes around the world.

October 2006: Brad tells Esquire that he and Angie will marry "when everyone else in the country who wants to be married is legally able," something he reiterates over the years.

December 2006: The pair step out on The Good Shepherd red carpet, their first red-carpet appearance together.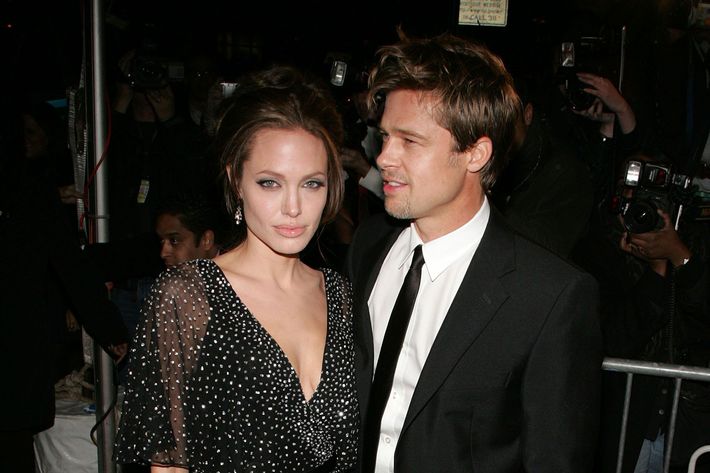 For the first time, Angelina opens up about the beginning of their relationship to Vogue. "It took until, really, the end of the [Mr. & Mrs. Smith] shoot for us, I think, to realize that it might mean something more than we'd earlier allowed ourselves to believe," she says. "And both knowing that the reality of that was a big thing, something that was going to take a lot of serious consideration."

March 2007: Angelina adopts Pax from Vietnam. Shortly after, she legally changes his surname from Jolie to Jolie-Pitt.

May 2008: We learn that the couple are expecting twins, which will bring their total number of offspring to six.

July 2008: Angelina gives birth to twins Knox and Vivienne, selling their pictures for a whopping $14 million, which they again donate to charity.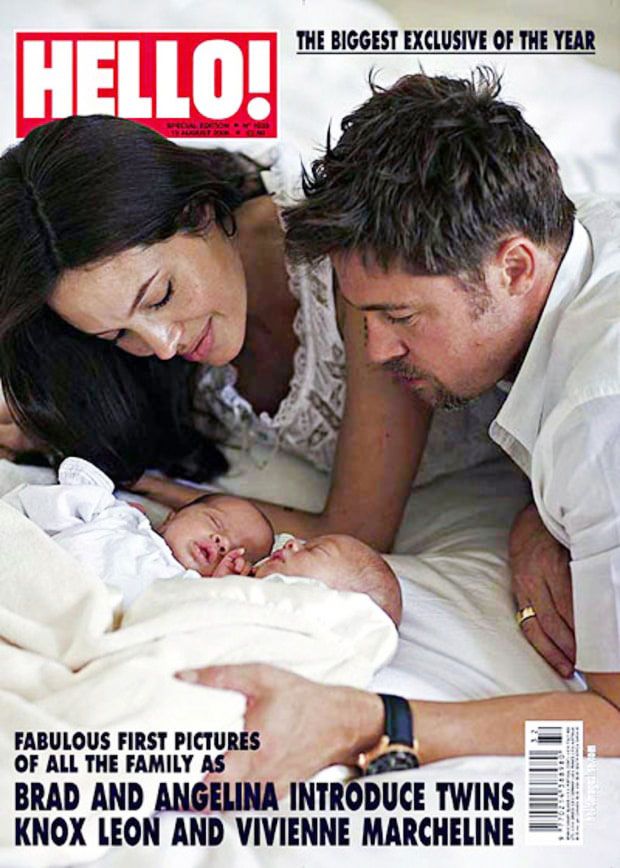 October 2008: While Brad and Angelina still deny having a physical relationship while Brad was with Jen, Angelina tells the Times that she is excited for her kids to see Mr. & Mrs. Smith because "not a lot of people get to see a movie where their parents fell in love."

November 2008: Jen thinks Angie's comments to the Times were "uncool." "I felt those details were a little inappropriate to discuss," she tells Vogue.

Brad publishes his personal photographs of Angelina in W.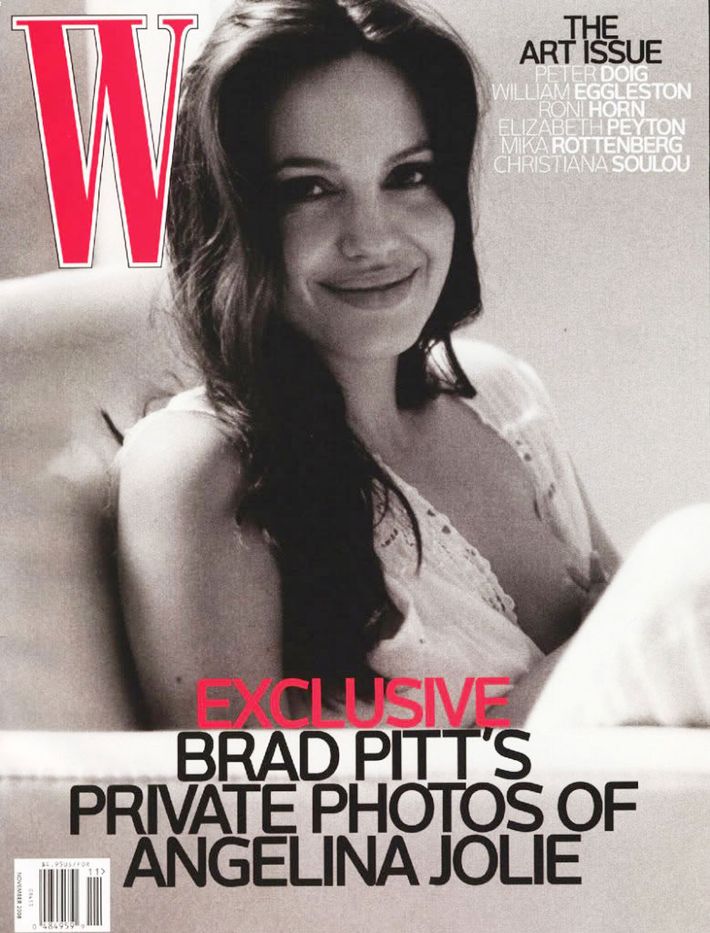 December 2008: Brad confirms that they fell in love during Mr. & Mrs. Smith, telling Rolling Stone that it is his favorite film "because you know … six kids. Because I fell in love."
February 2010: The couple sue The News of the World for an erroneous report that they are separating.

June 2010: "[We're not] against getting married," Angie tells Vanity Fair. "It's just like we already are. Children are clearly a commitment, a bigger commitment [than marriage]. It's for life."
September 2011: Brad talks about how "satisfied" he is with Angie and appears to shade Jen in Parade, saying, "I wasn't living an interesting life myself. I think that my marriage had something to do with it. Trying to pretend the marriage was something that it wasn't." He later apologizes, clarifying that he was just in a rough patch during the end of their relationship.

Pitt reiterates to Ellen that he and Jolie will not marry until same-sex couples can marry, but also talks about marriage pressure from the family, saying: "The kids are putting on the heat. They really are. They are putting on the heat. … How do I get out of this one? Somebody help me. I don't know what the future holds."

December 2011: Angelina also says that the kids are pressuring them to tie the knot. "The kids asked me the other day, and I asked them if it was just because they wanted to have a 'big cake,'" she said. "We've explained to them that our commitment when we decided to start a family was the greatest commitment you could possibly have. Once you have six children, you're committed."

January 2012: Brad changes his tune a bit. "We'd actually like to [get married]," Pitt tells THR. "It seems to mean more and more to our kids. We made this declaration some time ago that we weren't going to do it till everyone can. But I don't think we'll be able to hold out. It means so much to my kids, and they ask a lot. And it means something to me, too, to make that kind of commitment … to be in love with someone and be raising a family with someone and want to make that commitment and not be able to is ludicrous, just ludicrous."

April 2012: Brad's manager confirms that the pair are engaged.

May 2013: Angelina reveals that she underwent a preventative double mastectomy in a New York Times op-ed. "I am fortunate to have a partner, Brad Pitt, who is so loving and supportive," she writes. "Brad was at the Pink Lotus Breast Center, where I was treated, for every minute of the surgeries. We managed to find moments to laugh together. We knew this was the right thing to do for our family and that it would bring us closer. And it has."
"I find Angie's choice, as well as so many others like her, absolutely heroic," Brad tells the Evening Standard.

May 2014: Angelina waxes poetic about their love in Elle. "You get together and you're two individuals and you feel inspired by each other, you challenge each other, you complement each other, drive each other beautifully crazy."
August 2014: The pair secretly marry at a private ceremony in Château Miraval, France.
September 2014: We finally get to see photos of the wedding, including photos of the Versace wedding dress, which Angelina's kids helped decorate.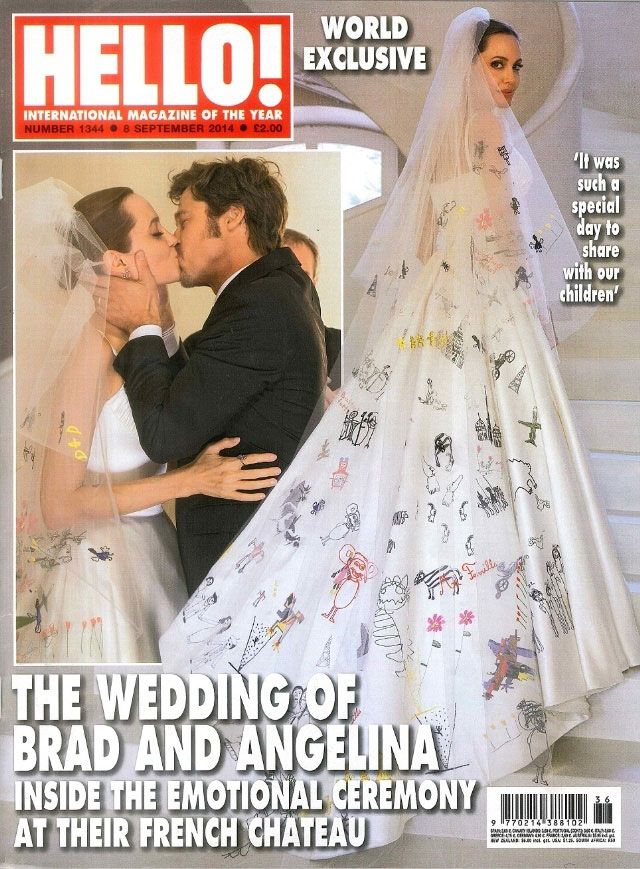 November 2014: The pair honeymoon in Malta, while also making their first film together since Mr. & Mrs. Smith — turbulent relationship drama By the Sea.

March 2015: Angelina reveals that she had her ovaries and fallopian tubes removed to prevent cancer. "I called my husband in France, who was on a plane within hours," she writes in the Times. "The beautiful thing about such moments in life is that there is so much clarity. You know what you live for and what matters. It is polarizing, and it is peaceful."
November 2015: By the Sea comes out. Talking to The Telegraph, Angelina says that their relationship is nothing like that of the unhappy couple in the film. "Brad and I have our issues, but if the characters were even remotely close to our problems we couldn't have made the film. To be clear: we have fights and problems like any other couple. We have days when we drive each other absolutely mad and want space, but the problems in the movie aren't our specific problems."
Promoting the film, the love fest is mostly in full swing. "Whatever's gotta be done to keep the family together and keep the family together as long as possible, it's gotta be done," said Brad of his wife's surgery. "There was no vanity to my wife's approach. It was mature."

June 2016: Us Weekly predicts a divorce, citing tension over whether to sell their Chateau Miraval property in the south of France.
September 2016: September 20, 2016, a day that will live in infamy: Angelina files for divorce. "This decision was made for the health of the family," says Angelina's attorney in a statement. "She will not be commenting, and asks that the family be given its privacy at this time."
Speculation over possible causes abounds, mostly suggesting that Brad's bad behavior is to blame. "I am very saddened by this, but what matters most now is the well-being of our kids," Brad tells People. "I kindly ask the press to give them the space they deserve during this challenging time."