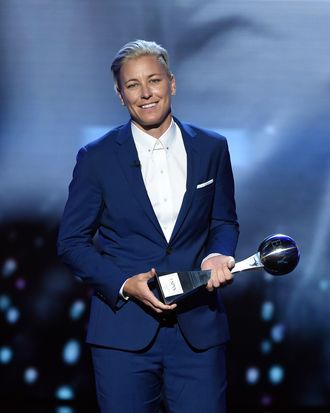 Abby Wambach at the 2016 ESPY Awards.
Photo: Kevin Winter/Getty Images
Abby Wambach's new memoir, Forward, contains what can only be described as a bombshell: The soccer star says she abused alcohol and prescription drugs for years until being arrested for DUI in April.
"That night getting arrested was one of the best things that has ever happened to me. Because if I don't get so publicly shamed and publicly humiliated, I don't think I wake up," Wambach told the Associated Press. "I think I was asleep for a lot of years. Asleep to the pleas from my family and friends, and even myself, to get help."
Wambach said she previously abused vodka and pills, including Vicodin, Ambien, and Adderall, and that she's been sober since her arrest. She pleaded guilty and entered a diversion program for first-time offenders that included treatment.
Despite her private struggles, she became the leading scorer in international soccer — male or female — with 184 career goals. She's a two-time Olympic gold medalist and was named the 2012 FIFA Player of the Year. She retired in October, a few months after the U.S. Women's National Team won the World Cup. "This isn't something that just snuck up on me when I retired from soccer. This is something I've been dealing with for years now," she said.