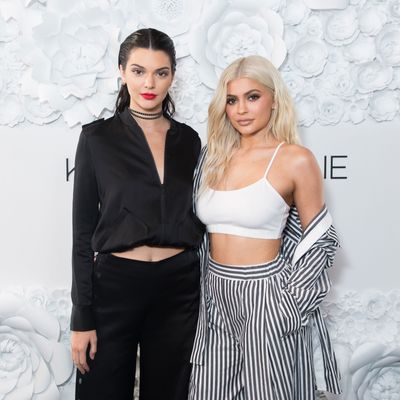 Kendall + Kylie.
Photo: Benjamin Lozovsky/BFA.com
By some email glitch or overzealous publicist, I was invited to the Kendall + Kylie New York Fashion Week event no less than three times. Each invite contained the exact same limited amount of information: You're Invited. Kendall + Kylie. September 7, 2016, 6–8 p.m. Samsung. I guess that was all I needed to know, because I showed up at the event having gathered no more intel about what I was there to see. Kendall + Kylie, yes, but what was Kendall + Kylie going to do? Fashion? Phones? A dramatic reading of the Vagina Monologues?
Unfortunately, I still don't know. I arrived at the event, hosted at the multilevel Samsung store in the Meatpacking District, a little after 6 p.m., and Kendall + Kylie was not there. Instead, there were a couple hundred grown adults walking around, absentmindedly tapping at Samsung tablets that displayed the words Kendall + Kylie. At first, I thought that everyone knew what they were doing there except for me — the attendees were all supposed to be "VIP and media." Now I am convinced that nobody on this Earth knows anything at all except: Kendall + Kylie.
After completing two laps around the main level of the store and discovering only tablets, I approached a Samsung employee who was guarding an area behind a staircase that had several plush chairs. Maybe this is VIP, I thought, knowing that I would never be invited to such a section but praying for its existence as a sign of order. The employee told me that it was actually a place to try on virtual-reality headsets. "We let you fly through the Swiss Alps," he said, shaking floppy brown bangs out of his eyes. "It's, like, 360 degrees. You should try it."
"So this has nothing to do with Kendall and Kylie?" I asked.
"Uhh, no," he replied.
Then I asked him, politely, whether this was a fashion event or an interactive advertisement for Samsung. He explained that it was both. "We put their clothes on the phones," he said, gesturing to the devices that lined the walls. "And then, you know, they take pictures with them or whatever."
I decided to get a drink.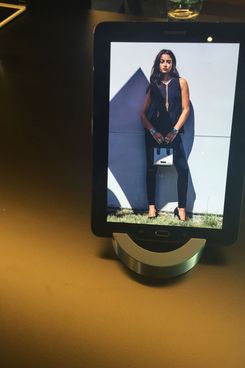 Kendall + Kylie is not legal to consume alcohol, but everyone at the Kendall + Kylie event was well over 21. At the bar on the upper level of the store, three tall, heavily eyebrowed 30-somethings with the unmistakable aura of YouTube beauty-guru fame ordered "Tokyos," the signature cocktail of the evening. I got a white wine and started a lap around the upper level, searching for the clothes on the phones.
In the southeast corner, I found three small racks of Kendall + Kylie leather jackets, asymmetrical T-shirts, and ripped sweatshirts. Each item had a price tag ($295! said one), but there was no cash register or place to buy anything, unless it was hidden in a tablet. On a table next to the racks, a sturdy man dressed in all black was offering to monogram Kendall + Kylie items with what looked like neon-colored Sharpies.
I walked back downstairs and discovered a large crowd of men and women pushing toward a roped-off step-and-repeat at the front of the store. The step-and-repeat said Kendall + Kylie, but I could not see if Kendall + Kylie was standing on it. The crowd, in thrall to a teenage Kardashian brand, continued to mash forward. I approached the edge of the pit and asked one of the women jockeying for position what everybody was trying to see. Kendall + Kylie?
"I don't know," she said. "I can't see anything."
"So why is everyone pushing forward?" I asked, beginning to think this was some sort of Asch conformity experiment.
"I don't know," she repeated, hoisting her iPhone above the crowd in an attempt to take a photo of nothing.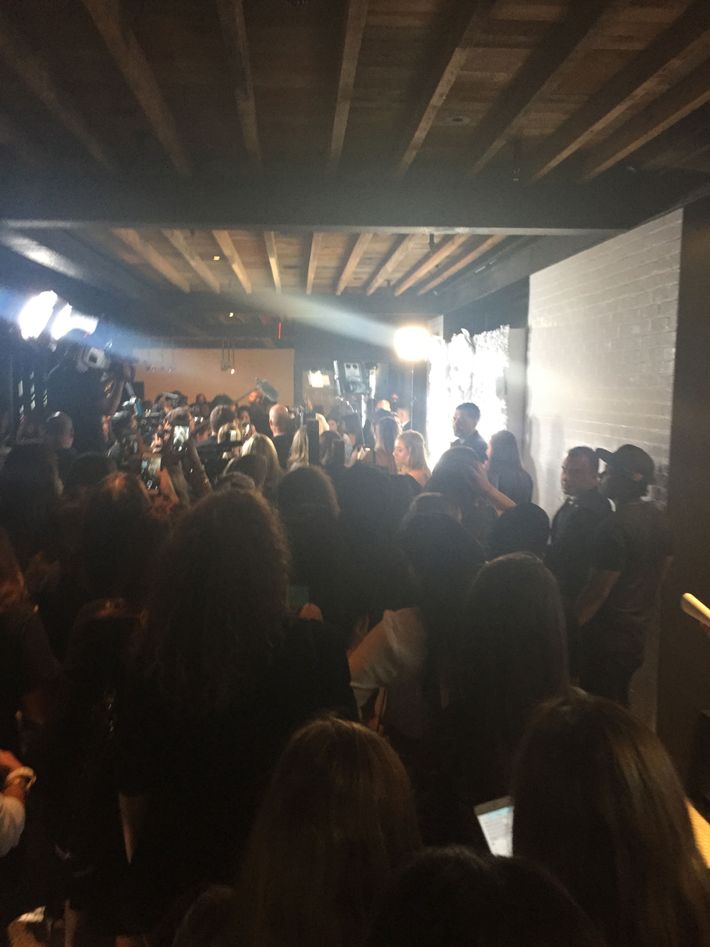 Several minutes later, Kendall + Kylie appeared, perhaps from a trap door in the floor — it was impossible to see the arrival or anything besides the armpits of the attendees on either side of me. After a few photos, Kendall + Kylie moved toward a glass-walled room adjacent to the step-and-repeat, where the Kardashians' preferred media outlet, E!, was waiting for an on-camera interview. Security guards physically restrained guests from reaching out to the unit during the ten-foot journey.
"Oh, my God, people are going to put their faces up against the glass," I joked to a reporter next to me. Then people actually did. As I left through the front entrance, I watched a tall, brunette 20-something smash her body against the wall and lift her iPhone above her head to take a selfie with Kendall + Kylie through the glass.