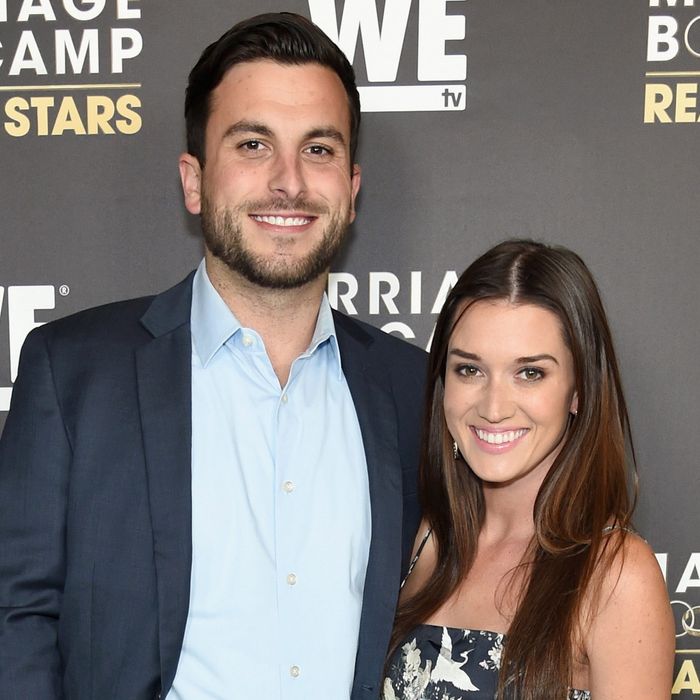 Tanner and Jade Tolbert.
Photo: Jamie McCarthy/Getty Images for WE tv
The reality stars of WeTV's Marriage Boot Camp: Reality Stars arrived uniformly late to the show's premiere party last week at club Up & Down, the West 14th Street hot spot nestled between a massage parlor and Subway. "They're all in their cars circling the block," a publicist sighed, as we waited inside for their arrival. "No one wants to be the first person to show up."

After playing chicken for half an hour, they all crashed the step-and-repeat at once, making it impossible to talk to all of them and harder to identify any of them. The show, which features couples trying to save their marriages through group therapy and drinking a lot, is now in its sixth season. The current players are Jade and Tanner Tolbert (Bachelor in Paradise), Jim and Amber Marchese (Real Housewives of New Jersey), Karen Gravano and "Storm" (Mob Wives), Keke Wyatt and Michael Ford (R&B Divas: Atlanta), and Margeaux Simms and Merika Palmiste (Love & Hip Hop: Atlanta). For the record: Karen is not actually married to Storm, and Margeaux is married to somebody else.
This season, which premieres on October 7, was filmed for two and a half weeks back in April. All of the reality stars were eager to discuss their experiences at boot camp, especially Jade and Tanner, who joined the cast just three months after getting married on a televised Bachelor special.
"I guess, you know, we didn't look at it as a negative thing like, 'Our marriage is in trouble … We're in shambles, we need it to fix us,'" Jade explained to me. "We're more like, 'Let's learn from these couples now so we don't have problems later.' Because both of us come from divorced families … we really want to get through everything together. And so we just felt like, why not? We've done everything else on TV!"
"I'm usually up for anything," Tanner added. "Nothing really scares me."
Real Housewives' Jim and Amber Marchese had a similarly positive view of boot camp — "I would absolutely do it again," Amber said — despite the fact that they ran into some trouble on the way home.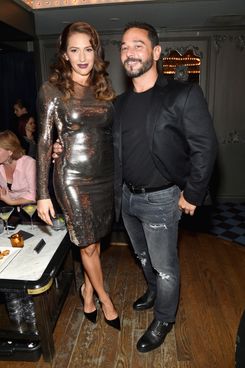 On April 20, TMZ reported that Virgin America pulled the Marcheses off their flight home from Los Angeles and called the police "to report James for grabbing Amber by the throat and threatening to hurt her." Jim was arrested and booked for domestic violence, but the couple has denied that any assault occurred, explaining to People that they were actually engaging in "PDA" on the flight. Jim has since announced, via People, that he plans to sue Virgin America for $100 million.
"It was absolutely not true," Amber told me on the press line. "He did not touch me inappropriately. And it's weird, because they actually handcuffed me. And they were treating me — I'm supposed to be the victim, and they were treating me like I was the biggest asshole in the world."
Jim, wearing a black T-shirt and blazer, recalled his version of events. "It's crazy 'cause we were in an L.A. airport where the people arresting us were, like, literally of Mexican heritage," he said, seriously. "They didn't speak enough English. I had to Mirandize, because they couldn't say it in English. They couldn't read it off a card."
"Honestly, we thought we were set up, like it was a joke," he added. "We thought it was a reality-TV joke where I'm like, 'Yeah, that's cute guys.' But then they were serious, and I'm like, 'You don't speak any English.' And they did not. It was horrible. Honestly, it's a third-world country at that point."
Amber assured me that they were doing great now, and Jim underlined his preference to remain in the tristate area. "We're staying on the East Coast, where good old-fashioned Americans yell at you," he said.
The couple headed into the party room, where footage of all of the reality stars screaming at each other was being projected onto a large screen. The cast posed for several photos together, right at home.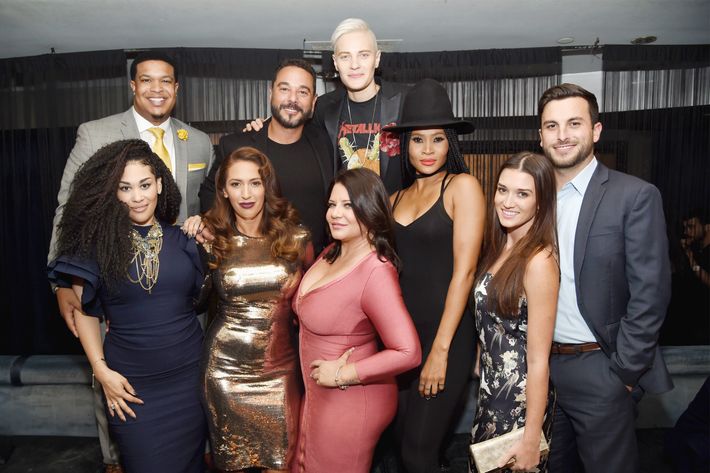 Marriage Boot Camp: Reality Stars premieres October 7 on WeTV.