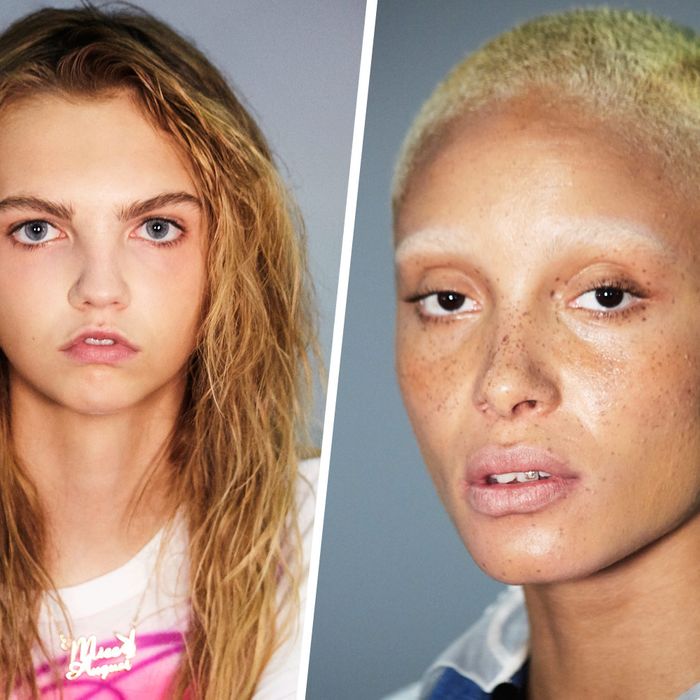 Did you have too much fun getting crispy at the Rockaways this summer? That's okay. Last night's Alexander Wang show debuted a beauty look that featured lightly sunburnt skin and "fried" bleached hair.
Beachy beauty isn't new, of course. You can get "beachy" waves at any blow-dry bar in the country, even if you live in a landlocked state, and sun-kissed cheekbones are a year-round option thanks to the roughly 400 bronzers available on the market. But Wang's interpretation was less pretty and more surfer — even slightly on the rough side.
Guido Palau, Redken's creative director, began by sending 18 girls (but not Kendall Jenner) to the Whittemore House salon to get a thorough bleach job. A lot of the bleach gave many of the girls an almost-white-blonde hair color that extended from a few inches down the shaft to the ends. But effort was taken to keep the hair look from looking too stereotypically sexy. Roots were purposely left dark to give a little edge. Palau also gave a few girls short, shaggy chops to either just under the shoulder or the clavicle.
Then, the team went about re-creating your summer-vacation hair with massive amounts of sea-salt spray (Redken's Fashion Waves Spray) and lots of scrunching. There were absolutely no smooth, sausage curls. This was the look of a girl who actually gets her hair wet in the ocean (and doesn't deep-condition after).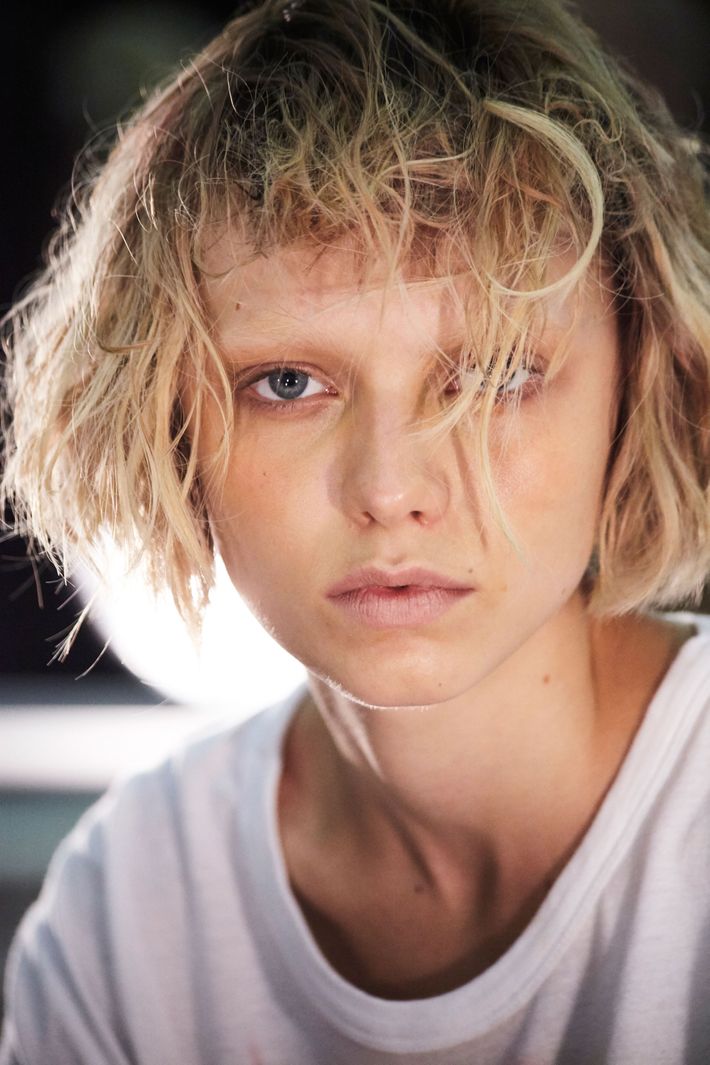 To get a lightly sunburnt — not sun-kissed — look, makeup artist Diane Kendal for NARS Cosmetics made sure to mix bronzy and pink tones together. She first applied NARS The Multiple in Cappadoce starting from the top of the cheekbones and extending lightly into the temple, followed by Portofino. Lip color was purposely reduced with a layer of concealer (NARS Stick Concealer), and the eyes were left bare. To look more beautiful than ever according to Alexander Wang, simply ignore all the beauty advice you've ever been told.