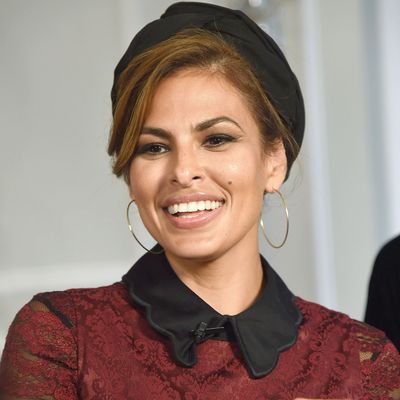 Eva Mendes at the Eva Mendes Collection show.
Photo: Gary Gershoff/Getty Images
Eva Mendes is an actress, a mother of two, and the longtime girlfriend of Ryan Gosling. She is also a big fan of turbans. At the Eva Mendes Collection for New York & Company runway show Tuesday night at the marble-floored Academy Mansion east of Central Park, all of the models wore velvety head wraps in shades of oxblood, baby pink, or white. Eva loved it.
She told me after the show that when she first visited New York & Company's offices three years ago, she modeled her vision for the collaboration. "I had a head wrap on, like a head-wrap, turban-ish thing — not a full-on turban — and I was like, 'Okay, we gotta get into turbans,'" she said. "I remember the CEO, Greg [Scott], who I love so much, he was like, 'This girl's wacko. Turbans are not going mass, there's no way.' And then, suddenly, they were kind of everywhere, and I think when little moments like that happen, [the company's] trust has grown in me." She gestured to her beautiful head of hair, which was partially covered, of course, by a turban-ish thing.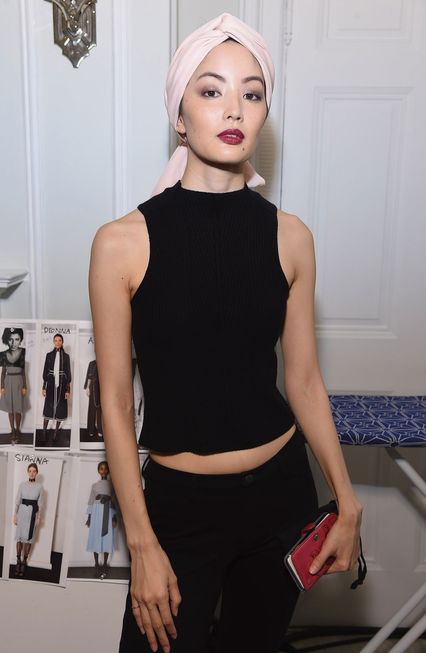 Last night's show was New York & Company's first-ever appearance at New York Fashion Week, indicating that the company has become more invested in Eva's brand. The collection on display was kookier than anything you would normally buy at the mall store — in addition to the turbans, the models wore lacy, black patterned tights; long strands of costume pearl jewelry; patterned Chanel-style jackets; and layered floral dresses in white, black, and oxblood. It felt like dress-up day at Fun Grandma's house. Some attendees were really feeling the vibe — two early-40s, Italian women in the front row kept shouting "Oh là là!" each time a new model clomped down the runway. There were no celebrities in the audience, only enthusiastic potential New York & Company shoppers.
Everything in the collection was available to buy online immediately after the show, and the marketing copy on the website mirrored the frenetic energy of the runway. "Watch & Shop the Premiere Broadcast of the Eva Mendes Salon Show Now!" the site shouted. "Plus Final Hours to Redeem City Cash – Will Not Be Extended! Stack all of the City Cash Coupons you've Earned and Save Even More Because Every Single Thing is On Sale including Hundreds of New Fall Arrivals On Sale for Buy One, Get One … " etc. The Eva Mendes Collection "Turban Band" is already on sale for $11.97.
Also advertised online and at the show was Eva's drugstore makeup line, Circa. Despite this display of brand synergy, Eva assured me that she is not interested in expanding her lifestyle empire à la Gwyneth Paltrow or Jessica Alba. "That's not something [I'm] conscious [of]," she said. "I think these two things just kind of happened, and they were so … My attraction to both of them is that I'm bringing a quality product at an affordable price. You know, I was raised with really not much. We didn't have much. And I would shop for my cosmetics and skin care at a drugstore."
When I exited the mansion, a publicist handed me a goody bag filled with several Circa makeup items and a blue patterned scarf that I imagine you could wear as a turban.