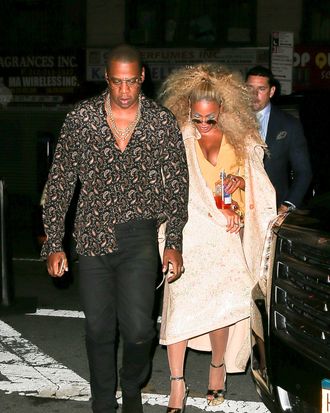 Jay Z and Beyoncé at her 35th birthday party.
Photo: Felipe Ramales / Splash News
Beyoncé, light of our lives, turned 35 this weekend, and she celebrated with a roaring extravaganza that made Taylor Swift's Fourth of July party look like a preteen slumber party. After hanging out with Michelle Obama at Camp David, getting a dog (10/10 would pet), shmoozing with Bill Clinton, and getting serenaded by Chance the Rapper at Made in America earlier in the weekend, the festivities culminated on Monday night with a Soul Train–themed costume party. The soirée was attended by Alicia Keys and Swizz Beats (who served as DJ), Chance the Rapper, Diddy and Cassie, Kendrick, Usher, Destiny's Child alums Kelly and Michelle, Serena Williams, and many others, and was documented in countless blurry Snapchats that we'll be poring over in envy for the rest of the day.
After arriving, Bey and Jay both pulled outfit changes, with Bey slipping into this sparkly leotard.
Meanwhile, Jay rocked an impressive Jimi Hendrix costume.
Alicia Keys and Swizz Beats also took the theme seriously:
Swizz served as DJ:
Uproxx reports the playlist features Soul Train–appropriate tracks like Chaka Khan's "Sweet Thing," Meli'sa Morgan's "Fool's Paradise," and Funkadelic's "One Nation Under a Groove." And of course, "Work It Out," by one Beyoncé Knowles.
There were some models in the house:
Serena Williams took a break from the U.S. Open to make a cameo:
Kendrick was there:
Teen superstars Halle and Chloe were there to support their mentor:
And so was Chance, who sweetly serenaded his auntie Bey at Made in America earlier that weekend:
Janelle Monáe tore up the dance floor, as per usual:
The evening doubled as a Destiny's Child reunion:
At some point, cool kids Cassie and Diddy had a kitchen side-chill.
Bey gave a speech:
Blue wished her mom a very adorable happy birthday:
Then at some point, Blue went to bed and Bey and Jay gave Rihanna and Drake a run for their money in the grinding department.
Seemed like an okay night.