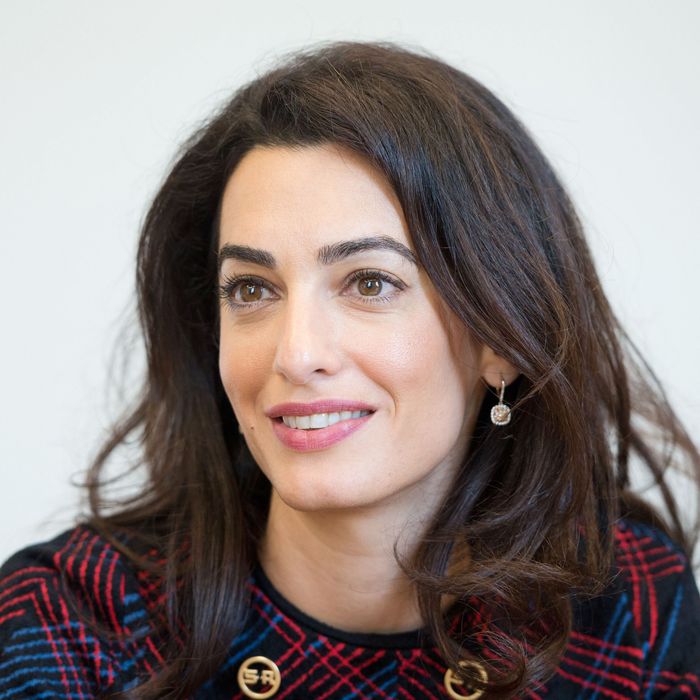 There's actually nothing she can't do.
Photo: BERND WEISSBROD/AFP/Getty Images
Amal Clooney may have settled for her husband, but when it comes to her career as a human-rights lawyer, she's unstoppable. In June Clooney announced she'd seek to defend thousands of Yazidi sexual-abuse survivors in court by putting the ISIS leaders who raped them on trial. And on Friday, she delivered a speech to the United Nations in New York that condemned world leaders for their continued inaction.
"I wish I could say I was proud to be here," she said on the floor of the U.N. "But I'm not. I'm ashamed as a human being that we ignore their cries for help."
"I did feel a sense of outrage," she later told NBC's Cynthia McFadden. "It's been harrowing to hear the testimony of girls as young as 11 and 12 talk about what's happened to them. And still we haven't been able to do anything about it."
Clooney is working in partnership with Nadia Murad, a 23-year-old Yazidi woman who was kidnapped by ISIS in Iraq in 2014 and used as a sex slave until she escaped. "She has said, 'They abused me two at a time until I fell unconscious'; she was burned with cigarettes; she just endured the most brutal acts known to humanity," Clooney said of Murad. "I don't think anyone can feel that they're being courageous compared to what Nadia's doing and what all the women who've suffered what Nadia's suffered are doing."
When McFadden asked Clooney what she'd say to those who think ISIS should be "bombed out of existence" rather than taken to court (sound familiar?), she staunchly defended her approach.
It's not enough. I mean you can't kill an idea that way. You can kill individuals, but that in itself can be used as propaganda for further recruitment. ISIS can just be reborn under a different name if you don't change the narrative and change people's minds. They are brainwashing people, and I think one of the ways to take action against that is to expose their brutality and their corruption, and partly you can do that through trials.
On that note, we can't help but wonder whether any more positions in Hillary Clinton's prospective cabinet need filling.