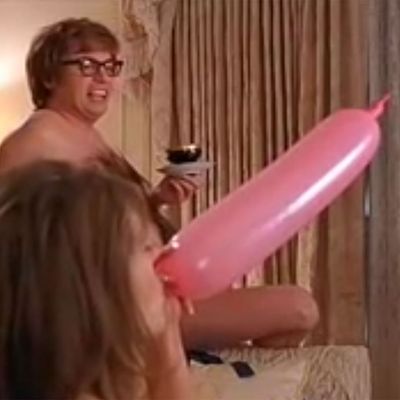 Even the faux-British ones.
For understandable reasons, society's conversation about body satisfaction tends to focus on women. Women, it can safely be argued, face a lot more social pressure to look good all the time, to feel ashamed of their bodies, and to harp on minor imperfections.
Men aren't immune from all that, though. And one particularly painful area where it manifests, according to sexual health researchers, is in insecurity about their penises. This can lead to some bad outcomes. As a team led by Thomas Gaither, a medical student at the University of California, San Francisco, point out in a new study in the Archives of Sexual Behavior, "Case reports have shown men undergo risky procedures, such as silicon injections, to lengthen their penis and increase penile girth." In addition, "Genital piercings, silicone injection, and subcutaneous implant are increasingly common and are associated with numerous complications."
Gaither and his colleagues wanted to better understand how men view their penises, so they conducted what they say is the first nationally representative survey using a newly developed scale called the Index of Male Genital Image, or IMGI. It consists of 14 statements ranked on a score of 1–7 involving penis length, girth, and so on — a score of 1–3 is coded as "dissatisfied," while 4–7 is coded as satisfied. They got results from 3,996 men, the sample drawn from 18-to-65-year-olds who weren't institutionalized.
Comparing those who landed in the "satisfied" (greater than 4.0) versus "unsatisfied" (4.0 or lower) buckets when the scores were averaged, the researchers didn't find any statistically significant differences in penile satisfaction when it came to age, "race, marital status, education, location, income, or sexual partners." Penile (dis)satisfaction appears to be pretty much constant across these categories.
Overall:
A total of 3433 (85.9%) reported an average greater than 4 per item on the IMGI and thus were classified as satisfied. Men reported highest satisfaction with the shape of their glans (64%), followed by circumcision status (62%), girth of erect penis (61%), texture of skin (60%), and size of testicles (59%). Men reported dissatisfaction with the size of their flaccid penis (27 %), length of erect penis (19%), girth of erect penis (15%), amount of pubic hair (14%), and amount of semen (12%). Men reported neutrality with the scent of their genitals (44%), genital veins (43%), location of urethra (42%), color of genitals (40%), and amount of pubic hair (36%). Of note, those who were extremely dissatisfied (score of 1 or 2) reported dissatisfaction with their flaccid penis (10.0%), length of erect penis (5.7 %), and girth of erect penis (4.5%).
There were some decent-size differences in terms of the sexual experiences of men who were satisfied versus dissatisfied with their penises. Those who were satisfied were less likely to be sexually active (73.5 percent versus 86.3 percent), and engaged in less daily and weekly sexual activity. There were also slight but statistically significant differences in the percentage of dissatisfied versus satisfied men who reported having had vaginal or receptive oral sex (85.2 percent versus 89.5 percent, and 61 percent versus 66.2 percent). The obvious question here is what's causing what: To what extent are men who are dissatisfied with their penises less likely to seek out sex as a result of their insecurity? A correlational self-report study can't answer that, nor can it answer whether these mens' likes and dislikes were shared by their sexual partners.
It's interesting that a sizable minority of men reported dissatisfaction with their testicle size or glans shape. On the one hand, in a survey like this you are explicitly asking about certain features, so these responses don't mean that they are wandering around obsessing over this stuff. (It would be another thing entirely if you asked men to generate an open-ended list of body features they didn't like and these kept popping up.) But on the other: It's an interesting comparison to what women go through, because it highlights the fact that at least some of the things both men and women worry about probably aren't, in fact, of much import to anyone else. If you're a guy, the odds that a partner is going to care that much about the size of your testicles or the "shape of your glans" — that's something I can honestly say I had never even thought about before reading this article, and which the researchers note "has little anatomic variability" — are probably pretty low.
More broadly, the main takeaway, as a first-pass attempt at understanding this stuff, is that men mostly feel pretty happy with their penises. Which can maybe explain the epidemic of unsolicited photos.