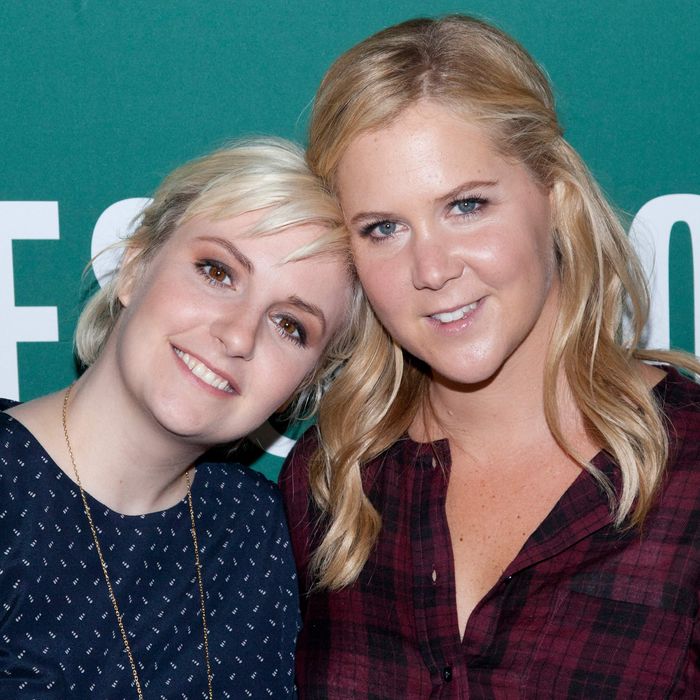 Lena Dunham and Amy Schumer.
Photo: Lars Niki/Corbis via Getty Images
Amy Schumer has had an intense few weeks. After releasing her book, The Girl With the Lower Back Tattoo, Schumer became caught in a controversy surrounding Kurt Metzger, a former writer on her show, after he posted a series of comments and statuses on Facebook criticizing the Upright Citizens Brigade for banning a male comic accused of rape by several female comedians. In an interview with Lena Dunham in Dunham's Lenny Letter, Schumer describes how she anticipated the criticism, but was surprised by the intensity of her critics:
First I was like, fuck Kurt. It's been years that he's been doing this. He's one of those guys, like a lot of the guys that I'm friends with, who are degenerates. Kurt was saying this awful stuff, and in previous years, I would be like, "You've got to shut up." He'd be like, "All right." Then it would kind of go away. This time, it was just so bad. But also, why are these women treating him like he raped someone? He's not Bill Cosby; Kurt has never raped. What he was saying was horrific, and he was being a troll. He can be an Internet troll. The fact that I had to answer for it … I was like, "Ugh, why this week?" [Jokingly:] I was like, if there's scandals, can't they be about me?
That week, Schumer responded to the controversy first by blocking several people who pushed her to comment on Twitter. Then, she tweeted that she was saddened by Metzger's comments, pointed out that he was no longer a writer on her show, and later revealed that that comment is true because the show is currently on hiatus. Speaking with Dunham, Schumer adds that she felt betrayed by those who doubted her.
I do understand that [Kurt's actions] would come back to me. I can see myself thinking that if I heard somebody on someone's staff was doing that. I'd be like, "I wonder how they are going to handle that." I get it. I get it, and I wasn't even resentful of the connection. I was resentful of the lack of trust. Like, "Have I earned any good will with you guys? Do you believe that I feel that rape victims should be shamed on the internet?" Have I built up any sort of good will?"
Read Dunham and Schumer's full conversation, which includes a brief anecdote about how Jennifer Lawrence comforted Schumer in the wake of the Baton Rouge shooting at a screening of Trainwreck, here.