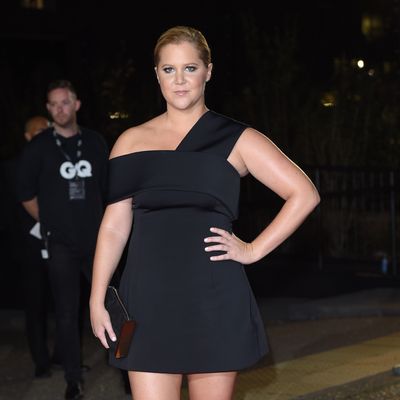 Amy Schumer.
Photo: Karwai Tang/Getty Images
Amy Schumer has proudly joked about being able to "catch a dick" even though she weighs "like 160 pounds." Yet, during an appearance on The Jonathan Ross Show in the U.K. this week, the comedian opened up about feeling pressured to lose weight in Hollywood.
The 35-year-old told Ross that she was instructed to slim down before filming Trainwreck, People reports. Specifically, she was told she needed to weigh less than 140 pounds.
"The only change was that it was explained to me before I did that movie that if you weigh over 140 pounds as a woman in Hollywood, if you're on the screen it will hurt people's eyes," Schumer said.
The comedian agreed to shed a few pounds to apparently protect all of our eyes, but has vowed never to lose weight for a film again. Hollywood: where dreams come true!