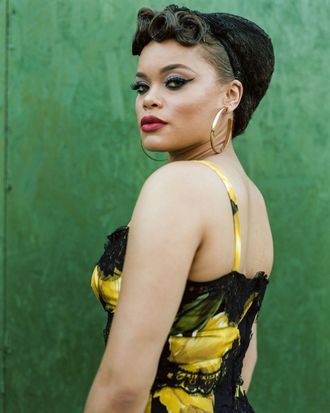 It's been almost a year since Andra Day's hit single, "Rise Up," climbed to the top of the charts. Since then, she's performed at the Democratic National Convention following the Mothers of the Movement, toured around the world, and garnered countless accolades for being one of the best soul voices of our generation. In an industry that values lip-synced routines over artistry, Day has insisted on forging her own path. She often gets compared to Amy Winehouse, Erykah Badu, and Lauryn Hill, but there's no one else quite like her.
Talking to Day, it's clear that music has always played a significant role in her life. Growing up in San Diego, she was exposed to all kinds of music — jazz, doo-wop, Motown, R&B — which is reflected in her debut album, Cheers to the Fall. "You know, it's hard to remember my childhood without remembering music," she says. "I was always inundated with music, whether it be my mother's favorites like Fleetwood Mac and Carole King and the Carpenters, or my dad's jazz music."
She went to a performing-arts school, where she joined a girl group because, she says, "I just liked hearing my voice recorded back. And so I decided that's what I wanted to do for the rest of my life."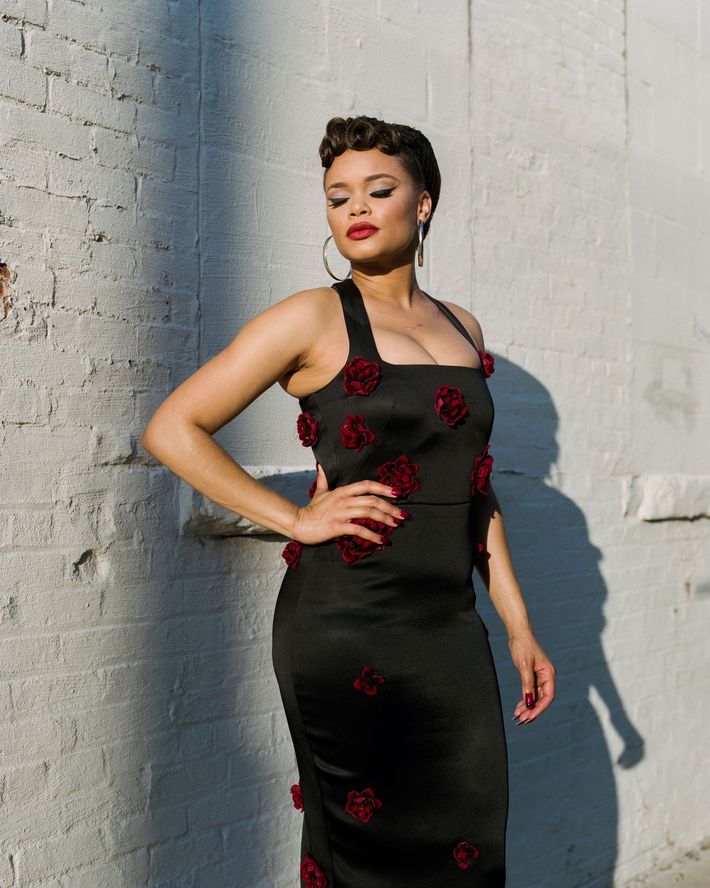 Georgine Dress, Price Upon Request at Georgine; Alexis Bittar Earrings, Price Upon Request at Alexis Bittar.
Now 31, she realizes how blessed she has been to make a career without having to conform. "When I was 14 or 15, I thought it was all glamorous and that as soon as you release the songs, you're rich and famous. Obviously you get older, and get to a point where you realize it takes work just like any other industry, and you have to be willing to invest years of your life into building your craft."
Her motivations for staying in the industry have also changed: "When I started out, I was like, Yes, I'm poppin', this is fun, but I've grown as a person and the reasons I do it now have changed. Once you see how powerful music is and how it can affect people, then you want to use it to impact the world."
It's easy to assume that Day's incredible rearrangement of Eminem's "Lose Yourself" led to her debut album — after all, it has millions of views on YouTube — but she'd actually written most of the songs before she was even signed to a label. "I established early what I was and wasn't willing to accept. People tried to say what I had to do, whether it be pop or R&B, to be successful. Even when I was in the girl group, they would try to make our voices sound very radio-friendly and fit that mold. But even before I got signed, I knew who I was and who I wanted to be. I knew that I loved vintage styling and jazz records, so it was more about cultivating what I wanted to portray."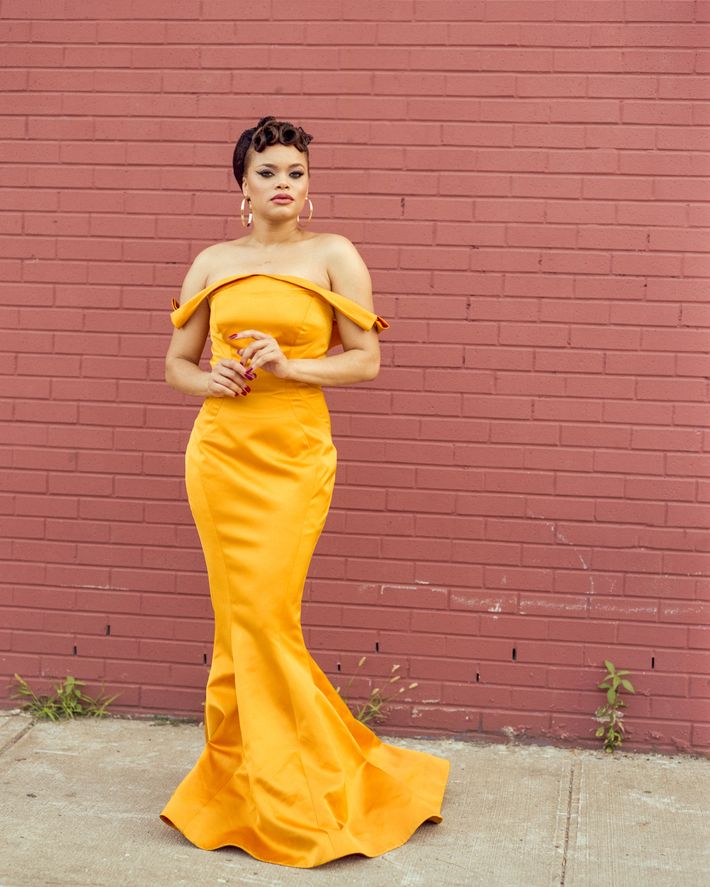 Zac Posen Dress, Price Upon Request at Zac Posen; Alexis Bittar Earrings, Price Upon Request at Alexis Bittar.
When I ask if she ever gets tired of singing her hit songs on tour, she says, "I feel like I can't complain because there are people who sing their records for 50 years! As soon as I'm about to get to that point where I feel like I've sung a song a million times, it becomes a new thing again because it's a new audience and a new set of people with different experiences and now we're sharing this moment together."
Our shoot was originally planned for the same day she was chosen to sing at the Democratic National Convention following the Mothers of the Movement speech. Day says of the experience, "It was unbelievable, I actually didn't know until that moment. The spirit backstage was just amazing, and one of unity, and it was such a historical moment to have a woman accepting the democratic nomination for president of the United States. To be a voice in the face of the worst tragedy [the Mothers of the Movement] could experience made me so emotional onstage. These mothers could be sitting around completely depressed, completely hopeless, completely defeated. But they're fighting for their sons with victory and so much joy in their eyes."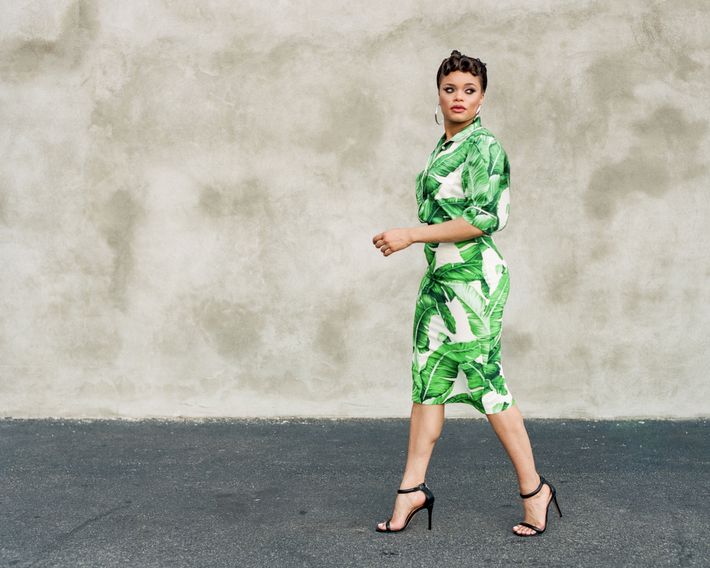 Dolce & Gabbana Banana Leaf Print Shirt $1,375 at Farfetch and skirt, $995 at Matches Fashion; Alexis Bittar Earrings, Price Upon Request at Alexis Bittar.
The lyrics on her album make it clear why she was chosen to follow the powerful words of the Mothers of the Movement. You can feel how personal the words are, and how they come alive when Andra performs. "I want to tell people that you were made for a really great purpose and you have the strength no matter what your circumstances or situation; to tell you to persevere and hope. And that truth and fearlessness in that truth, and vulnerability will be your freedom no matter what you're going through, no matter what your life looks like. Those will be your freedom."
She is working on new music but isn't in a rush to release anything in the near future. "I'm in a creative space now so I'm actually sort of jotting down ideas here and there, creating little voice notes. I've done a couple of songs, but I want it to be natural, I want it to be organic, and I want it to feel like this next chapter of my life. Possibly some collaborations with John Legend, Miguel, BJ the Chicago Kid could happen, but I'm not necessarily pressed to be like, Okay, this is the start of the new album."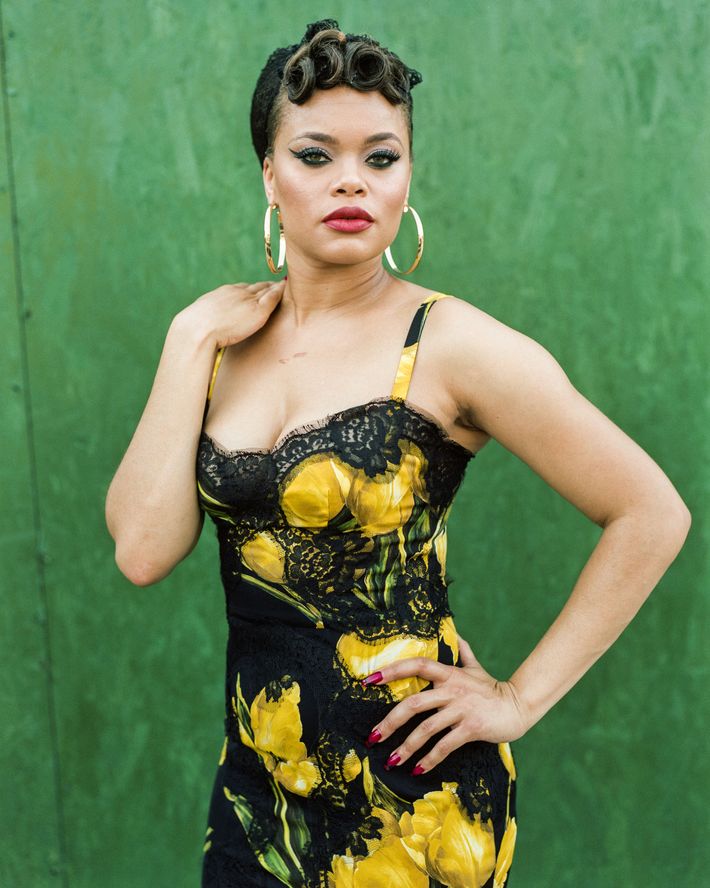 Dolce & Gabbana Dress, Price Upon Request at Dolce & Gabbana; Alexis Bittar Earrings, Price Upon Request at Alexis Bittar.
In the meantime, her tour is going full speed ahead until the end of 2016; though that hasn't stopped her from taking the time to connect with her fans. She says she likes to tune out and watch Marvel and DC Comics movies, but her downtime is limited. Even during our shoot, multiple people come up to her on the street and tell her how much her songs have inspired them.
She graciously takes the time to say thank you over and over again. "Growing up as an artist, you imagine how it will go, but when people actually come up to you, there's really nothing that can prepare you for that moment when you actually hear people sing the lyrics that you wrote," she tells me. "It makes me fall in love with them every time."
Photos by Andre Wagner, Makeup by Porsche Cooper.