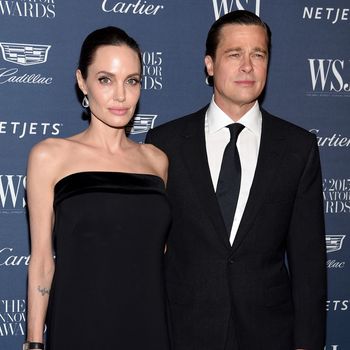 Brad Pitt and Angelina Jolie.
Photo: Dimitrios Kambouris/Getty Images for WSJ Magazine
After two weeks of back and forth in the tabloids, Angelina Jolie and Brad Pitt have reportedly struck a temporary divorce deal in private negotiations. In short: Jolie is getting full custody of the couple's six children, which is what she requested when she filed for divorce last week.
TMZ exclusively reports that Jolie and Pitt are following recommendations set out by the Los Angeles Department of Child and Family Services. The DCFS got involved with the divorce after an anonymous person reported Pitt for abusive behavior during an incident on the family's private plane. According to TMZ, Jolie and Pitt have agreed to these guidelines:
Angelina gets full physical custody of the 6 kids.
Brad gets visitation, with strings attached. The initial visit is with a therapist present and the therapist then has the power to either allow Brad subsequent unmonitored visits or insist on being present whenever he's around the kids.
Brad is subject to random drug/alcohol testing. As we reported, Angelina believes Brad has issues with alcohol and weed. Our sources say Brad's first test was negative for drugs and alcohol.
Brad and Angelina will each submit to individual counseling. In addition, Brad, Angelina and the kids will undergo family counseling together.
According to TMZ, Jolie is "happy" with this agreement, which will last for the next three weeks. After that, the DCFS could make new recommendations or send the case to court.
We will update this post as more information becomes available.