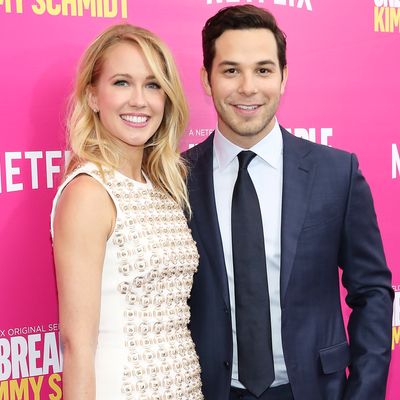 Photo: Monica Schipper/FilmMagic
Anna Camp and Skyler Astin got hitched yesterday in what was surely an aca-dorable outdoor wedding on the California coast. The two met while filming Pitch Perfect, which came out in 2012, and they began dating in 2013. Camp played the tightly wound a cappella singer Aubrey in the movie; as the co-leader of the Bellas, she forbade the others from becoming romantically involved with the all-male group, the Treblemakers, which, of course, included Astin's character, Jesse. Art imitated fiction in that no one — not even Camp — could resist the allure of a musical boner.
As Camp told Glamour back in 2014, "He was dating somebody, and I had been through [a divorce] and he was like, 'Do you want to go on a date?' I remember thinking, well, he's younger than me. He's five years younger. He's 26, and I'm 31. But I was like, 'You know what? OK! Let's do it, let's see.' He's literally my best friend." Plus, he's also a Libra, which is a plus in Camp's camp.
As per People, Camp had said in the past that they planned to have seven brides and groomsmen, which sounds as stressful as performing an a cappella mash-up at the International Championship of Collegiate A Cappella Finals.
Friends like Pitch Perfect and Pitch Perfect 2's Elizabeth Banks and Rebel Wilson were also at the ceremony, although hopefully there was no pitch slapping involved.