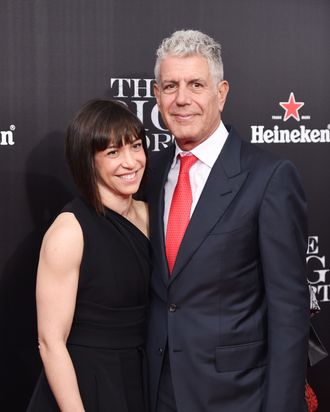 Photo: Dimitrios Kambouris/Getty Images
Oh boy. The latest news in celeb-breakup land comes from Anthony Bourdain and his kickass jujitsu-fighting wife, Ottavia Busia. It appears that they've split … sort of?
News has it that Bourdain and Busia — who seemed really great together! — have been separated for while. Sources told "Page Six" that there was "no one else involved" in the breakup, and to confirm, Busia put it this way in an email to the gossip outlet:
Because of professional decisions we both have made, my husband and I have been for years in an unconventional relationship. Nothing has changed. We love each other. We respect the decisions the other has made. And we'll always consider ourselves a family.
Unconscious Coupling 2.0. Gotta love it.