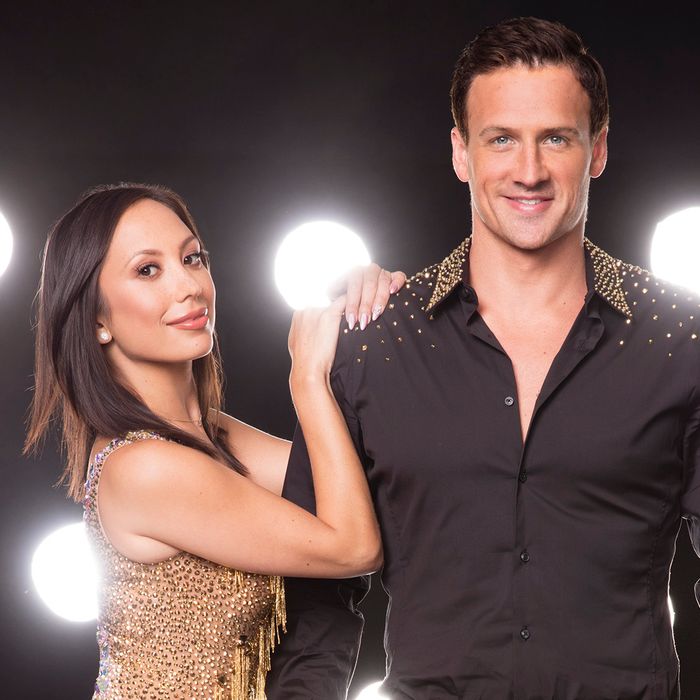 Ryan Lochte's first night on Dancing With the Stars didn't go as expected.
Photo: Craig Sjodin/ABC via Getty Images
Ryan Lochte was ready to hear his scores from the judges on his first night on Dancing With the Stars when there was a commotion offstage. Protesters were reportedly in the audience wearing T-shirts with the word no stamped over Lochte's name. The real ruckus, though, apparently began when two men appeared to rush the stage to attack Lochte, according to E! News.
Security stopped them from going further, but the commotion caused Tom Bergeron to cut to commercial. In video from the incident, judge Carrie Ann Inaba shouts, "Excuse me, excuse me," just as she was beginning to deliver her critique of Lochte and his dance partner Cheryl Burke. The dancing duo stood in silence while the ordeal unfolded, but Lochte was reportedly quite shaken up after the incident, according to EW.
The two men were joined by four women wearing the same shirts, according to EW. At one point, one of the men protesting fell backward onto Lochte after he was tackled by security. The dancing partners didn't speak to the press, but Lochte told Bergeron that "so many feelings are going through my head right now — a little hurt, but I came out here. I wanted to do something I'm completely not comfortable with, and I did." Jana Kramer, who is also competing in this season, told People that Lochte was "close to tears" while backstage.